| | |
| --- | --- |
| Lakip Suspended from Clemson Team | |
---
| | |
| --- | --- |
| Wednesday, June 24, 2015 10:32 AM | |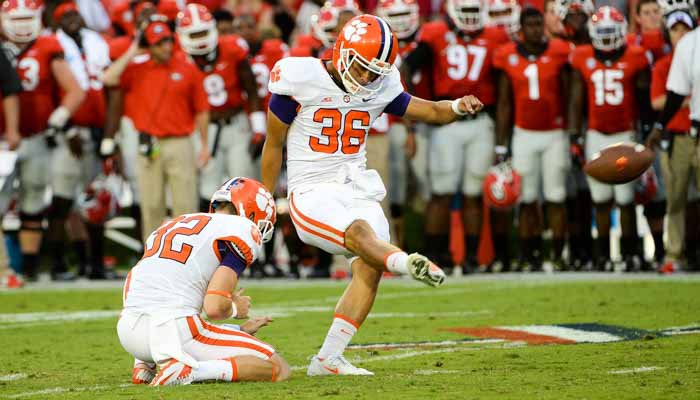 Clemson, S.C.—Clemson kicker Ammon Lakip has been suspended from the Clemson football team indefinitely in connection with his arrest earlier this month.
"We are aware of Ammon's arrest, and he was suspended from all team activities and sent home immediately," said Swinney. "He has been suspended indefinitely. His status for the 2015 season will be evaluated later in the summer."
Lakip started all 13 games for Clemson last year and was 21-28 on field goals, including 13 in a row at one point, and 43-44 on extra points. He led the Clemson team in scoring with 106 points. He served as the backup kicker in 2012 and 2013.
More from TigerNet
Lakip was charged with possession of cocaine and driving under the influence on June 11th according to the Thirteenth Judicial Circuit website.
Both charges are listed as a first offense according to the public arrest record.
The incident occurred on June 6 with Lakip's bond set at $2500 and he was released on a personal recognizance bond.
Defensive end Ebenezer Ogundeko was arrested for credit card fraud in May and was immediately dismissed from the program. Ogundeko has since transferred to Tennessee St.
According to South Carolina's DUI website: South Carolina law requires you to take a blood, breath, or urine test if you are arrested for a DUI. South Carolina's "implied consent" law says that if you are lawfully arrested by an officer who has probable cause to believe that you have been driving under the influence, then you consent to taking a chemical test of your blood or breath for the purpose of determining your blood alcohol content (BAC), and of your urine to check for drugs. The officer gets to choose which test you take and you cannot refuse these tests without penalty.
Once you are arrested, no test can be given until the officer has turned on a video camera to record the test, tells you your rights and the penalties for refusal, and gives you written notice of these rights and penalties. The officer should say that you do not have to take a test. If you refuse, however, your license will be suspended for at least six months. Evidence of your refusal will be used against you in court. Should you choose to take a test, then you have the right to additional tests taken by a medical professional of your choice, but if the tests show your BAC is .15% or higher, then your license will be suspended for at least one month. Also, you have the right to a hearing to challenge the suspension of your license. You must request this hearing within 30 days. If you do not request a hearing, or if you do but your suspension is upheld, then you must participate in an alcohol and drug safety program.
Possession of cocaine first offense is a misdemeanor in South Carolina.
Possessing cocaine is a misdemeanor, and (for a first offense) incurs a fine of up to $5,000, up to three years in prison, or both. A second offense is a felony, and incurs a fine of up to $7,500, up to five years in prison, or both. Third and subsequent offenses incur a fine of up to $12,500, up to ten years in prison, or both.