| | |
| --- | --- |
| Lack of respect? Clemson coaches think so | |
---
| | |
| --- | --- |
| Tuesday, July 15, 2014 9:04 PM | |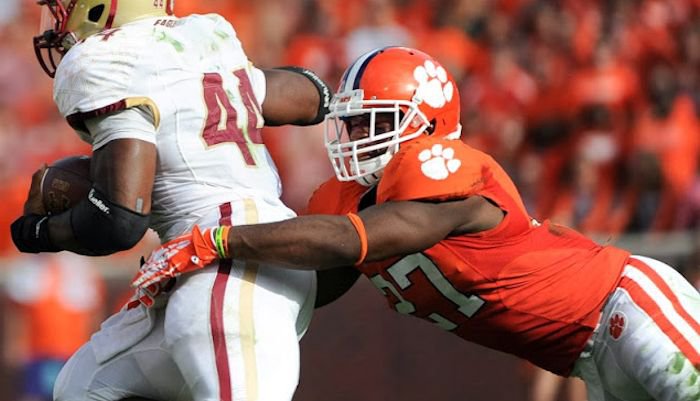 SUNSET, SC – Clemson won 11 games and beat Ohio St. in the Orange Bowl for the program's first BCS bowl win, giving the Tigers a 22-4 record over the past two seasons, and return the most seniors in the Dabo Swinney

Dabo Swinney
Head Coach
View Full Profile era.
The national media, however, expects the program to take a step back in 2014 after losing players like Sammy Watkins

Sammy Watkins
Wide Receiver (2011 - 2013)
#2 6-1, 205
Fort Myers, FL
View Full Profile and Tajh Boyd

Tajh Boyd
Quarterback (2009 - 2013)
#10 6-1, 225
Hampton, VA
View Full Profile , something that didn't seem to sit too well with the Clemson coaches interviewed Tuesday at Swinney's annual golf outing at The Reserve at Lake Keowee.
"The media may project certain things like that, but our opponents aren't going to underestimate Clemson," Swinney said. "We will get everybody's best shot with what we've been able to accomplish with back-to-back Top 10 finishes and winning the Orange Bowl. We have beaten a lot of people along the way to achieve those things and we will get everybody's best shot. Nobody is going to feel sorry for us because we lost Sammy or Tajh or whatever."
Swinney said the program has reached a point where it reloads rather than rebuilds, and he will depend on a large number of juniors and seniors to be the leaders.
"I think it's fun and our guys are confident because we've built a good program. Good programs can sustain themselves through adversity," he said. "You look around at the better programs in the country and that is what you see. I think we are one of those teams. I really do. I think our guys have earned that. They know how to work and to win and they are coachable. But we have a lot of experience to draw from. Everybody talks about what we've lost, but I like to look at we have.
"And what we have are the most seniors we've had since I've been here and these guys have won a bunch of games and won big games. And when you have that type of veteran leadership returning, there is a sense of urgency because they realize their time is running out. And they all have a little bit of a chip on their shoulder because people think the only reason we've won all of these games is because of Sammy and Tajh. That is far from reality. We beat LSU without Sammy."
Defensive coordinator Brent Venables

Brent Venables
Def. Coordinator / Linebackers
View Full Profile said that people forget that Clemson had more players than just Boyd and Watkins last season.
"Apparently, the people on the outside don't think a lot about us as a team. A lot of people don't think that we're a Top 25 team and that's fine," Venables said. "But to me that's an indictment on that they think we lost two guys (Tajh Boyd and Sammy Watkins) and that's our whole team. They are questioning everybody else, and they don't think much of them. Within our own conference, they are talking about our secondary. We know that we have a lot of talent back there, but they are way on down the totem pole.
"We are [being questioned] as a program, as well, apparently. We have a lot to prove and we have to earn a lot of respect. If you're a good solid program, you are in the Top 15 or Top 20 no matter what, but a lot of people don't have us there and that's fine. We have to go out there and earn it. Whether you're there and in that group or not, you still have to go earn it to either validate it or prove that we belong."
Venables then said that he thinks this team has a chance to be pretty good, and maybe even great.
"The guys up front, a year ago there weren't a lot of household names," Venables said. "More people know who they are, but to me we still have a lot to prove," Venables said. "I know this, in this network of people holding cameras and microphones and us as coaches, we feel like we know what we we're capable of and we know our guys and we have a chance to be pretty good, if not great depending on how hard our guys work and how our leadership comes along and how our chemistry comes along."
Swinney said that he feels the Tigers are one of the teams that has a chance to compete for the national title this season.
"I think there are 10 or 12 or 14 teams out there that really have a shot to compete at the highest level and get a chance to play for the whole thing," Swinney said. "I thought we were one of those teams last year and I think we are one of those teams this year. Do we have a tough schedule? Yes, but we embrace that. Because when we do win it, and we will at some point, we will know that we didn't take shortcuts and we did it right and we beat the best. Again, nobody will underestimate us from a competitive standpoint. Our players know what we have."