| | |
| --- | --- |
| Kurt Fleming's punishing running style not an accident | |
---
| | |
| --- | --- |
| Tuesday, September 9, 2014 12:36 PM | |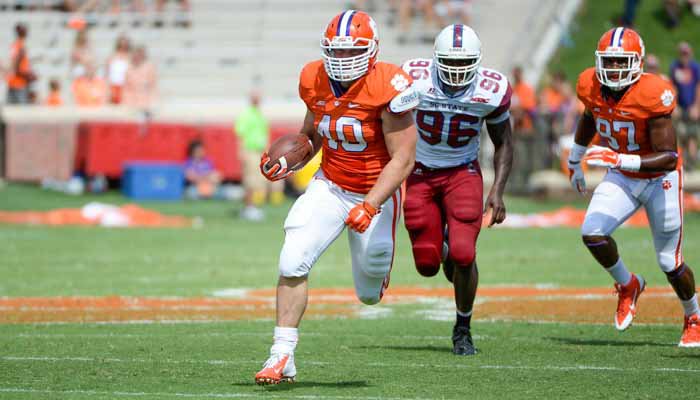 CLEMSON – Kurt Fleming

Kurt Fleming
Fr. Running Back
#40 6-0, 233
Louisa, VA
View Full Profile 's punishing running style didn't happen by accident.
Fleming entered last weekend's win over South Carolina St., and it was obvious his running style is predicated more on running through and over defenders than around them, and the big bruise on the bridge of his nose bears testimony to his physical style of play.
As the youngest of three brothers, Fleming said he had to fight to survive.
"Ever since growing up, I have two older brothers that pick on me all of the time, so I had to develop that mentality early on," Fleming told the media Tuesday morning. "My dad was an Army brat. My grand dad was in the Army for 27 years. There was no really gray area with us growing up and we had a lot of competitive stuff going on. Our pickup basketball games usually turned into fist fights, so that's where that mentality comes from. Growing up, my favorite running backs were usually the big power backs like John Riggins. Earl Campbell was my favorite running back growing up, and guys Mike Alstott and Jerome Bettis. Even when I was 165 pounds my freshman year in high school, I still ran like that. I might not have gotten the same results, but that's how I ran."
Fleming grew up as an Army brat – both his father and grandfather were in the Army and both of his brothers attended West Point. Fleming was headed to West Point to begin his Army career when he was drafted by the Atlanta Braves, beginning a journey that landed him at Clemson.
"I feel very blessed to have the journey that I've had," Fleming said. "I got drafted in the eighth round by the Atlanta Braves right after high school, which was always a dream. I feel like part of my dream became a reality. Your true dream is to make it to the big leagues but getting drafted is part of that, so I feel like it has been halfway fulfilled. We weighed the options coming out of school and I thought that I could always go back to school and play football when I'm a little older. Chris Weinke and those guys did it, so I thought that I would give baseball a shot. If I would've gotten hurt in college and I never got drafted again, I would've missed out on that opportunity. It's been awesome."
His journey at Clemson has just begun but he was able to gain valuable experience in Clemson's 73-7 win over South Carolina State last Saturday, carrying the ball nine times for 49 yards. Unfortunately, the play he may be remembered for in the game was his fumble late in the fourth quarter – a play he said he was only able to watch once.
"I feel like I had a good day up to that point," Fleming said. "I was really let down that I let the team down, giving up the only score of the evening and ruining the day for the defense. I guess I will just take it as a learning experience that even if I do get a little gassed, if somebody puts a helmet on me I have to keep the ball tucked tight to my body. The way I run is a little bit harder because I am trying to push off of people and hit people, and I let it get out a little too far when he hit me. It was a good play on both sides. I feel like I let everybody down. It's like striking out with the winning run on third."
However, Fleming is determined to become a dependable contributor and knows that he has a lot of work ahead of him.
"I feel like I have to keep learning the playbook and re-learning football," he said. "That (Saturday) was the first true football game I've played in since my junior year of high school. So it's been like six years. Just that aspect of it, and the experience and re-learning football all over Saturday was more of me just taking handoffs and running the ball. My vision - I have to get better with my vision. Ball security, obviously. Just overall re-learning the playbook and the steps. In center field, some of the steps of the same but the footwork is different. It's obviously different for a running back than a center fielder. I feel like I can be put in some of those situations, and I feel like I can fulfill the role as a power back, but I have to just keep furthering myself."
Especially if he is to become that short-yardage, goal line back that all of the Clemson faithful are clamoring for.
"I feel like I could," he said. "Any man worth their salt feels like they can be the man that gets in the endzone for everybody to cheer at. But if they get me the ball I am going to work my hardest to get those three yards if they need it from me."
Bio from Clemsontigers.com
Original walk-on who will be a factor on offense and special teams in 2014 ... his professional baseball contract pays for his education.
Before Clemson: Standout outfielder who was drafted in the eighth round (No. 254 overall pick) by the Atlanta Braves in 2010 ... played three seasons (2010-12) in the minors, where he hit .244 with five homers, 52 RBIs and 15 steals in 148 games ... played his last game in the minors on Aug. 22, 2012 ... signed with Army to play football and baseball ... had 1,031 yards on 154 carries and eight touchdowns as a junior at St. Christopher's School ... sufered a torn ACL and missed his senior football season ... second-team all-region pick in baseball as a senior, when he led his team to a 23-4 record as a pitcher and outfielder ... lettered multiple times at St. Christopher's School.
Personal: His brother, Kenny, was a 30th-round draft pick of the Braves in 2010 ... majoring in wildlife & fisheries biology ... born Aug. 30, 1991.