| | |
| --- | --- |
| Know Your Enemy: Wofford Terriers | |
---
| | |
| --- | --- |
| Friday, September 4, 2015 7:01 AM | |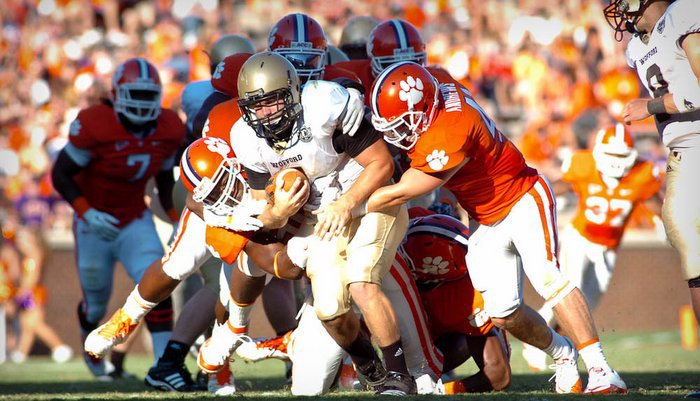 The Wofford Terriers come to Clemson Saturday to take on the Tigers in a 12:30 p.m. kickoff in Death Valley. With that in mind, TigerNet reached out to a writer that covers the Terriers for his thoughts.
Todd Shanesy has covered the Terriers for the Spartanburg Herald-Journal for almost two decades, and he knows the program inside and out. Todd was gracious enough to answer some questions about the 2015 Terriers for TigerNet.
TigerNet: Wofford was 6-5 last season and has been a .500 team since the start of the 2013 season something that Wofford fans aren't used to. What is the outlook for this season? Is this a team that can make a run at a SoCon title or the FCS Playoffs?
Todd Shanesy: The Terriers were picked for fourth place, where they've finished the past two years. But with 19 starters back, plus kicker and punter, there is the potential for something higher. The schedule is favorable, with games against the top three (Chattanooga, Western Carolina, Samford) as well as their biggest rival (Furman) all at home. Chattanooga is loaded. But Wofford may very well make a run at the playoffs, where they went five times in six years before missing out in the past two.
TigerNet: Wofford had two quarterbacks start games last year - Evan Jacks started the first six games and Michael Weimer started the final games. Is that an ongoing competition or has Mike Ayers decided on a starter? What are the strengths of each player?
Todd Shanesy: Heading into this week, coaches not only failed to name Jacks the starter but also failed to reveal a pecking order of the top four, saying it was still too close to call. My guess is that Jacks is the starter, but that sophomore Brad Butler has actually passed Weimer. Butler had a great preseason camp and showed toughness in the scrimmages. Jacks is the most dangerous with the ball in his hands. He's the best option, so to speak, in the triple option. Weimer is probably the best passer but somewhat turnover-prone and not as polished on the pitch decisions. Brandon Goodson is the fourth guy and, if things are out of control in the second half, might get in there as well.
TigerNet: Wofford took Georgia Tech to the wire last season in Atlanta and played Clemson tough in 2011. What is their recipe for success against the big boys?
Todd Shanesy: The Terriers' goal is to play keep-away. That's true in FCS games as well, but especially so against FBS teams. They want to go on extended drives to limit the chances for the opposing offenses. They'll go for fourth downs, if necessary, and sometimes deep in their own territory. If they are successful, that also allows the defense time to rest and keep from getting worn down. When things go well, Wofford stays close and even puts a scare in the big boys. The Terriers were down only five points in the fourth quarter against Georgia Tech and were tied with South Carolina in the fourth quarter of a 2012 game.
TigerNet: Who are two or three players Clemson fans need to watch and why?
Todd Shanesy: One of those is halfback Ray Smith, a local player from Dorman High School (all-time leading rusher with more than 4,000 yards). He had a 92-yard touchdown against Georgia Tech and averaged 9.0 yards per carry for the season. Wofford offensive coordinator Wade Lang called Smith the best player on offense and promises to give him a heavier workload than the 67 carries in 2014. Right tackle Anton Wahrby from Sweden, former exchange student at Lexington High, is a first-team all-conference player. On defense, E.J. Speller is the anchor of a deep and talented line. Drake Michaelson is a senior leader on a linebacker group with five underclassmen on the depth chart.
TigerNet: Finally, what are your expectations for Saturday in Death Valley? Will the Terriers keep it close like they did in 2011?
Todd Shanesy: Wofford did a remarkable job last time against Clemson, which featured some extraordinary future NFL talent on offense. So there is hope that can happen again. The Terriers, though, have struggled against the pass (eighth in the SoCon last year) and while seemingly improved, are thin at safety. That could spell trouble against an explosive offense like Clemson. It likely won't be nearly as close as 2011.