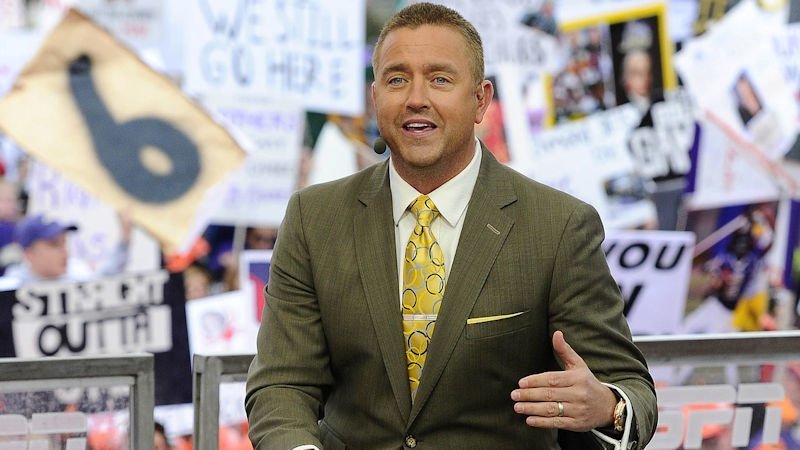 | | |
| --- | --- |
| Kirk Herbstreit says Tigers might need Trevor Lawrence to beat Bama or Georgia | |
---
Kirk Herbstreit thinks that if Clemson is going to topple Alabama this season, the Tigers might have to use Trevor Lawrence to make it happen.
Herbstreit, the main college football analyst for ESPN/ABC, held a media conference call Friday afternoon and he was asked about Georgia, Clemson, and Alabama, three schools that are projected by many to make the College Football Playoff but are all seeing youngsters push for playing time at the quarterback spot.
Herbstreit said Clemson might have to turn to talented freshman Trevor Lawrence.
"With Clemson, I think it's a little different. Kelly Bryant made some plays and did some things," Herbstreit said. "Truth be told, they won a lot of games because of their defense and other aspects of their offense. Everything I hear about this quarterback, Trevor Lawrence, he's the next Deshaun Watson. He's big and fast and can throw. I think, in Clemson's case, if you're trying to beat Alabama and trying to beat Georgia, maybe you need that Trevor Lawrence. Maybe you go to him. So they're all a little bit different, but they're going to have to be handled very wisely by three very, very capable head coaches, that's for sure."
No matter who plays quarterback for Clemson, Herbstreit says the defensive line will set the tone each game.
"As far as their defensive line and defense in general, I was asked when I was at ESPN on this show, the Herbies, to name my best defense of 2018," he said. "I thought about the possibility, there's a number of teams you could throw out there. I ended up selecting Clemson, a team that allowed 13 points a game last year. And other than Dorian O'Daniel, who led the team in tackles, everybody else is back for the most part for that defense. There's no reason to believe there should be any letup, if anything, with that defensive line they have. Those guys aren't going to play not to get hurt. They're going to play with a ferocity that's unparalleled.
"So I think they're going to have a huge year, and I think that defensive line is going to be a very tough thing to deal with every single week, no matter what offense or offensive line they go up against."
On Clemson's social media policy of having players log off fort he season
"I love that. I'm a big -- I have four boys. I have two that are in high school, two seniors that play, and a sophomore as well. I'm constantly talking to them about kind of focusing on what matters most to them, especially during those months. Dabo Swinney, to have that many players, it's cool to hear that the players are setting that tone. It takes it away from a coach having to do that in that tradition you talked about from players saying, hey, we want all distractions out of our way. We want to focus on winning football games.
"I think that just tells you about the collective focus that that program has, and the older players, they clearly are not letting success or individual notoriety go to their heads. This is a team that somehow, some way -- I wish they could sell it to everybody else -- but they are not allowing complacency to set in to a program that for the last -- I don't know how many years. They've won double digits since 2011. I mean, they've been in championships, it seems like every year, and you would think they would have a let up. Them and Alabama do a very good job of not letting up. Ohio State is also one of those schools that just doesn't let up. It says a lot about the team self-policing."

Upgrade Your Account
Unlock premium boards and exclusive features (e.g. ad-free) by upgrading your account today.
Upgrade Now