| | |
| --- | --- |
| Kirk Herbstreit says Clemson has advantage with Death Valley crowd | |
---
| | |
| --- | --- |
| Friday, October 18, 2013 4:10 PM | |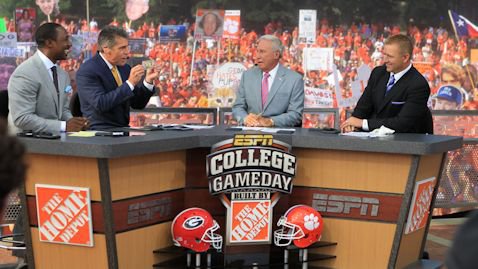 CLEMSON – The construction on ESPN's GameDay set went through the final steps Friday morning on Bowman Field, and two members of the GameDay crew took time to meet with a few of the local media and preview Saturday night's primetime clash between No.3 Clemson and No. 5 Florida St.
GameDay host Chris Fowler and analyst Kirk Herbstreit each talked about the atmosphere in what will undoubtedly be a loud and raucous Death Valley Saturday night, and Herbstreit said that he thinks the crowd will be a big advantage for the Tigers.
"I think the atmosphere is obviously a huge advantage for them, and I think they've got to keep the crowd in the game as a factor. I think Vic Beasley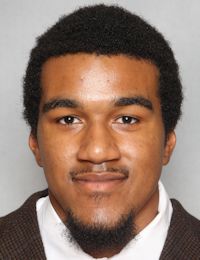 Vic Beasley
RS Jr. Defensive End
#3 6-3, 225
Adairsville, GA
View Full Profile and that pass rush have to affect the young quarterback in Jameis Winston," Herbstreit said.
Winston – FSU's redshirt freshman quarterback – said earlier this week that he didn't think Clemson's crowd noise would be a factor, and Herbstreit said that kind of noise isn't something you can adequately prepare for.
"Until you get out there and you can't hear, and your left tackle is looking back like, 'What's going on?' And Vic Beasley is getting a good jump on the ball – until you see him respond to that you just don't know," Herbstreit said. "Aaron Murray came in here and played pretty well, but he had a few turnovers and they got some pressure on him. But he's a veteran. It will be interesting to see how Jameis plays."
Winston went on to say that because Florida St.'s offense runs off hand signals, the noise shouldn't really affect how the Seminoles run their offense, and Herbstreit had an answer for that as well.
"What affects them is momentum. If this game were in Tallahassee – Clemson fans know what it was like when Florida St. got on a roll last year in the fourth quarter," Herbstreit said. "It was like, 'Oh my gosh, they are on run. What can we do to stop them?' The same thing is now true now that it's in Death Valley. As much as Jameis Winston makes a valid point that the crowd noise won't affect him from an x's and o's standpoint, it's college football. We watched Miami last night against North Carolina – emotion affects the outcome of games. Vic Beasley – all of a sudden it's a big third down and the crowd is really into it and Cameron Irving the left tackle can't hear and Vic Beasley gets a great jump and Winston is blindsided and he fumbles. That is what happens when a crowd becomes a factor."
Herbstreit then said that he thinks the game will come down to the two quarterbacks.
"I just look at it as a game of these two quarterbacks," he said. " Tajh Boyd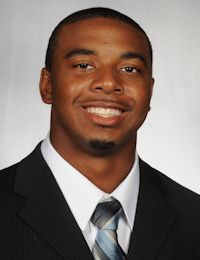 Tajh Boyd
RS Sr. Quarterback
#10 6-1, 225
Hampton, VA
View Full Profile has a chance to kind of cement his legacy at Clemson. A defining moment in his career. And Jameis Winston so far has done everything you could hope for if you're a Florida St. fan. But this is a different atmosphere. I talked to him this week, and it sounds like he is not only embracing it, he is looking forward to it But can he play as well as he has up to this point? Can he be error free? Can he avoid those big turnovers? If he can do that, this will be an interesting game."
He then said that there is a lot on the line Saturday night.
"It's a big stage. It's a big opportunity. I think the winner of this game jumps Ohio St. in the BCS rankings," he said.
Fowler agreed with Herbstreit, and said the winner will be a factor in the national championship picture.
"Nationally, the winner of this game will be viewed as a serious contender for the BCS Championship Game. The point in the season where it sits, Fowler said. "The winner of this game will be a top five team in the national conversation with Alabama and Oregon. And the winner of this game is in complete command of the division. They both have visions of playing for a championship and they are in each other's way. "
Chris Fowler on Dabo Swinney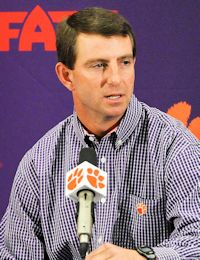 Dabo Swinney
Head Coach
View Full Profile
"Dabo impresses, because I think he has really grown into the job. A lot of us weren't sure what to make of him when he was an interim coach. This young guy, jumping around on the sidelines like a crazy man. I told him that when we were here a couple of months ago. I told him that he has really become a comprehensive coach. He is in total command of this program, and he has come a long way from that cheerleader looking guy who was running around on the sidelines hugging guys' necks, just so excited to be there. He is very impressive with what he has built here, I think."
Fowler on Vic Beasley getting attention
"I think it's a team effort up there. I think if you are going to be a one-man gang on the defensive line, that's too easy to scheme against. They have a really good group. Clowney is still going to get the hype, and he is still going to deserve it – but it's nice to steal the spotlight. But you need to see the complete season. A lot of people will tune into this game and judge some guys. The defenses are up against it in this game, and somebody will have to make a play. Someone will have to get that big sack. "