| | |
| --- | --- |
| Keys to 2015 season? National media has it half right | |
---
| | |
| --- | --- |
| Tuesday, May 26, 2015 8:18 AM | |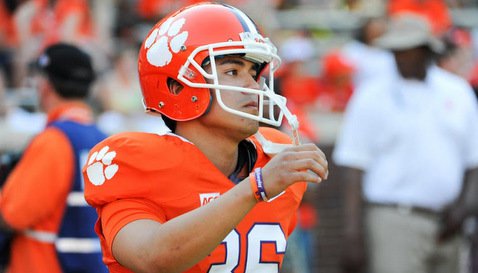 Every time I read what the national media has to say about Clemson's chances for the 2015 season, the same two bullet points are brought to light – can quarterback Deshaun Watson

Deshaun Watson
So. Quarterback
#4 6-2, 205
Gainesville, GA
View Full Profile stay healthy and can the defense play well enough to offset the losses of some valuable pieces.
I agree with that, but only half has me worried.
Following a practice towards the end of spring, head coach Dabo Swinney

Dabo Swinney
Head Coach
View Full Profile and I were talking and I mentioned that despite the losses on defense and so many young players dotting the roster, I couldn't remember a time when so much raw talent was on display on Clemson's campus.
Swinney smiled, and he acknowledged the fact that this year could be special. But coaches aren't allowed to fall into the excitement and program-colored blinders that fans wear, and you won't hear Swinney tell anyone that his team will go undefeated or win a title.
Instead, he said that for the Tigers to get where they want to go – to reach the goals he has set – the Tigers have to keep Watson upright and healthy for all 12 regular season games, need a little luck along the way and need to keep some of the experienced players like defensive tackles D.J. Reader

D.J. Reader
Defensive Tackle (2012 - 2015)
#48 6-2, 325
Greensboro, NC
View Full Profile and Carlos Watkins

Carlos Watkins
RS Jr. Defensive Tackle
#94 6-3, 295
Mooresboro, NC
View Full Profile healthy.
Yep. I can agree with all of that. But if the Tigers can keep those older defensive players healthy, I can honestly say I am not worried about Clemson's defense in 2015. As long as they don't finish the season ranked in the lower third nationally, Clemson's offense should be good enough to overcome any inconsistency this group has while these younger players get their collective feet wet.
Shaq Lawson

Shaq Lawson
So. Defensive End
#90 6-3, 269
Central, SC
View Full Profile , Watkins, Reader, B.J. Goodson

B.J. Goodson
RS Sr. Linebacker
#44 6-0, 240
Lamar, SC
View Full Profile , Ben Boulware

Ben Boulware
Jr. Outside Linebacker
#10 6-0, 235
Anderson, SC
View Full Profile , Mackensie Alexander

Mackensie Alexander
RS So. Cornerback
#2 5-10, 190
Immokalee, FL
View Full Profile , Jayron Kearse

Jayron Kearse
Jr. Safety
#20 6-4, 210
Fort Myers, FL
View Full Profile , T.J. Green

T.J. Green
Jr. Safety
#15 6-3, 205
Sylacauga, AL
View Full Profile , Korrin Wiggins

Korrin Wiggins
Jr. Defensive Back
#12 5-11, 195
Durham, NC
View Full Profile , Travis Blanks

Travis Blanks
Safety (2012 - 2014)
#11 6-0, 210
Tallahassee, FL
View Full Profile and Jadar Johnson

Jadar Johnson
Jr. Defensive Back
#18 6-0, 200
Orangeburg, SC
View Full Profile provide a nice base of players who have played in big games and been on the field in big moments.
It's too much to expect that Brent Venables

Brent Venables
Def. Coordinator / Linebackers
View Full Profile ' crew can replicate last season's number one ranking. Heck, I would almost say it would be too much to expect that even if all 11 starters return because it's so hard to put together those kinds of dominant performances in back-to-back seasons.
But this group has the potential to be good – maybe not as great as last season – but they should be good enough to help this team win games.
Keeping Deshaun healthy? That's got to be priority one, and in talking with other members of the national media in recent weeks the question has been the same…..is Watson the victim of bad luck or is he going to be injury-prone? I have told each of them that Watson's injuries appear to be flukes – he never took a solid shot or was the victim of a hard hit. Maybe that's a good thing, maybe it isn't. But here is one thing I do know – we will find out this season for sure.
So keeping Watson healthy is a key, and I am not worried about the defense. So what is the other part that concerns me? Special teams.
Following one of the scrimmages towards the end of the spring, head coach Dabo Swinney admitted that another blocked kick had him concerned about protection on special teams. Gone are holder Corbin Jenkins

Corbin Jenkins
Kicker (2012 - 2014)
#32 5-10, 175
Conway, SC
View Full Profile and snapper Michael Sobeski

Michael Sobeski
Long Snapper (2010 - 2014)
#75 6-2, 230
Roebuck, SC
View Full Profile . Those guys were money, and a big reason that Clemson's field goal units have been so good over the last three or four years.
Kicker Ammon Lakip

Ammon Lakip
RS Sr. Punter / Kicker
#36 5-11, 200
Alpharetta, GA
View Full Profile was 21-for-28 on field goals last season and 43-of-44 on extra points. It wasn't always pretty but he was effective, and with another year under his belt should be better. But gone is punter Bradley Pinion

Bradley Pinion
Punter (2012 - 2014)
#92 6-6, 230
Concord, NC
View Full Profile , who also served as the kickoff specialist.
Pinion wasn't automatic on touchbacks on kickoffs, but he was good enough, and short kickoffs lead to returns. Clemson's defense – especially early – might need as many long fields as possible. Will they get that with who they have on the roster now?
Pinion was also deadly on punts – he had a 42.6 yard average and had 28 punts inside the 20-yard line last season with only two touchbacks. His ability to pin opponents deep was a big factor in Clemson's defensive prowess last season. Will Andy Teasdall

Andy Teasdall
RS Jr. Punter
#95 5-11, 185
Winston-Salem, NC
View Full Profile be as effective?
Keep Watson healthy. Find some answers on special teams. Find the right answers to those questions and it could indeed be special.

Tags:
Deshaun Watson
,
B.J. Goodson
,
Ammon Lakip
,
Michael Sobeski
,
Travis Blanks
,
Bradley Pinion
,
Carlos Watkins
,
Shaq Lawson
,
D.J. Reader
,
Corbin Jenkins
,
Ben Boulware
,
Mackensie Alexander
,
Jayron Kearse
,
Jadar Johnson
,
Korrin Wiggins
,
T.J. Green
,
Andy Teasdall
,
Brent Venables