| | |
| --- | --- |
| Kelly's "scruffy" touchdown run a thing of beauty | |
---
| | |
| --- | --- |
| Tuesday, November 5, 2013 4:32 PM | |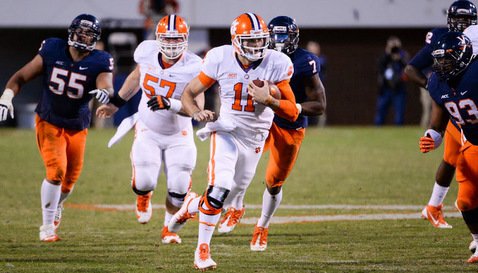 CLEMSON – Chad Kelly's 38-yard romp into the endzone Saturday at Virginia showed the kind of speed and athleticism that Clemson fans have been waiting almost two years to see, but it wasn't the UVa defenders he should have been worried about beating him down the field – it was Tajh Boyd.
Boyd, Clemson's starting quarterback, told the media that he was as excited as anybody when he saw his understudy run in for the touchdown, but almost got in trouble for straying too far into the field of play.
"I almost got in trouble for running down there a little bit, man," Boyd joked with the media Tuesday before giving a critique on Kelly's run.
"(The touchdown run) was a little scruffy-looking at the end. He was stumbling a little bit," Boyd joked. "I was so amped, I was so proud of him. Just proud of that guy. He does a great job. Very proactive in meetings, on the sideline, always helping me when I'm out there, so it's been good."
Kelly got his chance to speak with the media Tuesday, and he said that getting to play an entire quarter was something he has been patiently waiting for, but that he never lost confidence in his abilities.
"Even in the spring game, I felt real confident going out there and being myself," Kelly said. "I haven't played a whole game by myself as a quarterback in two, two and a half years, just going out there and playing, really. I'm trying to go out there and help my team win."
The New York native tore his ACL during Clemson's spring game, and many wondered at the time if Kelly would play at all in 2013 or seek a medical redshirt.
For Kelly, however, redshirting wasn't an option, and he put in the grueling hours in rehab – sometimes as much as six hours per day - to make sure he made it back in time. Saturday's fourth quarter made all of that effort worthwhile, and he said that he is now getting to the point where he doesn't even think about the knee.
"You still think about it every once in a while," he said. "That said, just being tackled on your knee, you gain more confidence on your knee. After the game, my knee was a little sore, but after that I've never felt so good. It just felt so much tighter and stronger, felt really good. I was sore all over (Sunday). I'm always sore, honestly. Every day, you have your ups and downs. Some days I'll come into a game feeling 150 percent, then come in the next day and be perfectly fine. It just varies. But I just feel faster, quicker."
In four games this season, Kelly has completed 9-of 15 passes for 60 yards and no touchdowns, and he has rushed 13 times for 93 yards and Saturday's touchdown. With Boyd leaving for the NFL after this season is over, the starting quarterback job will be up for grabs, with Kelly, current backup Cole Stoudt and 2014 commit Deshaun Watson, who will enroll in January.
Kelly was asked Tuesday if he thought of these games as an audition for the starting role, and he said no.
"I don't think about next year at all," he said. "I'm trying to get better now. If that's to help Tajh and push him, it's a competition every day in practice. I want to be perfect, and Cole and Tajh, they want to be perfect too. I don't tend to look ahead. I want to do it now and see how good I can be now as opposed to next year."
Boyd said that Kelly has been a big help during games, and Kelly said that being a part of the process will only help him down the road.
"You're kind of in the game, paying attention, reading the coverages while coach is calling the plays, and telling Cole what play it is so he can write it down," Kelly said. "We're all in the game, trying to help Tajh out, we're in the game but not really in the game. Once you get out there, you have a feel for what they're doing and the coverages they're doing. During my injury, I spent so much time in the film room. I spent every single day watching film. I feel real confident in the whole playbook. I really do."
In the meantime, Kelly watches Boyd and thinks about what could be if he were to win the starting job.
"To see so many people talking about Boyd as an NFL franchise quarterback and to know you're out there everyday as a freshman in practice competing with this guy, it's a good feeling," Kelly said. "It's kind of sweet to be able to take this all in and see him do well. It tells me that if I can do those things on the field, I can be like that, too."
However, he said he didn't want to get too far ahead of himself, and just wants to concentrate on getting better.
"I tend not to look ahead. I'm just going to take things one day at a time. I know God has a plan. He has a plan for everything."