| | |
| --- | --- |
| Kelly kicks off quarterback battle in dramatic fashion | |
---
| | |
| --- | --- |
| Friday, March 7, 2014 12:26 AM | |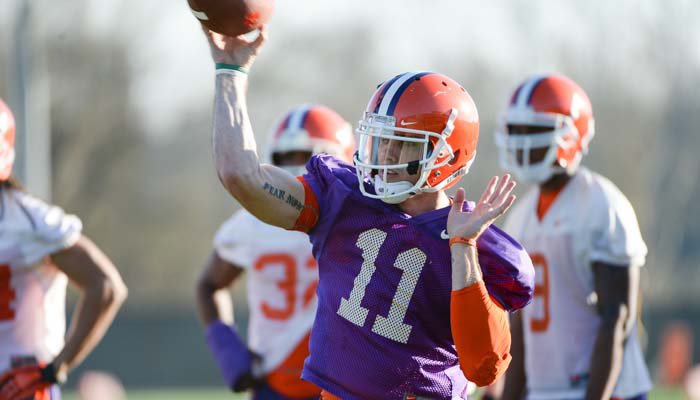 CLEMSON – Any concerns about Chad Kelly
Chad Kelly
RS So. Quarterback
#11 6-2, 210
Buffalo, NY
View Full Profile 's surgically repaired right knee quickly dissipated in the cool night air following Wednesday's first practice of the spring.
Kelly appeared to suffer no ill effects of the injury – he tore his anterior cruciate ligament during last year's spring game – during the practice session, but it was while the media waited for Kelly to show up for an interview session that the New York native showed that he was near 100 percent.
Two trainers were playing around with a soccer ball while waiting for the players and staff to leave the field, and the competitive Kelly saw a chance to get in on the action, intercepting a pass and performing two kicks into the wall, one with each leg. While he won't compete for a spot on the Clemson soccer team any time soon, the kicks and plants showed a healthy knee and a healthy dose of confidence, something that Kelly echoed once he began his interview session.
Kelly said he made one move during the practice session that had him feeling like his old self.
"I made one move today, and I feel like it is 150 percent. So it's (the knee) good," a smiling Kelly told the media. "It was a read-option, and the SAM linebacker came and I juked back, and it felt like a normal knee again. But when you go out there and play, you don't think about it. I didn't think about it until after practice, so that is pretty good."
Kelly said he tried to get by without a knee brace, but the training staff had other ideas.
"I tried coming out here without a knee brace, but they made me put it back on. They said I have to wear it until after the spring, and then I can decide," he said. "But after the cut I made today? I feel confident. I might just keep it. It has been 10 months since my surgery, and I am out there making cuts people can't make after 12 months. But I have been waiting on my moment for too long."
Still smiling, Kelly said that one of the reasons he decided to play a little soccer was because he felt good and didn't want to head back to the locker room.
"I have been waiting since 9th or 10th grade for this," he said. "It just feels good to be out here. I didn't even want practice to end. I wish we were still practicing."
Kelly will be competing with senior quarterback Cole Stoudt

Cole Stoudt
Sr. Quarterback
#18 6-4, 205
Dublin, OH
View Full Profile and freshman sensation Deshaun Watson

Deshaun Watson
Fr. Quarterback
#4 6-3, 190
Gainesville, GA
View Full Profile for the chance to take over as the starter, and he said the competition will make all of the quarterbacks better.
"You want and need competition, and you need people pushing you," he said. "So this is good. I know I am ready, but I know all of the quarterbacks are ready. It is going to be fun pushing each other. Me and Cole have been friends for over two years. After that one little incident happened, we've been friends ever since. So everybody is friends.
"You can't have tension in the quarterback room. That is one thing that coach really preached about. When you are out on the field, you have a different kind of relationship. You are friends, but you are also trying to compete. When I am out there, I am worried about one thing, and that is getting my team in the end zone."
Kelly was told that the competition is expected to last into fall camp, and he raised his eyebrows with an uncertain look on his face and then took the full speed ahead approach that marked his recovery from the injury.
"I don't know if this is going to take until the fall. I am sure the coach already has an idea of when he is going to do everything," he said. "It is going to take time, I guess. We will see who comes out a winner."
He then said that while he gained confidence during last season, he gained the most confidence during practice for the Orange Bowl.
"I think I gained the most confidence during bowl practice. Those practices we had? Those were the best practices I have had since I've been at Clemson," he said. "All of the coaches know that, and they told me, 'Hey, you keep practicing like you did during the bowl weeks, and everything will work out.' "