| | |
| --- | --- |
| Kelly Bryant details "surreal" Death Valley experience | |
---
| | |
| --- | --- |
| Tuesday, September 8, 2015 6:29 PM | |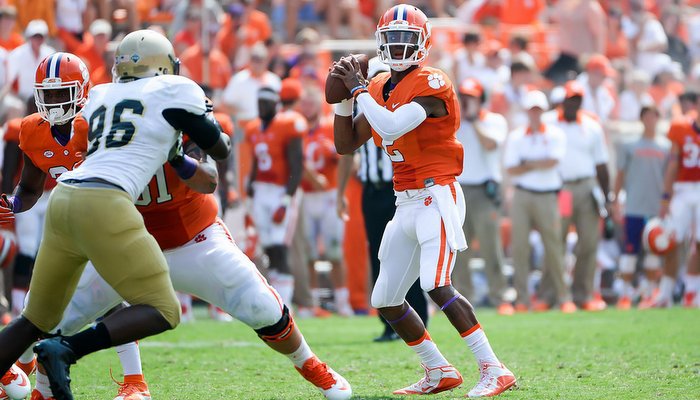 CLEMSON – Some of the biggest cheers heard Saturday afternoon in Death Valley were for freshman quarterback Kelly Bryant

Kelly Bryant
Fr. Quarterback
#2 6-4, 213
Calhoun Falls, SC
View Full Profile , who called the experience of playing in Death Valley surreal.
Bryant is a local product – out of Wren High School – who was the Greenville County Player-of-the-Year, a Shrine Bowl selection and the South Carolina Football Coaches Associate Player-of-the-Year as a senior. Bryant enrolled in Clemson last January, and his potential is obvious. His future is bright.
For now, however, Bryant is just enjoying the moment.
That started with Saturday's 49-10 win over Wofford in the season opener.
"It was a surreal feeling. Just getting off the bus and going through all the preparation," Bryant told the media Tuesday in the WestZone. "Once we got to top of hill and looking out and seeing all the fans. I was like 'Wow. I'm really about to run down the Hill and get to play for my first time in Death Valley.' So it was really an exciting experience. I just can't wait to do it this weekend and the weekends to come."
What did he learn from the experience?
"I learned that just have fun. Just don't think about trying to make a big play," he said. "Just live in the moment. Play for the moment. It will handle itself from there."
Bryant entered the game following a Clemson timeout with 8:58 remaining on the clock, and he said the game was faster than he expected.
"Yeah it was faster than I thought. I kind of found myself running a little faster than what I thought," he said. "Like I said it was faster but as the game progressed it felt like it slowed down a little bit for me and I kind of found myself playing at a pace that I am very comfortable with."
He said he was a little surprised when head coach Dabo Swinney

Dabo Swinney
Head Coach
View Full Profile called a timeout and motioned for him to enter the game.
"It was a little bit of both because Coach Swinney told me to go get warmed up," Bryant said. "I was going to go in the next series, but he called my name. And that's something he always preached - just be ready when your name is called. I was ready. A little bit of nerves, but at the same time I was excited, just to get the first two plays out of the way. Luckily the first play was a pretty good run for me with the offensive linemen blocking for me creating a hole and also the running back."
Bryant's most memorable play came late in the fourth quarter. The Tigers started a drive at their own 17-yard line with 3:13 to play. The snap sailed over Bryant's head and into the end zone, but Bryant showed his poise by picking up the loose ball and running for what would turn into a gain of one yard.
"As I was running back to get the snap, I was thinking about Coach (Brandon) Streeter. We actually practiced that scenario in practice," Bryant said. "Usually we probably want to kick it or fall on it. But at that situation it was in the end zone so I was going to kick it, but I felt that I could pick it up and try to do something with it. Luckily it ended up getting a one yard gain after running about like forty yards. It was pretty exciting."
Other Bryant notes
On his approach
"Last Saturday, I kind of approached it like it was a close game. I looked at it like the game was tied. I just wanted to move the offense. I didn't want there be any drop-off. I still approached it like it was a close game. I try to control what I can control. Let the coaches make the decision. I didn't want to worry about any of that. I just wanted to make sure I get whole offense down and understand what I am doing from a quarterback standpoint and just like I said leave it in their hands."
On getting his first game action
"It wasn't too much of a moment, but I know the coaches told me that I am going to have to be ready. So once they told me that I just went about trying to understand everything that I need to be ready whenever I get called upon."
How watching Deshaun Watson

Deshaun Watson
So. Quarterback
#4 6-2, 207
Gainesville, GA
View Full Profile helps him
"He just goes about his business with an all business-like manner. You don't really hear much from him. He doesn't talk a lot, but being in the film room with him he is just so knowledgeable of the game. It just wants to make me knowledgeable as well.
"Yeah him and Nick (Schuessler) have done a great job with that (watching film), helping me, helping me and Tucker (Israel) actually. Coming from high school you don't see as much as the coverages as you see now. But while we are at practice whether it is like a throwing mechanic, telling me what my read key, or tips. He and Nick have done a great job of that so far."
On quarterback guru Ramon Robinson
"I have been working with him since my sophomore year. I like to say it – he probably he won't say it -but he got me here. A lot of schools weren't looking at me as a quarterback. But seeing how much working with him has changed my game. It's been very impactful and I'm just thankful for him. With Coach Streeter we do some of the same stuff that I and Coach Ramon do. It's like muscle memory with Coach Streeter. He also been helping me with my mechanics as well. So I find it beneficial working with both of them."