| | |
| --- | --- |
| Kearse on critical fourth down play: We knew what was coming | |
---
| | |
| --- | --- |
| Saturday, October 11, 2014 9:12 PM | |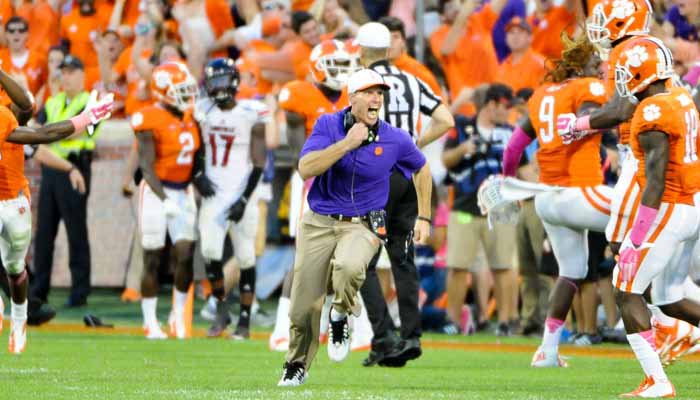 CLEMSON – If Clemson's defense looked like they knew what was coming on 4th-and-goal and the game hanging in the balance Saturday afternoon, it's because they did.
The defense stopped Louisville on 4th-and-goal with just over 20 seconds remaining, sealing a 23-17 victory and capping an electric defensive effort that began on the Cardinals' first drive of the game and ended when defensive tackle DeShawn Williams

DeShawn Williams
Sr. Defensive Tackle
#99 6-1, 292
Central, SC
View Full Profile batted away Cardinals quarterback Will Gardner's pass.
As for knowing what was coming, defensive players said after the game that it was a play they knew to watch out for, having watched film of Louisville head coach Bobby Petrino's offense when he was at Western Kentucky last season.
Western Kentucky played at Arkansas St. last November 30th, and Arkansas St. led 31-27 with 15 seconds left on the clock and Western Kentucky at the two yard line. Western Kentucky quarterback Brandon Doughty rolled out to his right and hit Willie McNeal for the winning score, and it was that play that Clemson defensive coordinator Brent Venables

Brent Venables
Def. Coordinator / Linebackers
View Full Profile had his team practice against on Thursday after showing them film.
The play was set up when safety Jayron Kearse

Jayron Kearse
So. Safety
#20 6-4, 215
Fort Myers, FL
View Full Profile ran down Louisville receiver James Quick from behind on the first play from scrimmage after Clemson had taken the 23-17 lead. Gardner hit Quick on quick strike to the sideline, and it appeared Quick would run free for a touchdown but Kearse quickly closed the distance and stopped Quick at the Clemson eight yard line.
"The first thing that came to mind was just catch him and get him down," Kearse said of the play. "I was actually trying to get the ball out, but I couldn't get the ball out so I just tried to get him down and give our defense another four downs to get out there and make a stop. And we did that. When I took off, it looked like he was speeding away from me, but once I started running and getting in stride I got closer and closer and I knew I had to get him down."
The Cardinals tried to run the ball on second down at the Clemson one, and Kearse said he was a little surprised by the play call.
"I was, because I knew they didn't have any timeouts and we had done a good job in the run game all day," Kearse said. "I knew they weren't going to get anything there. And because it was third down and they had to spike the ball and stop the clock, that killed third down. But I knew if they were going to try and get in the end zone right there, it had to be throwing the ball because they weren't going to run it on us."
That set up fourth down, and the play call was a carbon copy of what Western Kentucky ran at Arkansas St. last season.
"It's so crazy, because we ran that play Thursday," Kearse said. "Coach V said, 'This is a play they will go to in crunch time.' Against Arkansas St., before their coach became the coach at Louisville, he was at Western Kentucky and they ran that play. And when they lined up in that formation today, I knew what was coming. He put us in our best call – Red 2 – and that helped us out a lot. It was like deja-vu because I felt like I had already seen that play before."
Venables echoed Kearse's comments and said the defense knew what the Cardinals were going to run.
"We told everybody, 'Look, they are going to run that play and you have to make a play Saturday night. Mark it down.' And then they had the timeout and we said here comes the sprint to the boundary," Venables said. "Sure enough – it doesn't happen like that very much but it lends credibility to the fact that you prepare right up to the last minute because you never know when it's going to make a difference. Tonight it did."