| | |
| --- | --- |
| Kearse not concerned with draft or Sooners "coming out heated" | |
---
| | |
| --- | --- |
| Wednesday, December 16, 2015 6:12 PM | |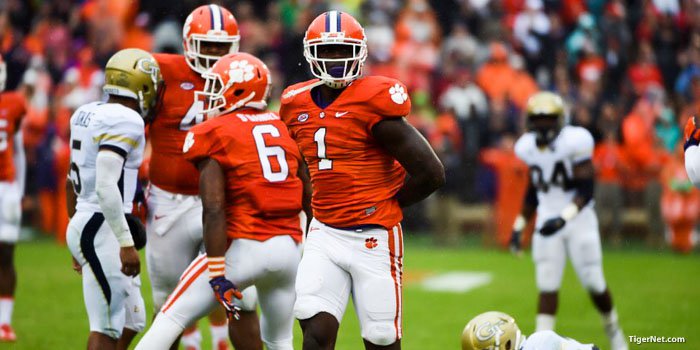 CLEMSON – Jayron Kearse isn't worried about Oklahoma, and he isn't concerned about his status for the NFL Draft.
He just wants to win a National Championship.
Clemson's talented junior safety met with the media following Wednesday's practice as Clemson prepares to take on Oklahoma in the Orange Bowl on New Year's Eve. The winner of the Orange Bowl will face off in the title game against the winner of the Cotton Bowl between Alabama and Michigan St.
Earlier this week, some Oklahoma players said they were upset that Clemson unveiled a tombstone following the Tigers' 40-6 win over the Sooners in the Russell Athletic Bowl last December. Clemson has a tradition of "tombstone games" in which they beat a ranked team on the road, so the tombstone was nothing new. However, Sooner players said they will take it into account when the teams meet later this month.
Kearse isn't worried.
"We are not really worried about them coming out heated. We are going to come out heated as well," Kearse said. "They didn't want to play the game last year. That's their business. That's their problem. They want to play this year. We want to play this year. There is nothing different. We want the same thing they want. Right now we see it as they are in the way right now. We are going to do everything we got to do go out and get the W."
Clemson's defense held Oklahoma to 17 first downs and just 275 total yards last year, but has struggled in recent weeks. The Tigers also played 10 consecutive weeks after an open week in late September, and Kearse said getting healthy is the key to a better Clemson defense. That, and a little more focus.
He's seen a different attitude at practice this week.
"Just focus. Get our bodies back right. Get healthy," he said. "Just go out there and play our type of football. I think we will be fine. They don't do anything we haven't seen this season. Everything that has been going on with us has been us.
"Guys have energy. Guys out there having fun. Flying around. Doing things that they have to do. Just encouraging other guys. I definitely feel like we are going in the right direction to go out and have a good bowl game."
It has been rumored that Kearse is strongly considering jumping to the NFL after this season, but he said that he is focused only on the Sooners and will discuss his options in January.
"No. I am just focused on going out here and playing football and helping my team get these last two wins and bringing home the National Championship," he said. "Later I will just do what is best for me and my family. But don't lose focus. Keep playing football for my team and going out there and giving everything I've got."
Kearse said his draft grade isn't a concern.
"Not really. Who wouldn't want to go in the first round? But I understand football," he said. "Everybody can't go in the first round. There are 32 picks. First or Second. I'm ready for it. All I need is a shot."
He then said he also knows he needs a good showing against the Sooners after struggling in recent weeks and gave himself a season grade.
"Right now I probably give myself a 7. I haven't played my best football at all," he said. "I'm going out there these next two games and do what I was doing the first part of the season and close out the season on a high note."