| | |
| --- | --- |
| Kearse loving the direction of the Clemson defense | |
---
| | |
| --- | --- |
| Thursday, October 29, 2015 10:01 AM | |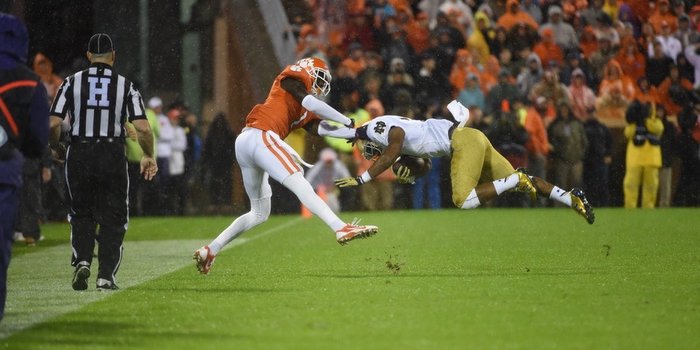 Before the season, there were many questions about the Clemson defense.
And with all the talent – and leadership – that the Tigers lost off last year's top-ranked defense, those questions were warranted.
But through seven games, this year's Clemson defense has had all the answers.
"We're going out there, and we're making plays in the 2015 season," safety Jayron Kearse said. "The 2014 season was a great season for us, and we're trying to make 2015 even better."
It might be tough to top 2014, but the 2015 defense is showing it has plenty of talent and leadership, as well.
And one of those leaders is Kearse.
"I just try my best every day to come out and have a positive attitude and just let the guys know we can only get better throughout the season. If we get worse, then that's when we become one of those teams that lose to someone we shouldn't lose to," Kearse said. "Just keeping guys on edge and always being that guy that anybody can come to because I'm going to give my all and just talk to them and let them know that they've got to give their all for us to be the best team that we can be.
"I'm excited on the sideline, and I'm cheering guys on on the offense. I'm cheering guys on on defense, the backups and things like that. I'm just bringing that excitement to the game, that enjoyment, and I just love watching our guys do what they do."
That attitude has paid off for the Clemson defense so far this season.
The Tigers are third in the ACC in total defense, allowing 262.3 yards per game, and third in scoring defense, allowing 14.3 points per game.
They are coming off a shutout of Miami and talented quarterback Brad Kaaya, who was knocked out of the game after a sack by Shaq Lawson in the first half.
"At this point right now, I just look at it as another football game," Kearse said. "It's another victory for this team. We're just continuing on our quest to do something special here. I really don't put too much into it. It was just a great team win for us.
"It gives us confidence, but it doesn't outweigh any victory we've had this year. A win is a win, so we're going to take it however it comes."
Now the Tigers turn their focus to N.C. State, which was the last unranked team to beat Clemson in 2011 in Raleigh.
That adds up to 35 straight wins for Clemson over unranked opponents.
"When you're a fan and you're playing a team you're superior to and way better than that team, and you know your guys should take care of business, we're not letting the fans down in that aspect," Kearse said of the streak. "I feel like that's something to be very proud of. We've got teams that are top-five teams and going out there and losing to unranked teams. (Head coach Dabo) Swinney pushes that, 'Let's win the games that we're supposed to win.' In the past three years, we've been doing that. Our last loss to an unranked team was 2011, actually at N.C. State. We're definitely not going to have that this year.
"That's things Coach Swinney pushes, and the culture that we have around here, guys are picking up on it, and we're just running with it."
Against the Wolfpack, the Tigers' defense will face the task of slowing down quarterback Jacoby Brissett, who has thrown for 1,332 yards and 10 touchdowns with just one interception. Clemson's passing defense is fifth in the ACC, allowing 156.9 yards per game.
"Watching Brad Kaaya last week through film, we seen he only had one interception, but we seen that there was like six interceptions dropped," Kearse said of the Miami quarterback. "Getting to the film with Jacoby Brissett, I can't say I have seen the same thing. He's taking pretty good care of the ball. The throws he makes are one-on-one guys, and the defensive guys are not getting their hands on the ball. I couldn't say that for Brad Kaaya.
"This should be a pretty good task for us on the defensive side of the ball, especially on the back end, the back seven. So I just hope Jacoby gives us a chance to get our hands on some of them."
Still, Kearse has plenty of confidence in his secondary mates especially with the play of starting cornerbacks Mackensie Alexander and Cordrea Tankersley.
"I definitely feel like his play this year has been better," Kearse said of Alexander. "He's been shutting down one whole side of the field. I actually hate that, I'm on that side of the field. His play has been outstanding. The guy, he comes in every week, he's getting prepared, and the way he attacks the game is phenomenal. Seeing what he's doing, it shows that we can be even greater."
So while teams are avoiding Alexander, they are attacking Tankersley, who had an interception return for a touchdown against Miami.
"He's definitely underrated, he's definitely underrated," Kearse said. "Cordrea, he's a great player, a great player. As you said, they're trying to attack him, but it's obviously not working for them. Leaving Mackensie on an island and not attacking him but attacking (Tankersley), they're not benefiting from it. I don't know what to tell anybody going up against us. Right now, we're just clicking on all cylinders."
Daniel Shirley is the sports editor of The Telegraph in Macon, Ga., and co-host of The Morning Show on FoxSports 1670 AM. Follow him on Twitter at @DM_Shirley and read his blog at macon.com/peachsports.