| | |
| --- | --- |
| Kearse finding a way to the playing field | |
---
| | |
| --- | --- |
| Monday, October 7, 2013 4:23 PM | |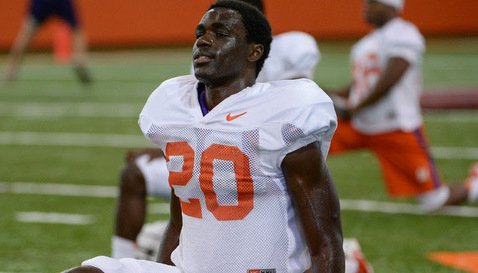 CLEMSON – On game day, you can usually find Jayron Kearse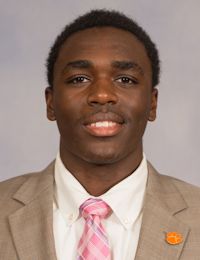 Jayron Kearse
Fr. Safety
#20 6-4, 205
Fort Myers, FL
View Full Profile standing right next to the defensive coaches, anxiously awaiting his opportunity to take the field.
However, when his number was called last Saturday, he was nowhere to be found by the coaches.
Starting safety Travis Blanks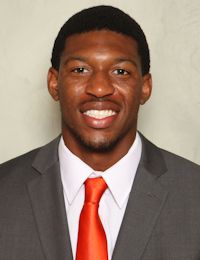 Travis Blanks
So. Defensive Back
#11 6-0, 190
Tallahassee, FL
View Full Profile injured his knee during Saturday's win over Syracuse, and when the coaches went looking for Kearse the couldn't find him anywhere on the sideline.
He was already in position on the field.
Kearse's role has steadily increased over the first five games and he said that he knew with one of the starters out that it was his time to make an impact.
"When he went down, I automatically knew that I had to get there and make an impact on the game," Kearse told the media during Monday's interview session. [I was just thinking] it's my time to shine and do what I came here to do. I have to step up and not let there be a drop-off when I'm in the game. I just took it as a stepping-stone in my career."
Kearse saw extensive time against Syracuse, even nabbing an interception in the endzone on Syracuse's last possession – something he said is a sign of what's in his future.
"It was real good. You could see that I was real excited," Kearse said. "Hopefully that's a good sign for what's to come. I'm just going to stay humble and keep doing what I was doing and preparing."
His early success on the field may have surprised some people, but for Kearse it was just the product of his preparation.
"It felt pretty good [to get extensive playing time]," Kearse said. "I prepare every week like I'm a starter, so when I got out there it was just like I played the entire game. It wasn't too much of an adjustment except for me adjusting to the game speed. Previous games when I got in at safety, they didn't move as fast as Syracuse, so I had to adjust after that first drive that I had. It was pretty good for the rest of the game."
Getting his first interception was just a start as the freshman spent his Sunday afternoon watching film with defensive backs coach Mike Reed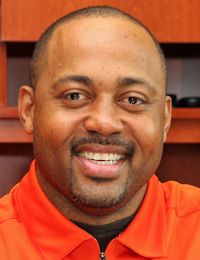 Mike Reed
Defensive Backs Coach
View Full Profile and learning how to correct his mistakes.
"Actually, I came in on Sunday and we went over the film," Kearse said. "I made some mistakes, but it wasn't all bad. I did some good things and some correctable things. We're going to go out there today in practice and in the film room and correct those mistakes so they won't happen again when I'm in there.
"He [Reed] said just getting in there and plugging up holes was good. I was in the field a lot and some of the things I did bad was that I was too tight too often. I was coming down too often getting ready to play the run instead of taking a step back. Those are the bad things, but they are correctable mistakes I made."
Although the rangy 6-4, 205-pound safety from South Fort Myers (FL) has shown flashes of brilliance this season, he spent the off-season adjusting to not being the star player and just being a freshman.
"My biggest adjustment has been the speed of the game and being a backup," Kearse said. "In high school, I was pretty much the star. It's a humbling experience playing behind someone else and not getting the playing time that you had in high school. I've been dealing with it pretty well waiting on my number to be called and performing when it's called."
But lucky for Kearse, he has an uncle – Jevon Kearse – and cousin – Phillip Buchanon – who have both played in the NFL and both have helped him in the recruiting process and now in elevating his game.
"They gave me advice on the recruiting process, but it was mostly to just pick the place that I feel most comfortable at and where I can go show my talent as soon as I can rather than sitting out a year," Kearse said. "Just pick somewhere that I can make an instant impact.
"I get a lot of help. When I went home, my cousin Phillip Buchanon and I watched some film together. He showed me some things. It's good to get that NFL experience. I haven't really talked to my uncle since the season has started, but before then he gave me some advice on how I should approach certain situations."
After all of the advice his family has given him, Kearse hopes to pass down some of his own experiences to his younger cousins.
"We have a couple coming up. I have a couple of younger cousins playing well," Kearse said. "I have a cousin at Cypress Lake High School where I came from before I transferred to South Fort Meyers as a freshman. He is playing really well. Jeremy Anderson – he's playing real well as a freshman and taking care of business. I try to give them advice to help them since I'm already here and have been through the recruiting process on things that that they can do to help them.
"Just to get them a better a feel so that things don't overwhelm them going through the recruiting process because it can be an overwhelming situation. Everyone is telling you that you are good you're this and you're that, but when you get there it starts all over from when you were a freshman in high school. I just want to help them out to see a bigger picture."