| | |
| --- | --- |
| Kearse anxious to re-write Orange Bowl history | |
---
| | |
| --- | --- |
| Thursday, December 26, 2013 11:35 AM | |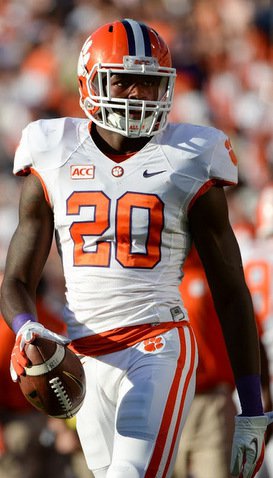 CLEMSON – The 2012 Orange Bowl is a game that many Clemson fans and players would like to forget, but the game sticks out vividly in the mind of freshman safety Jayron Kearse

Jayron Kearse
Fr. Safety
#20 6-4, 205
Fort Myers, FL
View Full Profile .
Kearse was committed to Auburn at the time, and he made the short trip from his home in Fort Myers to the game so he could cheer on his cousin, West Virginia defensive back Brodrick Jenkins. Kearse told the media that at the time, there was no way that he could have imagined at that time that he would beplaying in the Orange Bowl two years later, or that he would be playing for Clemson instead of Auburn.
Now, the Florida native gets a chance to play the biggest game of his life in front of friends and family, and he gets to play against one of the nation's traditional powers in Ohio St.
"You've just got to treat it like it's another game. But in reality it's Ohio State, they're 24-1 in the last 25 games," Kearse said last week. "It's the Orange Bowl. And we're representing Clemson University, so we're going out there to play our best. We're trying to get things down, so we can go out there and execute. We'll just give our all. I'm a freshman, but at the same time, I'm on a team with juniors and seniors out there to help them leave here a legacy. I'm not really going there like I'm a freshman and it's overwhelming - I'm just going to play football."
He then said that playing in front of the folks at home won't change the way he plays.
"I'm just playing football," he said. "It doesn't really matter where I'm at, I'm still playing football. The game doesn't change just because of where we're playing. It's the same old, same old."
Kearse started the regular season finale against South Carolina and logged a career-high 10 tackles in place of the injured Travis Blanks

Travis Blanks
So. Defensive Back
#11 6-0, 190
Tallahassee, FL
View Full Profile . Against the Buckeyes, Kearse will have to keep one eye on the Ohio St. receivers and one eye on quarterback Braxton Miller.
"It's one of the most important things because he can improvise," Kearse said. "I can be dropping back and if I take my eyes off him for one second - he can be taking the ball down and running right up my back. My eyes on him are one of the bigger things I'll do. Just basically we have to fly to the ball. My role is I have to give my all every play. Not really anything in particular, just go out there like I played against South Carolina. It's a running quarterback with a running back that can do some good things.
"It's basically flying to the ball and not letting him get the extra yard after that first contact."
Kearse was never really a redshirt option coming out of fall camp – and he has gained snaps and the coaches' trust as the season has progressed.
"I'm a smarter player (now)," he said. "I'm able to diagnose plays before they happen rather than in fall camp when I didn't know much. They'd ask me a question in the meeting room and I couldn't quite give them the best answer. Now when they ask a question I'm back with it quick with the right answer and let them know why I think like that.
"I learned how to practice better and how things off the field can contribute to things on the field. Can't be a slacker off the field and get on the field and think you can do good. That's what I learned most on the field."
Kearse will take what he has learned and apply it to his preparation for the Orange Bowl, a game that he vividly remembers.
"Going through the week, we're trying to get better and get better. We go out there and give it our all, we play our best," he said. "The last time we were in the Orange Bowl, it was an embarrassment to us and the university. So we're just going out there to make a name for ourselves, because nobody really believes we are a top tier team."