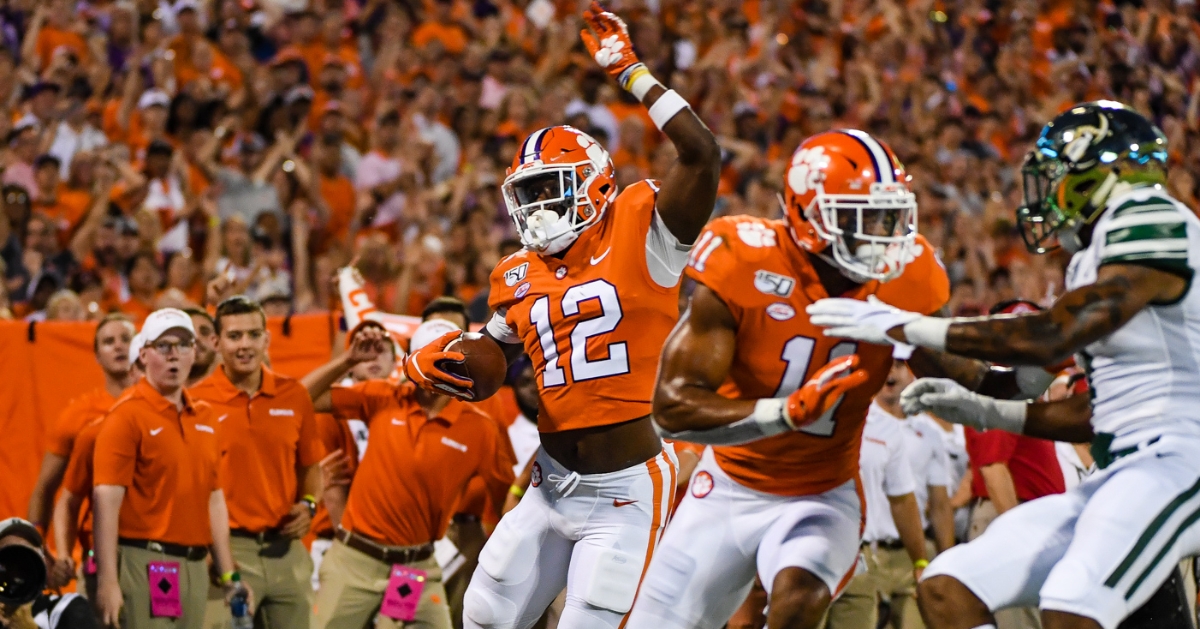 | | |
| --- | --- |
| K'Von Wallace: Team leader likes being the underdog, takes Booth under his wing | |
---
CLEMSON – Members of the media are fixated on the Clemson offense and that unit's alleged struggles. Meanwhile, the Clemson defense continues to dominate the opposition.
The Tigers are ranked fifth nationally in total defense and Clemson has held seven straight opponents below 300 yards of total offense and will attempt to hold an opponent below that mark in an eighth straight game for the first time since 1956.
Senior safety K'Von Wallace says this group has the potential to be the best to ever come through Clemson.
"Definitely one of the best I've been on. Last year was a good defense, good team overall, going 15-0, something that had never been done, best ever," Wallace said. "And when it's all said and done I believe that this could be the best defense to ever come through Clemson.
"Just what we can do, the versatility we have, the great front we have, the great back end we have. It's not that big of a drop-off in my opinion. Through the first seven games, I believe we did better than last year's team, anyway. But just our togetherness, us playing as a team as one collective unit, and the fact that we can continue to get better is something scary. We'll see in the games ahead, but I believe that this can be a special defense."
Wallace said the drive to be the best starts with defensive coordinator Brent Venables.
"We've got a great coach that drives to be the best. Each and every year he starts all over and pushes us to get the best out of us," Wallace said. "Us being a mature and elite and having great leadership in the back end has also helped us on the defensive side. That experience we have on the back end is definitely big for us. I believe that defense can only get better."
Wallace then went on to say that it doesn't matter if the defense is overlooked.
"Nah, I believe we're going to be underdogs whether we're looked at or not," he said. "That just motivates us to be the best. If they're not saying we're the best ever then we're underdogs."
Wallace has taken over the mantle of team leader, and that leadership was put to the test last week when freshman defensive back Andrew Booth was ejected for throwing a punch at a Louisville player.
"All of the seniors were upset, me especially because me and Booth are very similar, especially how we came in," Wallace said. "He is playing as a true freshman, I was playing as a true freshman. A lot of similarities, how his attitude was and how mine was. I talked to him personally, just tell him to stay the course, even before the game. A lot of things going on in people's lives that we don't know about, and a lot of times we use football to express our anger. Sometimes that can get ahead of us. Me being a leader, it's already been handled. And we're going to continue to get better. I promise you it won't happen again. With Andrew Booth being Andrew Booth, just harping on him to be himself. Don't try to be somebody you're not. Don't try to do too much. Just live for the moment and always know your time is coming.
"There's a lot of frustrations that you have being a highly recruited guy and you're not playing as much as you should. Just taking those young guys under our wing. Us being leaders that's what we have to do."
Wallace took it upon himself to have a conversation with Booth.
"I have conversations like that with all the guys. Sometimes the starting positions are picked before they even get there. They know how the process goes sometimes," he said. "It's hard to get through that process as a true freshman because you come in, especially if your highly recruited, you come in and you want to play. You've got a lot of family counting on you to do well. You know everybody wants a jump start on their career. Everybody wants a jump start on being drafted one day. You don't come to a college like this not to play well and not to play right away. Those guys are going to be great players. Trust me. They're going to be sitting right in these chairs."

Upgrade Your Account
Unlock premium boards and exclusive features (e.g. ad-free) by upgrading your account today.
Upgrade Now