| | |
| --- | --- |
| Justyn Ross with more room to maneuver? Position change opens up Ross' game | |
---
| | |
| --- | --- |
| Tuesday, August 6, 2019, 2:05 PM | |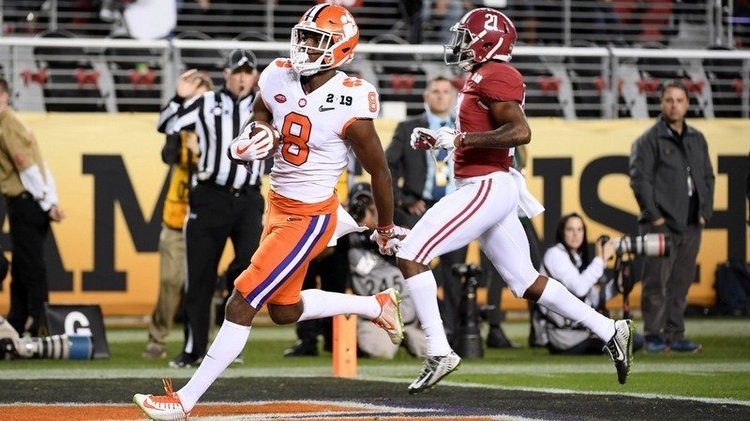 CLEMSON – Imagine Justyn Ross with more room to maneuver.
Clemson's talented sophomore wide receiver led the Tigers in receiving yards last season with a perfect thousand, but it was his play down the stretch that captivated the nation. Ross caught a season-high six passes for 148 yards and two scores against Notre Dame in the College Football Playoff Semifinal, then matched those six receptions (for 153 yards and another score) against Alabama in the title game.
Ross backed up Tee Higgins as the boundary receiver (or 9-man receiver) last season but has moved over to the 2-man spot this year. Ross spoke with the media following Monday's practice and had this to say about the move and much more.
On the move
"I am learning a new position this year, so I am trying to show that I can learn what I am supposed to do on the field and keep developing as a player mentally and physically. It's not really all that tough because I understand the concepts and know what everybody is supposed to do on the offense.
"It will open up some space for me. Last year I was on the boundary behind Tee, and now that I am to the field I have a lot more space to work with. I get to open up my arsenal to do more and pull out some more tricks."
What does he have to do to improve?
"I have to keep that same mentality of going in and working for everything I want. I have to make sure I do the right thing for me and my teammates. And I don't let it (preseason hype) get to me like that. I just go out there and grind and play ball."
Did last season's success surprise him?
"I knew I could do it, but me getting out there and doing it kind of surprised me a little bit. I feel like this year I have gained a lot more confidence. I understand the whole offense now. Last year I was kind of like here and there, but this year I understand the offense."
How does having so many playmakers help him?
"It helps a lot. One person on the defense can't just pencil me or Tee or Diondre or Trevor. They can't because somebody will always be open."
"They are some freaks. They came in built up and ready and fast. They are good on routes. The best improvement I've seen is in their routes - they were raw in their routes, so that is where we've seen the most improvement."
What motivates this team?
"Coach Swinney always keeps us down to earth and lets us know that this team this year hasn't done anything. That team last year is the one that went 15-0 and won the National Championship. This team hasn't done anything."
"DK is a natural athlete. You can move him anywhere on the field because of how athletic he is. I feel like he is going to do big things this year."
"I haven't gone against him but he is physical, maybe one of the most physical DB's we've got."