| | |
| --- | --- |
| Joyner recaps undefeated season, keeping up with Deshaun Watson | |
---
| | |
| --- | --- |
| Monday, December 14, 2015 11:35 AM | |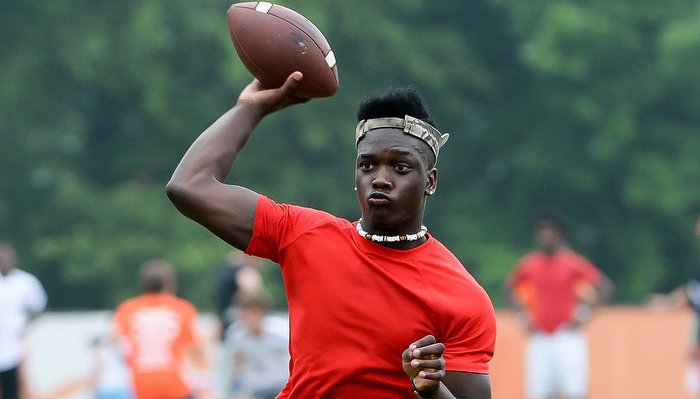 Clemson's Deshaun Watson and Cam Newton of the Carolina Panthers have led their teams to undefeated season and are inspiring one of Clemson's top 2018 recruits along the way.
Quarterback and athlete prospect Dakereon Joyner led his Fort Dorchester (SC) team to an undefeated season and a state championship this past weekend in Columbia.
TigerNet caught up with Joyner Sunday evening and he said his team overcame a lot of obstacles on its way to a 59-31 victory over Dorman in the Class AAAA state championship.
"It's amazing. It's a blessing. This is the first time in our school's history that we've ever won a state championship or have ever been to a state championship," Joyner told TigerNet. "It makes you feel good about yourself to know that all of the hard work that you put in during the offseason paid off. At the end of the season, we overcame adversity to have a perfect end to the season."
The championship was the first in school history, but it was also the product of a promise Joyner made to 2016 offensive line prospect John Simpson.
"It makes me feel good about myself because I always told John that no matter what I had his back. When we started his senior season, I told him that no matter what we were going to get him a ring," Joyner said. "We lost in the third round of the playoffs last year and I promised him that I was going to take him to a state championship. I told him that I had his back and that I would never let him down, and I never did. I'm so thankful to have him on my team. He's like a brother to me."
The 6-2, 190-pound prospect finished his sophomore campaign with 3,202 passing yards and 33 touchdowns and 1,058 rushing yards and 19 touchdowns. Joyner said the success was because of his maturation as a leader and a player over the course of the last year.
"I do feel like that as a leader, I was very vocal and led by example," he said. "I matured between last year and this year and even from our first game to our last game I matured as a player and as a quarterback."
Joyner has kept up with Clemson and the Panthers during their successful seasons, and he said he's been impressed with the way both Watson and Newton have played this year.
"I have because Deshaun Watson is my favorite player. I keep up with him and Cam Newton 24/7," he said. "It's kind of weird because Cam Newton and Deshaun Watson are my role models and they're both quarterbacks and they're both undefeated. I'm undefeated as well, so it's kind of weird that it happened that way. Clemson is having a great season. Deshaun is being a great leader and he's developed as a quarterback as the year has gone on. Coach Dabo Swinney has done a great job and all of the coaches have done a great job at Clemson."
The 2018 prospect took a break from recruiting during the season but said he's ready to dive back into the recruiting process as he prepares for his junior season.
"I spoke to Coach [Tony] Elliott about a week ago and I talked to him before our state championship game because he was there when we got off the bus. I saw him there and he saw me," he said. "The last time I really spoke to them was a couple of weeks ago. Everything is pretty much the same. I took a step back with the recruiting process during the season. I wasn't really worried about it. My recruiters from Clemson understood that, so they haven't really been pushing it as much during the season. I kind of laid back on it and didn't get in deep thought about it, but now that the season is over I'm going to get back on track with recruiting."
Besides Clemson, Joyner has offers from Georgia, NC State, North Carolina, South Carolina, and Tennessee.