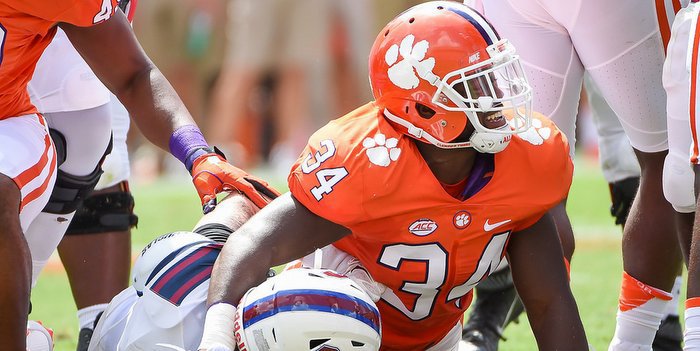 | | |
| --- | --- |
| Joseph and Clemson defense strive for that perfect game | |
---
CLEMSON – It's obvious to anyone that has watched Clemson football this season that the Tigers haven't played what could be considered their best game, and with five regular-season games to play plus the postseason it's almost a moot point.
But linebacker Kendall Joseph thinks the Tigers haven't played a game where all facets are clicking. In other words, they haven't been even close to perfect.
Striving for perfection is something he wanted to work on during the open date.
"Absolutely. I don't know if you can ever play your best game because there will always be mistakes - a turnover here, a missed tackle here, a blown coverage here - but we are striving and we haven't reached our potential yet. That's what we're going for. We have a long way to go," Joseph said last week. "Really just cleaning up the small things. We've played hard and physical, but we got to work on technique. I was talking with one of the coaches as far as myself, just going back to simple footwork, hand placement when I'm getting off blocks and small things. That's what this week is for - recovering our bodies and looking at small, little technique things - footwork, alignment. Things that you might not think are big, but they affect you on a game day. Fundamental work, footwork drills for us."
Joseph said that while he understands the defense has done more than its fair share of work this season – they currently rank eighth nationally in total defense – NC State's last drive in regulation left a sour taste.
"Well, it was bad," he said. "You kind of feel hopeless at that point, but a field goal blocked is still a play, so we were just really like, 'Let's go hard. Let's block it.' We gave it our best effort and I kinda fell when I was going so hard. I just laid on the ground - I didn't look - and I laid there for a while and heard our fans cheering. I was like, 'They really missed it.' It was a big relief and it was awesome for us."
He was asked if the win over State proves this team knows how to win, and he said he takes a different approach.
"I don't know if I could say that. We look at it and take it as the defense really didn't do their job in getting off the field," he said. "We should have gotten off the field and not allowed that to happen. That is how we're looking at it. I guess we do have a blessing on us, but we work hard for those moments. Really, the defense took it like, man, they just drove down there on their own will and we should have been able to get a stop.
"As far as us, we still have a lot more improvement to do. They ran the ball a little too well on us. The offense is still putting up crazy amount of yards, they're moving the ball when they want to move the ball, it's just turnovers. That's all it is. If we can stop that, you'll see how dominant they really are. They could have easily scored maybe 35 to 40 points, but two turnovers in the red zone and a pick six takes away from how well they really were moving the ball. For the defense, we haven't exceeded our expectations and we want to keep improving."
Next up for Joseph and the defense – a date with Florida St. and standout running back Dalvin Cook, who had 21 carries for 194 yards against the Tigers last season. Most of those yards came on the stretch play, something that Joseph and his teammates will be looking for this season.
"That was their number one running play just to stretch. It was a good scheme and he's a great running back and was finding little holes here and there," he said. "We have already watched it and corrected it in practice yesterday. We want to make sure it doesn't happen again. Florida State loves stretch plays, toss plays and getting on the edge, giving him the ability to cut back if he needs to or just fire holes off his lineman. They do the same things. He can receive the ball really well too. He's a great player, so they are going to get the ball in his hands. We just have to really prepare for it and stay with our man. I know one time in the game, my eyes drifted from my man and he ended up dumping it off to him, so just keeping your eyes on your man and just staying corrected and doing what you have to do."
The game against the Seminoles is big in Joseph's eyes. Why? Because it's the next game on the schedule.
"I know y'all hear that all the time, but that's really what he's about inside the meeting rooms and stuff. Right now, Florida State is on our schedule," he said. "We know that we control our own destiny. We know that if we do what we need to do we'll be set up really nice. We're just taking it one game at a time. We know Florida State is going to be ready. They don't want us to win. They don't want us to succeed, so it's up to us to go impose our will on them."

Upgrade Your Account
Unlock premium boards and exclusive features (e.g. ad-free) by upgrading your account today.
Upgrade Now