| | |
| --- | --- |
| Jordan Leggett hears the doubters, wants to prove them wrong in 2015 | |
---
| | |
| --- | --- |
| Tuesday, April 21, 2015 4:18 PM | |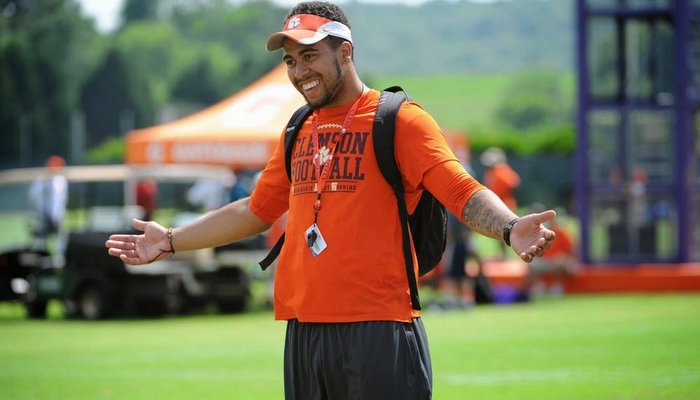 CLEMSON – Jordan Leggett

Jordan Leggett
Jr. Tight End
#16 6-5, 250
Navarre, FL
View Full Profile knows what everybody says. He knows what they think. He knows that many Clemson fans think he won't live up to the hype, or that once again he will disappear as a playmaker in Clemson's offense. He knows that big numbers in the spring game and that praise from the coaches during fall camp are meaningless.
This year will be different, he says, but why should anyone believe him? Because this is the year he wants to be – and expects to be – The Guy.
"It's definitely been like that for the past couple of years," Leggett told TigerNet towards the end of spring. "People will say, 'Jordan Leggett does this in the spring, has the most receptions in the spring game' and then I kind of fell off. But this year I'm trying to be more consistent just because I'm that guy. We have a bunch of young tight ends and they are looking at me to see what I'm doing and see if I'm doing right. I'm basically taking that on myself to be the best that I can be and plus I'm a junior so I have the option to leave after this year or come back for another year. I'm just taking it kind of hard and just going at it as hard as I can and be the best that I can."
Leggett said he had to learn to be content to be a cog in Clemson's offensive machine.
"Coming out of high school I was the "go-to" guy," he said. "When we were in a situation, 'Just give Leggett the ball,' but coming to college, there are people that are just as good or as talented as me. I kind of had to cope with that and build upon it and go out there and make plays and show them I can make plays so they would depend on me more. I'm taking it on myself to be the guy this year."
Leggett played shortly after arriving on campus, and he said that looking back on his career makes him realize that a red-shirt season might have been beneficial.
"I didn't have the chance to red-shirt. I kind of wish I would have to mature and watch the guys in front of me," he said. "But, since I didn't, I kind of got thrown in. It definitely helped me in a way to mature faster and stuff like that."
Leggett had just 14 receptions last season as the tight end position disappeared in the passing game, and he said that he thinks the position will have more success in 2015.
"It is a demanding position because they ask us to do so much. But, with us being so big and running around and getting tackled, everyone wants to go low on us because we're the bigger guy and they don't want to go head up with us," he said. "We do have to protect ourselves, but I guess we've just been having bad luck lately. We are about to have Seck ( Stanton Seckinger

Stanton Seckinger
Gr. Tight End
#81 6-5, 240
Isle of Palms, SC
View Full Profile ) back and we got Jay Jay (McCullough) back. He's not full go, but he's back and we're just going to keep progressing. And then Milan (Richard), he's out for a couple of weeks, but over the summer we are going to get in the weight room and toughen ourselves up and be ready to go."
Other Leggett notes
On what he wanted to work on this spring
"What I really set out to accomplish this spring is to get a handle on my blocking. Other than that I'm trying to become more of a leader for the younger guys. I'm kind of a senior in my position. Other than that, I'm just trying to lock it down and just get all of the knowledge I need before the season starts.
It's hard to say because they ask us to do so much. A traditional tight end will weigh about 260 or 270 pounds and they are able to fit up with these defensive ends because they weigh about the same. But, with us, they want us to stay kind of slimmer because we have to run routes as well as block. It's just like battling with somebody, but I'm getting better at it and it has been going well this spring."
The difficulty of the tight end spot
"Like you say, the quarterback is the first person that has to know the most and then it's us because we're pretty much the tempo because we have to line up in so many different spots. Yes, they ask us to do so much because we're in pass protection as well as running routes as well as blocking. And, we have to know what everybody is doing different like signals when we see something different. We are really like the quarterback on the line, but it's definitely hard. It's a hard position, but I'm getting the knowledge and it's working out."
The young tight ends and all the injuries
"They are definitely coming along. When Milan got hurt it kind of set him back a little bit, but Cannon [Smith] has been doing great. He's been working as hard as he can each day. We're just going to get a handle on it this summer and just get to work and get better. It has been difficult, but we've just been helping each other out. I mean, me and Cannon have just been rolling with it. If somebody has a deep route then the other one will sub in, but we really just have to work together. It helps us get in shape, so that is a positive. They can definitely progress a lot, but we've just got to bring them along kind of thing. We are definitely going to need their help this year. They are going to have to mature fast. They've had that one year red-shirt, so they just have to come on now."