| | |
| --- | --- |
| Johnson says no margin for error against Clemson's defense | |
---
| | |
| --- | --- |
| Friday, October 9, 2015 7:01 AM | |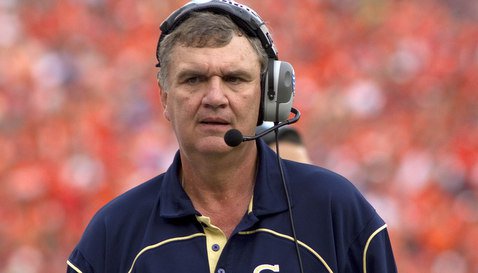 With four returning starters from a strong group last year, Georgia Tech's offensive line was supposed to be one of the team's strengths this season.
And that appeared to be an accurate assessment after the Yellow Jackets rolled to easy wins over Alcorn State and Tulane. But three straight losses, especially the first two, included some rough performances by the Yellow Jackets' offensive front.
After rushing for 476 and 439 yards against Alcorn State and Tulane, respectively, Georgia Tech had 216 against Notre Dame, 173 against Duke and 249 against North Carolina.
"I think we did OK," Georgia Tech head coach Paul Johnson said of the performance against the Tar Heels during his Monday news conference. "We played better. I think we got better on offense. Still things we can work on. I'm disappointed on the short-yardage plays. That's just disappointing. And that's not all on them, but for the second game in a row, fourth-and-1, third-and-1, we missed two third-and-1s, a third-and-2 and something else."
The Yellow Jackets, known for their option offense, were right on target in their first two games, averaging 9.2 yards per carry against Alcorn State and 7.8 against Tulane. They averaged 4.6 against Notre Dame's strong defensive front and then really struggled against Duke, averaging just 2.9 yards on 60 rushing attempts, their most rushes in a game this season.
The average was back up to 4.2 yards per carry against North Carolina, but that still came in a loss.
"People can talk about how they lined up all they want," Johnson said of the defenses. "I'm watching the Clemson game all the way back to '13. Clemson is lined up exactly the way North Carolina is lined up on the goal line; we run exactly the same play and walk in. And Clemson has got good people. Now, it's not all them. It's our execution, and again, we missed a call. We had a couple of missed assignments. That's why I say there's no margin for error. If you have a missed assignment, a guy breaks a tackle, nobody knows. Or if somebody knocks their guy back so far that you get in, nobody notices that they turned the other guy loose. But when there's not much margin in for error, it comes into play."
This week, the Georgia Tech offensive line goes up against a Clemson defensive front that is playing with confidence and momentum. The Tigers have surrendered just 460 rushing yards, an average 3.0 yards per carry and 115.0 yards per game.
And defensive end Shaq Lawson

Shaq Lawson
Jr. Defensive End
#90 6-3, 272
Central, SC
View Full Profile is coming off a dominant performance against Notre Dame as the Fighting Irish managed just 116 rushing yards on 33 attempts.
"He's just a good player. He's big, strong, fast, hard to block, and he's so versatile," Johnson said of Lawson. "I mean, they drop him into coverage in a bunch of their zone blitzes and match him up man-to-man with backs out of the backfield. He's a good player; he's a next-level guy.
"They've got a bunch of next-level guys. They had seven last year that are actively playing in the NFL off of that defense, and they've probably got that many or more this year. They've got some nice players."
Daniel Shirley is the sports editor of The Telegraph in Macon, Ga., and co-host of The Morning Show on FoxSports 1670 AM. Follow him on Twitter at @DM_Shirley and read his blog at macon.com/peachsports.