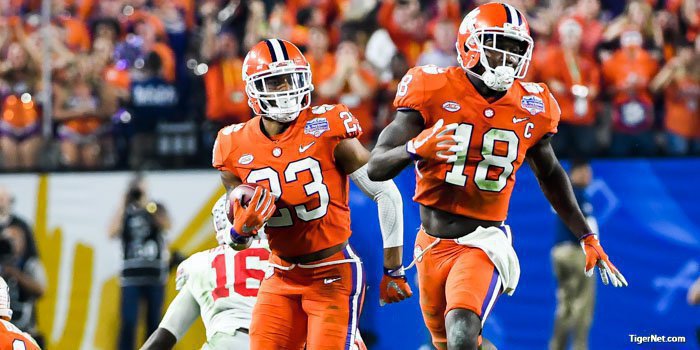 | | |
| --- | --- |
| Johnson picks on "little brother" Smith over stolen interception | |
---
CLEMSON – Jadar Johnson saw Ohio St. quarterback J.T. Barrett's pass arc high in the air during the fourth quarter of Clemson's 31-0 win over the Buckeyes last weekend, and he waited patiently for the ball to float into his hands for an easy interception.
The ball seemed to hang in the air for forever, but just as Johnson reached out to grab it, fellow safety Van Smith swooped in front and gathered it in for an interception of his own. Johnson, a senior, was not pleased to see an underclassman steal the spotlight.
Smith returned the interception 86 yards to the Buckeye 14-yard line, and running back Wayne Gallman punched it in from seven yards out two plays later for the game's final points.
Smith vows he never saw Johnson waiting for the ball.
"I saw JT (Barrett) roll to the right a little bit and I saw the three vertices by the receivers so I started to roll my coverage that way," Smith told TigerNet earlier this week. "He just threw it up, and it was up there for a while and I didn't even see Jadar behind me at all. When I picked the ball off I stutter stepped because I was about to run out of bounds but then I saw Ryan (Carter) and everyone running down field blocking for me so then I just brought it out."
Johnson paints a different picture.
"I was so mad. If you actually go back and watch the film you can actually see me be like 'what!' and then he takes off running and I'm calling him stupid because he's taking off running with the ball, but then I jumped back into football mode and knew I had to go block for him," Johnson said. "We fought about it that night. He's my roommate and he knew he wasn't going to go to sleep without fighting me for that one. I was so ready to catch that and I knew I had it. It was coming right for me and then he stole it. That's my little brother, though, so I'm going to let him keep that one and live with it, but he can't do that anymore."
Smith wanted to score a touchdown, but ran out of gas at midfield, and once he made it to what he thought was the safety of the sideline he had to deal with Johnson.
"I thought I was going to score. Once I hit I think the 50-yard line, I ran out of breath and I was tired," Smith said with a laugh. "And then I get to the sideline, and he's throwing water in my face, and I already can't breathe. I'm like, can I get some oxygen please?"
Johnson says he had to let Smith know his feelings right away.
"I said something right there on the sideline. He was tired and could barely breathe, and I came right over there and punched him in his stomach a few times and told him to never do that again," Johnson said. "You know you can never take a pick away from a DB, that's what we live for. I swear the ball was in the air for at least two minutes and I was just thinking, yes I got it, and here comes Van.
"You can actually see my reaction if you go back and watch the play. You can see me in the back of the end zone throw like a temper tantrum, and then I jump right back into football mode and go block for him."
Defensive backs coach Mike Reed defended Smith's interception.
"Yes, as soon as we hit the sidelines. Coach Reed went straight to technique and said that I should have attacked the ball," Johnson said. "I really should have, but I felt like it was coming right to me. He did the right thing and had the right technique, so he got the pride."
Johnson said he's proud of Smith.
"I'm proud of my little brother from seeing what he came from. He really came in way ahead of me, but seeing his progress makes me really proud," Johnson said. "I spend most of my time outside the football stadium with him, that's really my brother. We didn't come from the same Mom but you definitely couldn't make us any closer. I can talk to him about anything and he knows everything about me and I know everything about him. We are very close, but he still can't take picks from me."

Upgrade Your Account
Unlock premium boards and exclusive features (e.g. ad-free) by upgrading your account today.
Upgrade Now