| | |
| --- | --- |
| Johnson says Jackets not intimidated playing in Clemson two years in a row | |
---
| | | |
| --- | --- | --- |
| Tuesday, July 23, 2013, 10:08 AM | | |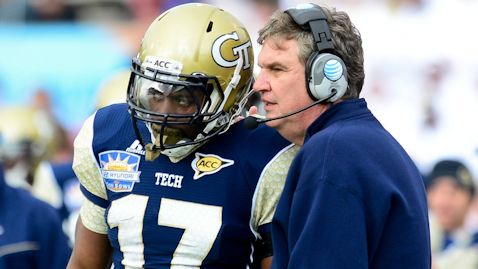 GREENSBORO, NC – The series between Clemson and Georgia Tech has turned into one of the better rivalries within the ACC, and when the conference released this season's schedule back in the spring it didn't take long to notice that the Yellow Jackets will make a return trip to Clemson this season.
The Jackets and Tigers tangled in Death Valley last season, a 47-31 Clemson win. With the additions of two new teams to the conference in Pitt and Syracuse, however, tweaks had to be made to the conference schedule and one of those tweaks was making Tech make the journey back up Interstate 85 for a second consecutive season.
Current Clemson Athletic Director Dan Radakovich was at Georgia Tech prior to taking the Clemson job, and he said that Tech had talked about making a similar move even if the conference hadn't added the two new teams. Radakovich said the Yellow Jackets were stuck in a cycle where their top two draws – Clemson and Georgia – came to Atlanta during the same season, and Tech was hoping to alternate the two programs.
Tech head coach Paul Johnson told us Monday afternoon at the ACC Kickoff in Greensboro that he would prefer to play at home.
"I learned a long time ago to try and not dwell on things I don't have control over," Johnson said. "And I have no control over that. Would I rather not go to Clemson to play? Yeah, if they had asked me. But they didn't ask me. "
Will Jackson, a veteran offensive lineman for Tech, smiled when he was asked about playing in Clemson two seasons in a row.
"I still want find out who is responsible for making us go to Death Valley two years in a row and talk to them," Jackson said. "It is interesting, though, because I love to play in Death Valley. It is one of the most electric places that you can play college football. It is absolutely rocking. And when Clemson runs down that hill, and you look up and you have to pinch yourself because you get so amped up to play the game. It is hard to execute when you have that many people up on their feet screaming. It makes it harder to execute your assignments and your snap count. It makes everything more difficult. It will definitely be a challenge for us but it's also exciting because we get to go up there."
Johnson did say that his team won't have any fear of playing in Death Valley, saying that his teams have played plenty of tough games over the years in hostile environments.
"Nothing against Clemson – Dabo has done a nice job and that is a tough place to play," he said. "But we did manage to win there in '08 and it is not impossible. I am sure it will be a lively atmosphere on a Thursday night. But we have had a lot of those Thursday night games. Blacksburg is pretty lively on Thursday nights, and Monday nights. We will go up there and do the best we can. But that is way down the road. I will worry about that when we get closer to it."
Jackson said that both teams have managed to play well in their home stadiums, giving Clemson an advantage this season.
"It is one of those frustrating things because it seems like we have played well in Atlanta, and they've gotten us the last couple of times up there, and that does give them an advantage," he said. "But that is just one of those things."