| | |
| --- | --- |
| Joey Batson: Making Clemson the gold standard one player at a time | |
---
| | |
| --- | --- |
| Wednesday, January 20, 2016 7:56 AM | |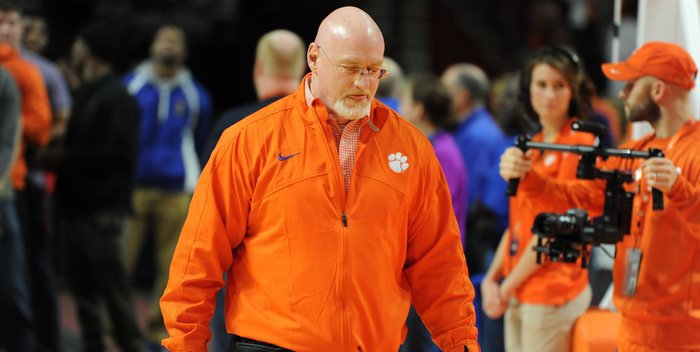 Late in Clemson's win over Oklahoma in the Orange Bowl on New Year's Eve, ESPN college football analyst Todd Blackledge opined that the Tigers' domination of the Sooners started in the trenches, and Blackledge said the Tigers were winning the weight room game.
Fast forward 11 days and Clemson not only held its own against Alabama – for years the gold standard of winning games in the trenches – but won the game in the trenches.
Watching it all with a sense of pride was Joey Batson, the man who has led Clemson's strength and conditioning program for 18 years.
TigerNet spoke with Batson prior to the National Championship about the program and if he takes satisfaction in watching his players win those battles.
"It's obviously very satisfying and it says a lot about our guys and our program and kind of where we are. It's what we do," Batson said. "We prepare for that and we train for that and at the end of the day it just kind of puts a smile on your face. But I'm just proud of the guys because I know the effort they put into it year-round and the pressure they are under. But they go out and perform week in and week out."
It was just a few years ago, however, that Batson came under fire as the Tigers repeatedly lost those same battles in the trenches. The online message boards were filled with vitriol – everybody else could do it better – and one website seemed to exist just to call for Batson's dismissal.
Batson stayed the course and was backed by Clemson head coach Dabo Swinney, who called the internet the "devil's playground" and said the Tigers would be better in the trenches when the recruiting in the trenches caught up with the skill players.
Swinney's loyalty isn't lost on Batson, who said his program is constantly evolving.
"It's huge. Obviously it is when somebody puts their trust in you to run a program that is basically 365 days a year. It's a year-round deal," Batson said. "And I am the eyes and ears for him and the voice of the team when it comes to the off-season. You have winter and summer and spring and the coaches have to go out and recruit. It's made me a better coach. We really haven't changed a lot of what we do. Of course, you make adjustments and you're always making improvements in your program. We just continue to get better and we get better players as well. The resources are better and the facilities are better and we are getting ready to upgrade, and when we get the indoor and the weight room connected that will take it up another notch. "
Most NFL coaches brag on Clemson's strength and conditioning program – saying Clemson's players are almost NFL ready when they leave – and Batson said he takes that as confirmation he's doing things the right way.
"I take a tremendous amount of pride in that. When things got kind of tough, I have a deep faith in Christ and I just kind of stood on that foundation," he said. "I knew that this was my time and this was where God placed me and what He wanted me to do, and I had a responsibility to go to work each and every day and develop relationships with these players. I don't really think about it - I just go to work every day. My desire is to serve these young men and treat them like my own. To respect them and show a little tough love from time to time. "
All he has to do is turn on the television on Sundays in the fall to see players he has helped develop.
"I am excited for them because I know the work they put in. I know their heart," Batson said. "I know their passion and i know what they are all about. I've seen it when it's in the upper 90's and we're in the indoor or we are outside and running hills or we're in the sand pit and pushing sleds."
As for the game against Alabama, Batson told TigerNet he would be more than just an interested observer.
"It's a measuring stick," he said. "And when it's all said and done we will go back to the drawing board and re-engineer and do whatever we have to do to get to the next level."