| | |
| --- | --- |
| Jeff Scott: Clemson's offense undergoing a spring cleaning | |
---
| | |
| --- | --- |
| Tuesday, March 24, 2015 10:06 AM | |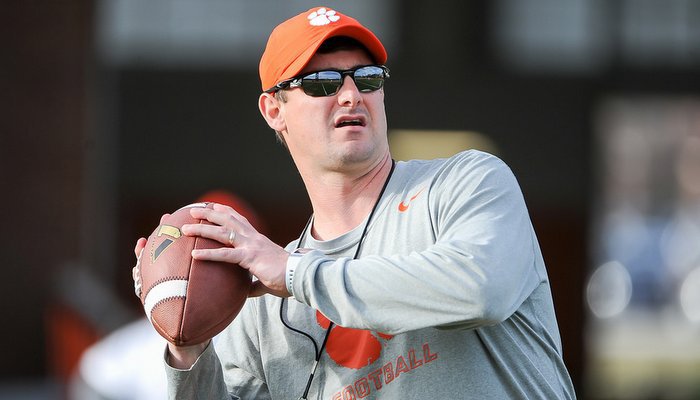 CLEMSON – Spring is a time for fresh starts, and new offensive coordinator Jeff Scott

Jeff Scott
Asst. Coach (WR) / Recruiting Coord.
View Full Profile says he and Tony Elliott

Tony Elliott
Assistant Coach / Running Backs
View Full Profile have spent the past few months cleaning out the cobwebs and spring cleaning the Tigers' offensive playbook.
Clemson's offense was extremely successful under former offensive coordinator Chad Morris

Chad Morris
Offensive Coordinator / QBs
View Full Profile , but his departure to SMU ushered in new coordinators Jeff Scott and Tony Elliott, and with two new coordinators comes a period of self-discovery to determine what worked and what didn't over the last four years.
Instead of taking trips to visit other staffs, Scott and Elliott decided that their time would best spent studying themselves to see where Clemson can get better and Scott said that the offseason was spent trying to simplify the game plan, especially for the younger players that are taking over for what was a senior-laden group in 2014.
"We've had some really good, productive visits over the last four years," Scott told the media after Monday afternoon's practice. "This year is a little bit different with the transition. I think any time you've had four years in the system, regardless of what system it is, you can really get a little bit top heavy. Our goal is to really study us. We're not trying to reinvent the wheel. We're not going to change the offense. We're not looking for new ideas. We've got plenty of things. What it's about is what's the core, especially because we have a young group this spring - some young offensive linemen that we want to bring along, some young quarterbacks and skill players.
Scott said that he wanted to get back to the nuts and bolts of what makes the Clemson offense so explosive, even if meant getting rid of some plays that the Tigers ran this past season.
"Let's get back to our core and really get good at that and then we can slowly put the pieces back on and we'll have plenty of time in fall camp," Scott said. "It was really about studying us. It was a little bit of spring cleaning. After four years, it was really good to sit down. We wrote up every concept - pass concept, run concept, spring game. We wrote up everything that we called at least one time in the year. We took two weeks and we watched every single clip and said we're going to push 30 percent of it to the side and not run it this spring and let's find out what that core 70 percent is that we really need to focus on. I think you saw a little bit of that against Oklahoma in the bowl game where we just simplified the game plan, allowing the guys to be able to play fast. That's really what we've been focusing on this spring, too."
One thing that's not going away, however, is the up-speed tempo of the offense as Scott and Elliott want the Tigers to run at even faster pace than last season. Scott said that the offensive lineman – particularly the younger guys have taken ownership of the tempo.
"Usually, you talk about your seniors and upperclassmen setting the tempo for the offensive line," he said. "It's really eight guys. You have those four true freshmen, and then you have Justin Falcinelli

Justin Falcinelli
RS Fr. Offensive Tackle
#50 6-3, 305
Middleton, MD
View Full Profile , Taylor Hearn

Taylor Hearn
RS Fr. Offensive Line
#51 6-4, 325
Williston, SC
View Full Profile , Maverick Morris

Maverick Morris
RS So. Offensive Line
#69 6-4, 295
Broxton, GA
View Full Profile and Tyrone Crowder

Tyrone Crowder
RS So. Offensive Guard
#55 6-2, 330
Marston, NC
View Full Profile . Those are eight guys that are all within their first two years. Since I've been here in 2008, I haven't seen a core like that. And I am not talking about just ability. They are very talented. But they are just hungry with a work ethic, no drama, high character and all of a sudden in transforms into some of the older guys, too. Those four guys are ahead of schedule. Offensive line is a very tough position, and we will have our first true scrimmage Wednesday to see where those guys are. But I am very, very pleased with that whole young group of offensive linemen."
The hurry-up, no-huddle is something that most players come to Clemson not understanding and Scott said that it takes time for them to understand the concept and see the concept have success before they really buy into what the coaches are trying to do.
"I think it is another year for those guys in the system and for them to understand it," he said. "They've been able to see it work, and in the bowl game we were able to play a little bit faster there and you could see the other team kind of wear down. Then the guys kind of buy into it. The more years that you kind of put together and bring those guys back, they believe in it and they teach the younger guys. And when you have all of your coaches coaching that hard every day in practice and set that standard, and then the guys start having success and start believing in it and they want to go fast. It's one thing for you as coaches to tell them to do something and to push them to do it, but whenever they truly believe and understand why they're doing it, that's when it really takes off to the next level."
Wide receiver notes
Trevion Thompson

Trevion Thompson
RS Fr. Wide Receiver
#1 6-2, 195
Durham, NC
View Full Profile 's emergence
"A guy I am really proud of through seven days is Trevion Thompson. He's a guy that gets forgotten about a little bit. We've had some guys that have been fortunate to come in at that position and play a little bit as freshmen. For Trevion, that situation was a little bit different because we had good numbers. We knew he was going to be a good player. I think he is a little bit further ahead than some of us expected him to be. That's something you get excited about - you see Mike Williams

Mike Williams
Jr. Wide Receiver
#7 6-4, 210
Vance, SC
View Full Profile make a play and then two plays later there is Trevion going the other way and making another big play. "
Germone Hopper

Germone Hopper
RS Jr. Wide Receiver
#5 5-11, 175
Charlotte, NC
View Full Profile 's progress
"The depth is important, and in a long season it's important you have more than just those front three guys. Germone Hopper has had the best few practices he's had in a while. His attention has been a lot better. He has always had talent - it's never been an ability issue, it's always been focus and just consistent commitment to doing the right things on and off the field to be a great player. I really like the way he is working. "
Hunter Renfrow

Hunter Renfrow
RS Fr. Wide Receiver
#35 5-10, 170
Myrtle Beach, SC
View Full Profile
"Hunter Renfrow is a guy that no one really wants to talk about or think about, but he is just consistently day after day making plays. He is working to find his way for a seat on that bus."

Tags:
Jeff Scott
,
Germone Hopper
,
Mike Williams
,
Tyrone Crowder
,
Maverick Morris
,
Trevion Thompson
,
Taylor Hearn
,
Justin Falcinelli
,
Hunter Renfrow
,
Chad Morris
,
Tony Elliott