| | |
| --- | --- |
| Jeff Davis: Still Winning Championships | |
---
| | |
| --- | --- |
| Friday, January 8, 2016, 3:42 PM | |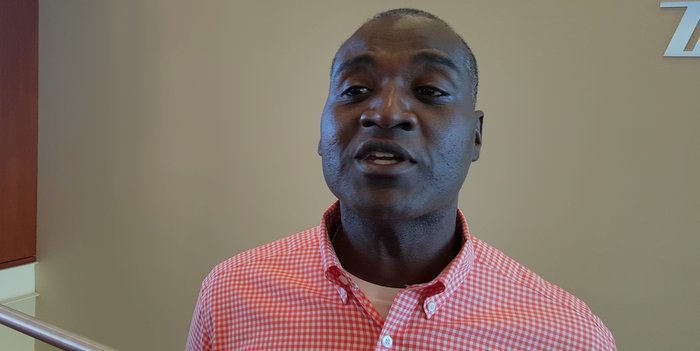 CLEMSON – Jeff Davis is still a champion, and he wants current Clemson players to know that they are champions in life, regardless if they win or lose Monday night's National Championship game.
Davis, the captain of Clemson's 1981 National Championship team, was inducted into the Ring of Honor in 1995. He was a first-team All-American in 1981 when he led the Tigers in tackles. Davis was also named MVP of the ACC and was the defensive MVP of the Orange Bowl victory over Nebraska, the game that clinched the national title for the Tigers.
He now works for head coach Dabo Swinney and the Clemson program as an advisor and mentor for the current players, and he never stops teaching. Tuesday, he stopped by the WestZone and held court for a captivated media audience, and he said his life isn't defined by that national title.
"For some people they might, but not for me. I would hope that what I represent to our young men, they see that excellence every day and that it's not just a moment," Davis said. "I want them to know that excellence is a way of life - I'm still winning championships. I'm not just living off the one I won 34 years ago. I'm trying to win one every day. And, that is what winning a national championship is all about. You're marked for the rest of your life. No matter what you do, you're going to be that championship dad, that championship husband, that championship citizen. So, winning the national championship is just the beginning."
However, Davis is embracing this season and just how epic it can be. It's something he wants the players to embrace as well.
"So many things going on and with the position that I hold, I love our young men," he said. "When you love your young men, you want them to experience what you've experienced, but also enhance it. I think this football team has an opportunity to enhance it. We didn't play 15. They have an opportunity to go 15-0, and you know what, that's going to make them the best ever.
"First of all, it starts in the spring. It starts in winter workouts, the weight room, in practice. And that's what they've been doing. That's where you build that camaraderie. That's where you build that belief. You build that belief about who you are. So every week, we've been being who we are and because of that we aren't distracted by what people say we can't do, by people saying we can't win. Those things are not a distraction to us because we are letting that work that we put in speak for itself. Whether we're dealing with adversity - that's the beauty of football - how will you respond to the different phases and challenges. We've learned how to do it quite well and in turn, we're 14-0."
Davis has two sons that are on Clemson's current roster – linebackers Judah and J.D. Davis – and he says it has been a blessing to have them close by during this special season.
"I never even thought about my sons coming and playing football because when you have sons, it doesn't get any better than that. No matter what they do or don't do, it doesn't matter because they are your sons," Davis said. "For me to be able to experience it, I really shied away from it because this is their time and I want them to be able to enjoy it - that experience of having to be in my shadow. One thing I will say is that there are two of them. I've enjoyed it, but they are two incredible young men - the way they carry themselves and handle their business, their attention to detail.
"I can't ignore that and just concentrate solely that they are on a football team that is undefeated. For them to be able to contribute to the football team and enjoy that role and understand that role - those are the types of things that a father could only hope to experience. It's been a blessing. They understand that Clemson is our school and that Clemson is near and dear to our heart. What a great opportunity for our football team to say thank you to our fans, thank you to our administration by winning the national championship. It's one thing to verbalize it, but it's another thing to put it into action."
Davis declined to compare the 2015 Clemson to his 1981 squad, but did throw down a bit of a challenge.
"I haven't compared the two teams. That's what I've been sticking to," he said with a smile. "I would rather that everybody else speculate. I guess the best way for me to say it is that in 81, we were undefeated. That's all we know. For me, that's where it begins and ends. They have an opportunity to do the same thing. We might talk about it then."
He then broke down and said that there are comparisons.
"North Carolina has always been a tough football game for us and we won 10-8, a big time game and hey, we did the same thing this year," he said. "We had a very young, energetic coach. That's what Coach Swinney is. We weren't expected to win. Nobody knew what we were doing, but we just kept winning every year. Year in and out. We found a way to win each week. For some reason, we were always the underdog. The more we win people will consider us an underdog. I love that we didn't take a back seat to anyone and I love that we haven't allowed that title or anyone to label us that. We just keep winning. These guys work hard - we worked hard. We have great leadership on this team that is tremendous.
"The chemistry on this football team and to me, that's what championship football is all about. It's not just about the talented guys. When you think about the guys that contributed to these victories. Hey, fake punt, Teasdall. Christian Wilkins catching the ball. There just have been so many of our players that have been able to rise to the occasion. Those are some of the similarities. The most important thing is that we do it with class. We win with class. We know how to utilize it and understand that winning a football game every week - there is a bigger purpose for that. We're not just building young men who play football, we're building young men who contribute to society. Winning on the football team is just one of those aspects. When you see this football team, we're winning in the classroom and we are winning in the community."