---
| | |
| --- | --- |
| Saturday, October 26, 2013 9:24 PM | |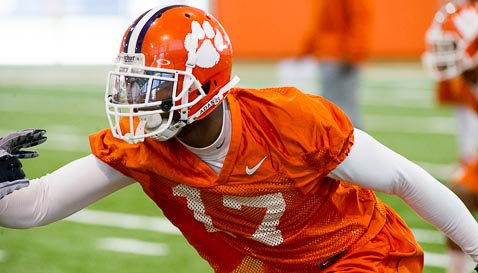 COLLEGE PARK, M.D. – Bashaud Breeland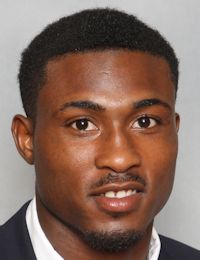 Bashaud Breeland
RS Jr. Cornerback
#17 6-0, 195
Allendale, SC
View Full Profile felt like a prisoner, trapped in the locker room just on the edge of Byrd Stadium, as he sat waiting to see the lights of freedom in the second half of Saturday night's game.
Breeland wasn't allowed out of Clemson's locker room during the first half of Saturday's 40-27 win over Maryland because he had to serve a one-half punishment after being flagged for targeting during the second half of the Florida State game last weekend.
The junior could only gauge the game's progress through the fans' reaction and Clemson's Tiger Band, but as he sat anxiously awaiting halftime, he knew that once he emerged from the locker room, he was going to impact the game's outcome.
Breeland's impact was felt less than a minute into the fourth quarter and the game still hanging in the balance when he hit Maryland running back Albert Reid, jarring the ball loose and allowing linebacker Spencer Shuey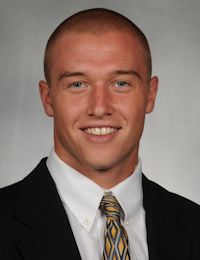 Spencer Shuey
Gr. Linebacker
#33 6-3, 230
Charlotte, NC
View Full Profile to pick up a fumble that would lead to a Clemson touchdown that gave the Tigers breathing room in the eventual 40-27 win.
Breeland said after the game that all he could do was sit in the locker room and try to visualize himself making plays while the rest of his teammates were out on the field.
"There is no television in there, no radio, nothing," Breeland said Saturday. "I just had to sit there, look at lockers and just think about what I was going to do when I got out there. I only had one person that would walk in and tell me the score every now and then. I was just in there by myself. I was just sitting. I was trying to stretch my hamstrings and stay warm because when I came out, I knew that I wouldn't have as much time to warm up."
Clemson head coach Dabo Swinney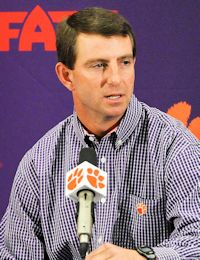 Dabo Swinney
Head Coach
View Full Profile likened Breeland's punishment to that of a criminal being on lockdown, and said that it took time to get him warmed up and mentally prepared once he emerged in the second half.
"He had to sit inside like a criminal or something in the first half," Swinney said. "We got him ready to go, and he sat the first series in the second half while we got him ready and then we got him in there. He was huge. Breeland has probably played as good as anybody we have this year."
Defensive coordinator Brent Venables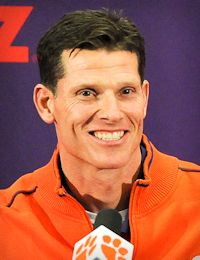 Brent Venables
Defensive Coordinator / Linebackers
View Full Profile said that he was proud of the way Breeland handled the punishment and played in the second half.
"That was a big play. All of those turnovers were big," Venables said. "They cracked our safety and he did a good job on crack replace. He put his hat on the ball and it was a textbook tackle. I am glad he was ready to go. It wasn't easy to manage (being in locker room), but he got in there and played well. "
This year's tackle and caused fumble was huge, but Byrd Stadium is no stranger to great plays by Breeland.
Two years ago, it was a miraculous, one-hand interception that sparked another Clemson victory - a play that Swinney will never forget.
"Two years ago Breeland was kind of the spark," Swinney said. "He sparked us then with that left-handed, one-handed interception. And then he forces that fumble, and that was huge. We needed a play like that on the road."