| | |
| --- | --- |
| Jae'lon Oglesby close to getting NCAA clearance? | |
---
| | |
| --- | --- |
| Saturday, October 25, 2014 7:01 AM | |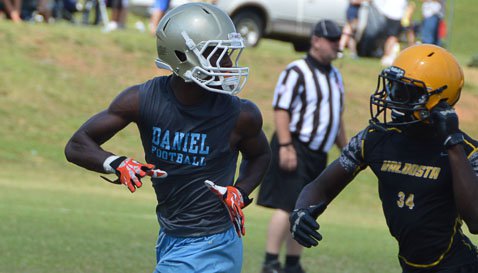 Jae'lon Oglesby, a 2014 Clemson running back commit out of nearby Daniel High School, is close to being cleared by the NCAA.
Oglesby rushed for an incredible 2,176 yards and 21 touchdowns and had 38 receptions for 557 yards and six touchdowns as a senior, garnering 4-star status by many scouting services. However, he had to enroll at Fork Union in August after failing to gain clearance and has spent the last few months playing receiver at Fork Union while working on getting qualified.
Major Brian Hurlocker, the head coach at Fork Union, told TigerNet this week that he has been impressed with what he has seen out of Oglesby and that the administrators and coaches are doing what they can to make sure Oglesby gets that NCAA clearance,
"Jae'lon is doing good here. He's made some catches,"Hurlocker said. "He's been a spark plug and plays receiver. We're working hard with him academically to try to get him eligible. We're trying everything we can to get it done, but he has been a spark plug for us when he gets in there."
Hurlocker said that he hadn't heard of Oglesby before the Daniel product arrived at Fork Union, but likes what he has seen.
"I didn't know of him. His speed and his hands were striking when he got here," Hurlocker said. "He gets a push off the line of scrimmage and he's got soft hands, so it has been a good fit so far. We just have to get him a little bit bigger and little bit stronger. We've got to get him to take care of the ACC physicalness. He's about 175 right now."
Oglesby has been playing in a rotation with seven other receivers, and has 12 catches with three touchdowns. Following a game on Saturday against Benedictine, Fork Union has only one regular season game remaining before the VISAA playoffs. However, Hurlocker said the goal right now is to make sure that Oglesby qualifies.
"It has been a work in progress and we're trying to get it done," Hurlocker said. "We're hoping that the NCAA will approve him here within the next 10 days."
He then said that he thinks Olgesby can make an impact as early as next fall for the Tigers.
"I think coming in during spring ball he'll be able to make his mark and get up in there to the two deep and be a good return man. He flashes some very, very good talent. He's going to be alright," Hurlocker said. "He reminds me of Akeem Auguste that went down to South Carolina. They are both fast. Good ball skills. Good, heady guys. We had Akeem at receiver here and he went down and played defensive backs and he made it last year with the Seattle Seahawks for one year as a defensive back. They are similar type guys - small in stature, fast, got all the stuff they need to make an impact."