| | |
| --- | --- |
| Jadar Johnson turning heads in the "No Fly Zone" | |
---
| | |
| --- | --- |
| Sunday, August 17, 2014 11:59 PM | |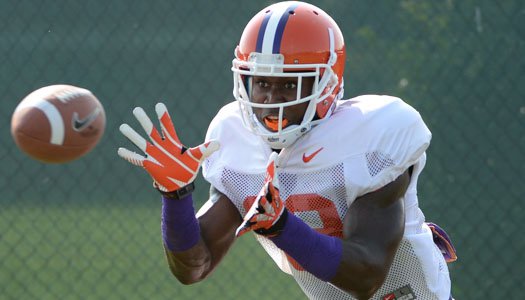 CLEMSON – Sophomore safety Jadar Johnson

Jadar Johnson
So. Defensive Back
#18 6-1, 207
Orangeburg, SC
View Full Profile turned heads during spring practice, ending the spring in a virtual dead heat with incumbent Jayron Kearse

Jayron Kearse
So. Safety
#20 6-4, 215
Fort Myers, FL
View Full Profile for the starting spot. A little over two weeks into fall camp, he has yet to relinquish his spot atop the depth chart.
The Orangeburg (SC) native appeared in 11 games and registered 12 tackles last season during limited duty. However, he caught the eye of the coaches during the spring and made a further impression Saturday when he jumped a Cole Stoudt

Cole Stoudt
Sr. Quarterback
#18 6-4, 231
Dublin, OH
View Full Profile pass in the flat, returning it for a touchdown in Saturday's scrimmage in Death Valley.
Johnson told TigerNet recently that he prides himself on his coverage skills, while Kearse is a tackling machine.
"I would say my strengths are really in coverage," Johnson told TigerNet earlier in fall camp. "I'm pretty good in coverage. I need to work more on my tackling and coming up in the box. Jayron, he's amazing with tackling. He's half safety and half linebacker."
With a year under his belt and two entire offseasons in Brent Venables

Brent Venables
Def. Coordinator / Linebackers
View Full Profile ' defense, Johnson said that he is much more comfortable and can show the coaches what he is capable of doing.
"I just really had to get adjusted to everything, because in high school I didn't really know and have to read the playbook and stuff like that," Johnson said. "Once I got the playbook down, I could show how good I really was and play up to my potential. I feel way more comfortable. I just needed to get adjusted to the environment and more comfortable with the playbook. Once I got the playbook down, it's been easy."
Johnson and Kearse are battling for the starting safety spot, but Johnson said that he feels like he is helping his brother get better.
"With me and Jayron, we've been working really hard together over the summer," he said. "He'll "wake up and then he'll wake me up and we'll go work out or watch film together. It's been more of a brotherhood than a competition."
No matter who gets the nod for the first defensive snaps at Georgia on August 30th, Johnson said that both he and Kearse know that the other must be ready to enter the game at a moment's notice.
"It makes it easier. Whoever wins the starting job, we'll have faith in each other," he said. "It's basically about depth. When one of us goes in and comes out, the next one will go in and be just as strong."
In addition to Johnson and Kearse there are four other experienced safeties on Clemson's roster, much-needed depth for defensive backs coach Mike Reed

Mike Reed
Assist. Coach / Defensive Backs
View Full Profile .
"That's where our depth comes in," he said. "Everybody is working hard and doing their thing. It's not really that we're really fighting for starts. We're fighting to get better, because we know that whoever starts will come out and the next person that goes in will have to just keep rolling with the rotation."
Johnson said that he and the other defensive backs know the success that they are capable of, but they have to show it in practice before it will translate to games.
"There's always potential. I can see us being really good, but we have to step up to the plate and bring everything to the table that we have," he said. "We can't just show up and think that we're going to do it. We've got to practice what we preach. If we say we're going to go out there and shock the world, we've got to do it."
They are so confident that they are living by the mantra, "No Fly Zone."
"The 'No Fly Zone' - all of the defensive backs, we came together and stuck with the 'No Fly Zone' because we've been working hard all summer with no days off," he said. "We've just been going hard. That little slogan is showing our confidence. If anything comes in the secondary, it's not happening."