| | |
| --- | --- |
| Jack Arute says ACC stock rising with Clemson-FSU clash | |
---
| | |
| --- | --- |
| Thursday, October 17, 2013 1:05 PM | |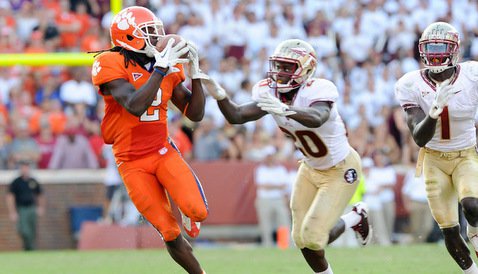 Jack Arute has been around college football for over 30 years and has seen plenty of big games, and he thinks this weekend's clash between Clemson and FSU might be the biggest in ACC history.
Since beginning as a college football sideline reporter for ABC in 1984, Arute has seen many great teams, and he said that this year's Clemson team may be the best in two decades or more.
Arute has worked for ABC and ESPN covering college football, college basketball, motorsports events and just about every other sport imaginable. He currently hosts SiriusXM College Football Playbook with former Washington and UCLA head coach Rick Neuheisel and 1992 Heisman Trophy winner Gino Torretta every day from noon to 3 p.m. on SiriusXM channel 91.
Everyone knows that the winner of Saturday's top-five matchup will in all likelihood win the ACC Atlantic, but in an exclusive interview, Arute told TigerNet that from a national perspective this game will validate the ACC's progress as football conference.
"I don't know that I'd say in conference history, but I would agree wholeheartedly because the ACC like all of the other conferences in the BCS are in an arms race for what I call SEC recognition," Arute told TigerNet Tuesday afternoon. "This game takes two of the top teams in the ACC and because of the records, I see it as a validation that the ACC is gaining ground on the SEC."
Clemson head coach Dabo Swinney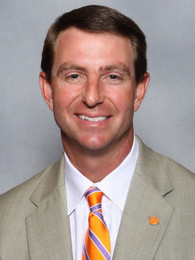 Dabo Swinney
Head Coach
View Full Profile and FSU head coach Jimbo Fisher have changed the culture at their respective schools, and Arute said that the tide is about to change in games between the two schools against their rivals – South Carolina and Florida – and the SEC as a whole.
"I think there has been a turnaround and it's not just this year," Arute said. "I've been around this game for so long that I've seen things come in cycles and in both cases it was a case where Dabo came in and he had some good guys, but he needed some more recruiting classes. He's now put together what I would say in my mind probably one of the best Clemson teams that I've seen in two decades. Then, you look at Jimbo coming in and not necessarily changing the culture, but changing the way Florida State does things. You look at the timeline and both of the them now have gotten their feet wet, they've got their guy, they've got their philosophies in place and you're starting to see it pay dividends."
With the rise of Clemson, FSU and Miami to national prominence this year, Arute said that the ACC is a different and improved conference, and this weekend is a chance for the conference to flex its football muscle.
"To me the part that's interesting is that if you go back and look at Florida State when they were independent, they had the an invitation to go SEC or ACC," Arute said. "Bobby Bowden told me this story and said, 'I pretty much told the people at Florida State, why would you want to go to the SEC and have to contend at that level every week when you can go to the ACC and dominate every week.' Well, that's what they did successfully and then along came other programs that said if we want to win a conference championship, we're going to have to beat Florida State. The cyclical side of things started and now you've got these two [Clemson and Florida State] teams. And, look down in Florida at what Miami is accomplishing with Al Golden. This is a new ACC and it shows a lot of football muscle."
Part of that turnaround according to Arute, is the increase in fan support monetarily and what that has meant, as far as improving the infrastructure of the program – indoor practice facilities, training tables, etc.
"I think they are on the cusp of it. If you travel around the country, you will see one of the factors is that almost every team has entered the arms race – the infrastructure," he said. "They have gone out and said, 'we have to improve our infrastructure.' And, I'm not just talking about practice facilities. It includes training tables, nutritionists, study halls and the assistants for student athletes. It's not that they are spending money wildly; it's that they are spending money to support their student athletes and their program. I think that has gained parity for a lot of the programs.
"Let's take Oregon – you've got Phil Knight writing the checks. Look at what has happened with their infrastructure. You take Clemson, you take Florida State – look at what has happened with their infrastructure. Everybody realizes that you just can't waltz in. My father taught me that to make money, you have to spend money. To have a winning team, you have to spend money if you want to have a consistent winning team year in and year out."
With better facilities, schools can attract top-notch athletes and give them the tools they need to succeed at the collegiate level and in the NFL.
"The key is recruiting. These recruits want to know how many kids have you put in the NFL, first and foremost. Every kid that gets recruited that is a five-star or four-star has dreams to play in the NFL so they go down the hallway and look at all of those NFL pictures and think, 'I'm the next one.' Next, they want to know, too, because their football IQ has become far more mature because the level of high school coaching is far more advanced these days – the want to know, 'what are you going to do to get me ready to go to the NFL?'"
"That's where the infrastructure comes in. What is the strength and conditioning program like? What have you got in terms of keeping me in school and keeping me current so that I can stay academically eligible? What have you got as far as practice facilities? These are far more intelligent kids asking these questions because they have been on radar screens – being deemed a five-star or four-star- long before their senior season in high school. Heck, ESPN tracks them from the time they are freshmen in high school."