| | |
| --- | --- |
| It's never too early to talk Clemson and Georgia | |
---
| | |
| --- | --- |
| Sunday, June 8, 2014 4:22 PM | |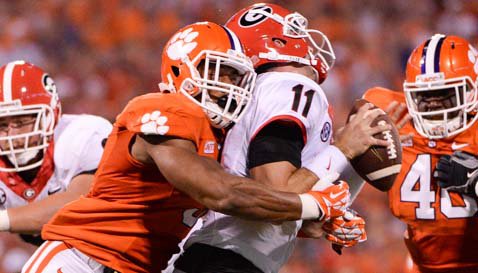 The summer has barely begun, and thoughts are already turning to college football. For Clemson and Georgia fans, the highly-anticipated season opener is 83 days away, meaning we have almost three months to take vacations and trips and enjoy the halcyon days of summer.
However, the specter of college football is always present and it's never too early to talk a little football. Late last week, I had the pleasure of co-hosting a radio show with my good friend Mark Sturgis (Straight up with Sturg on ESPN Upstate) and one of the guests was Georgia play-by-play announcer Scott Howard.
We covered a variety of topics, and the following is a transcript of our conversation.
Georgia has had a lot of turnover defensively recently. What do you see there?
"It's definitely going through a metamorphosis. All of these guys started in the secondary at least one time last year. They have moved some guys around, and there will be some fresh faces in there and some new names. There are a couple of veterans back, too. They have got some bodies, it's just a matter of who is going to be able to play and who is going to play the way that defensive coordinator Jeremy Pruitt likes it. It's like there is something new every week for the last couple of months, or at least that's the way it seems. But that's the situation as we deal with it."
Do you expect this year's game to be as high-scoring as last year's
"I didn't really expect that last year, to tell you the truth. I thought there would a little more defense played. That was a surprise to me. Georgia loses (Aaron) Murray and brings in (Hudson) Mason, who played the last two games. He certainly is a veteran guy so it's not like he is getting used to the offense or getting things down as far as the playbook is concerned. He's got some veteran receivers that he has worked with during his time here. But Georgia's running game certainly is the strength of the offense provided they all remain healthy. There is Todd Gurley and Keith Marshall, who hopefully will be back. We will see if he's at 100 percent after an ACL last year. They moved J.J. Green to defense so he is going to be in the secondary now, and he was a guy that filled a lot of time when Gurley was injured in October. Probably this year the chances of a little more points being scored are a little bit better than I thought they were going into the game last year just because the defense, at least for Georgia, is such a question mark this year. "
What has new defensive coordinator Jeremy Pruitt brought to the team?
"It seems to me that he has brought a big giant whooping stick with him. He is not playing around. There is a lot more energy and intensity in practice during the spring. That is what the guys were talking about. We've seen some displacement in the roster. We've seen buys move along and seen guys switch positions. No job is secure. He is seeing these guys for the first time during his time at Georgia and he and his guys are making the decisions based off of who the best players are. He claims they aren't working off a depth chart right now, and he said that probably won't be set until the second week of August. He is going over the video of these guys and will find 11-plus players that will rotate in and out. He isn't making promises to anyone, and we had a walk-on named Aaron Jones that played a lot this spring and got a lot of time. It is wide open on the depth chart at Georgia."
I am hearing Clemson would consider scheduling Georgia in a few years…do you think these two programs should continue to play each other?
"I don't only think it's great for these two teams when they play, I think it's great for the game of college football when these two teams play. I think they should continue playing. It's been a great series going way back, and it's always been hotly contested. It's a natural rivalry from the region if nothing else. There has been a lot of great history with Georgia-Clemson, and I would certainly hope that somewhere down the road these two teams can strike up another series. That seems to be getting more and more difficult with the way college football has been changing and the way scheduling and the playoffs are headed, You play nine conference games in the SEC, and Georgia already has a yearly meeting with another ACC team in Georgia Tech. Home game situations for Georgia - we play a neutral game with Florida every year in Jacksonville so we are technically without a home game every other year. So there are a lot of reasons not play it, but these are the games that fans and most importantly television want to see. These are the kinds of game that bring in some huge numbers, and as we all know television is running the sport these days. "
From the perspective of an opponent, what was the atmosphere like in Death Valley last year?
"It was outstanding. Off the charts. As you would expect for a Clemson home game. It was the opener, it was Georgia-Clemson, it was national television and two teams ranked in the Top 25. So there was a lot happening going into that ballgame, and the stadium and the whole atmosphere was off the charts. It was a typical SEC type of atmosphere from a Georgia perspective. It was great. It was a lot of fun. The game was good and very competitive. Other than the loss, from Georgia's perspective, it was a great night at Clemson. "
Georgia is a 5-point favorite as of right now..does that sound about right to you?
"We know those Vegas boys are usually pretty accurate. That is probably about right for a home game. Considering what both teams lost and what they have coming back, that doesn't surprise me. I wasn't aware that was the opening line, but that is probably about what it will be. It will be about a touchdown game either way."