| | |
| --- | --- |
| It's Game Week: Notes from the WestZone | |
---
| | |
| --- | --- |
| Monday, August 31, 2015 5:08 PM | |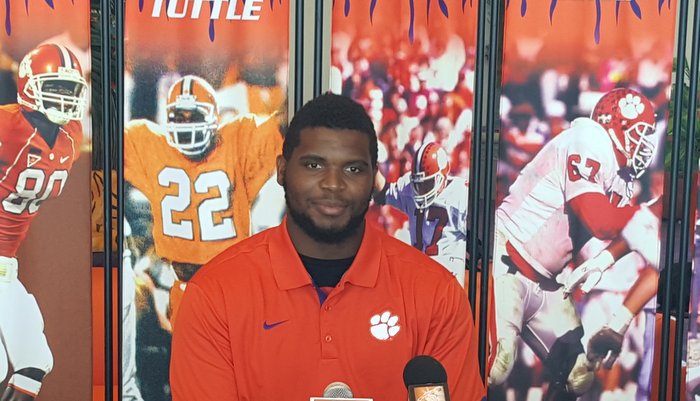 CLEMSON – Game week is finally here.
The fourth floor of the WestZone was a busy place Monday as 10 players and two coordinators sat down for interviews to preview Saturday's season opener against Wofford.
We will have plenty of stories this week, but here are a few quick notes that might not fit anywhere else.
Depth Chart notes
Clemson released the first depth chart of 2015 and 27 freshmen – redshirt or true – found themselves on the three-deep. In contrast, there are only 10 seniors or graduate students listed on the depth chart.
Four freshmen are listed as starters or co-starters – Mitch Hyatt

Mitch Hyatt
Fr. Offensive Line
#75 6-6, 285
Sugar Hill, GA
View Full Profile at left tackle, tight end Garrett Williams

Garrett Williams
Fr. Tight End
#44 6-4, 236
Orlando, FL
View Full Profile (if Clemson's elects to start two tight ends), defensive tackle Christian Wilkins

Christian Wilkins
Fr. Defensive Tackle
#42 6-5, 299
Longmeadow, CT
View Full Profile (listed as co-starter with Scott Pagano

Scott Pagano
RS So. Defensive Tackle
#56 6-3, 290
Honolulu, HI
View Full Profile ) and Greg Huegel

Greg Huegel
Fr. Punter / Kicker
#92 5-11, 180
Blythewood, SC
View Full Profile is the starting kicker.
*For the first time in several years, Clemson has listed the possibility of starting in a 12 personnel – or a two tight end set.
*Hyatt will be the first true freshman to start at left tackle for Clemson since 1944 when Phil Prince started against Presbyterian.
It's interesting that Hyatt's uncle Dan Benish – a defensive tackle for Clemson from 1979-1982 – will be an honorary captain for Saturday's game.
*Clemson will have new starters at punter, kicker, snapper and holder – Andy Teasdall

Andy Teasdall
RS Jr. Punter
#32 5-11, 188
Winston-Salem, NC
View Full Profile , Huegel, Jim Brown

Jim Brown
RS Sr. Long Snapper
#76 6-4, 242
Walterboro, SC
View Full Profile and Seth Ryan

Seth Ryan
RS So. Wide Receiver
#85 5-11, 174
Summit, NJ
View Full Profile .
Player notes
* Charone Peake

Charone Peake
Gr. Wide Receiver
#19 6-2, 214
Moore, SC
View Full Profile said what you see is what you get with Deshaun Watson

Deshaun Watson
So. Quarterback
#4 6-2, 207
Gainesville, GA
View Full Profile - he's calm, cool and collected no matter the situation.
"He came in looking amazing last year, I think he's become more a leader this year," Peake said of Watson. "He's a really calm guy and that's what you need out of a quarterback. I'm really looking forward to seeing what he can do this year. I've never seen him get rattled, that's probably the big thing that I've seen out of him."
*Peake isn't a numbers guy and said he has one goal for the season.
"I don't really set stat goals, but my goal for the season is out of my control," Peake said. "It's to stay healthy and play in all of the games. If I do that, everything else will take care of itself."
*With the way the calendar set up and the first games not until September, Clemson had an extra week of preparation. Linebacker B.J. Goodson

B.J. Goodson
RS Sr. Linebacker
#44 6-0, 245
Lamar, SC
View Full Profile said he and his teammates couldn't be happier to finally focus on someone other than Clemson.
"I've been looking forward to playing in a game, and I'm pretty sure my teammates are too," Goodson said. "We're tired of hitting on each other. We're ready to get ready for an opponent."
*Goodson said that playing Wofford can be used to prepare for the October matchup against Georgia Tech.
"They are similar. We still don't get enough practice against it," he said. "We have to prepare extremely hard for it. Wofford is a pretty good team. They do what they do pretty well. Wofford does a lot of things similar to Georgia Tech. They are two different type of teams. Wofford runs their scheme pretty well."
* Joe Gore

Joe Gore
RS Sr. Offensive Tackle
#73 6-5, 294
Lake Waccamaw, NC
View Full Profile said freshmen Jake Fruhmorgen

Jake Fruhmorgen
Fr. Offensive Line
#63 6-5, 282
Tampa, FL
View Full Profile and Mitch Hyatt have accepted the challenge of having to be major contributors this year.
"I feel like he [Jake] has come along a lot - he and Mitch both. Mitch really stepped when we found out that Isaiah [Battle] left," Gore said. "Me and Eric Mac Lain

Eric Mac Lain
RS Sr. Offensive Tackle
#78 6-4, 315
Hope Mills, NC
View Full Profile talked to him and told him, 'We're going to need you to step up for us this year. We're going to need you to step up big,' and he took it to heart. We feel like he did a good thing by completely taking that to heart. He completely stepped up. I told Jake, 'With Isaiah gone, that probably means that I'm going to have to go back and forth if something happens to Mitch, so I'm going to need you to step up big time for me. I'm going to need you to have my back and push me along because you never know what can happen. I can go down and we're going to need you to go in, so you have to be ready.' He stepped up big time, too."
*Gore said he feels comfortable playing both left and right tackle and can make the switch if need be.
"During the offseason, we didn't really know how it was all going to play out," Gore said. "All summer long, every time we had workouts, I did both left and right tackle, and then when the coaches came back I told Mitch that I was going to start sticking to right because I believe he has it. I stuck to right, but I did a couple of days on the left because Coach [Robbie] Caldwell asked me to. I'm fine with either side. You have to be versatile on the o-line and be able to play any position they need you to play."
*Rod Byers said that the move to the offensive side of the ball last year has helped him become a better defensive player.
"Coming in, it was very challenging because it wasn't something that I wanted to do, but I saw an opportunity to help the team so that's what I did," Byers said. "I just put my pride aside and went over there and helped the team. I really didn't understand it in the beginning, but going over there helped me become a better defensive player because I understand blocking schemes. Before I didn't understand gap control and the details, but being put in that uncomfortable situation really made me grow up and mature, and it has made me 10 times better as a defensive player."
* Ben Boulware

Ben Boulware
Jr. Outside Linebacker
#10 6-0, 241
Anderson, SC
View Full Profile is known as a violent player and he said he's looking forward to playing against a team that runs the ball a lot.
"The linebackers and defensive line probably get more tackles, and of course I like getting tackles. I guess I would like to have a break from hitting - mentally," Boulware said. "It probably gets old. I didn't get to play a lot against Georgia Tech, so I didn't get to feel what Stephone [Anthony] felt. I haven't gotten to play against a Wing-T offense like this, but I'm sure it'll be exciting. I'm looking forward to it."
*Boulware said he and the rest of the defense are looking forward to seeing Kendall Joseph

Kendall Joseph
RS Fr. Linebacker
#34 5-11, 230
Belton, SC
View Full Profile contribute on the field.
"I know he's a very mature individual and he's worked his butt off and had to fight through a bunch of little injuries," Boulware said of Joseph. "He comes back healthy and then it's something else, and that's annoying. We saw him in the spring and we know how well he played, so I think everybody on the defense is wondering how he'll perform in the game. I'm looking forward to playing with a guy who I kind of grew up with in the 864 area."
*Deshaun Watson has been giving the freshmen advice on what to expect Saturday.
"Friday after the Beanie Bowl, I was talking to Christian Wilkins and he was telling me about how excited he is about Saturday," Watson said. "I was just giving him a little info and telling him that it's going to be a little wild the first time, especially coming down that hill and seeing all of that orange. All of the young guys are excited and ready for that moment. I think they'll do well."

Tags:
Joe Gore
,
Eric Mac Lain
,
Charone Peake
,
B.J. Goodson
,
Jim Brown
,
Ben Boulware
,
Scott Pagano
,
Andy Teasdall
,
Deshaun Watson
,
Kendall Joseph
,
Seth Ryan
,
Garrett Williams
,
Mitch Hyatt
,
Jake Fruhmorgen
,
Christian Wilkins
,
Greg Huegel