| | |
| --- | --- |
| It's Death Valley. And It Means Business | |
---
| | |
| --- | --- |
| Wednesday, June 3, 2015 8:25 AM | |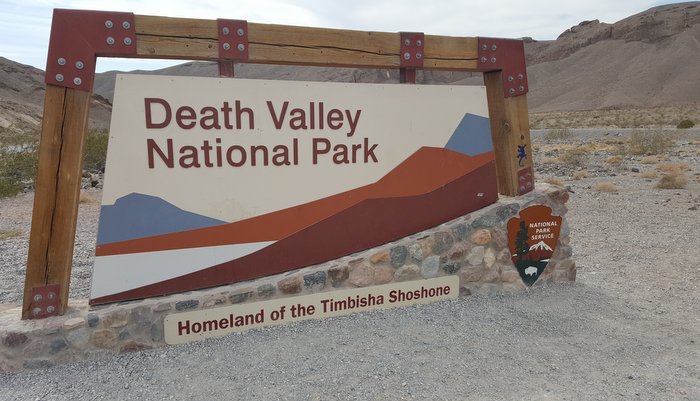 DEATH VALLEY, CA – Nice dateline, huh?
Following Clemson's NCAA Regional loss to Pepperdine that ended the Tigers' baseball season, Nikki and I had two days to kill before the return flight to Atlanta, and there was one destination on the map that kept calling to me: Death Valley.
We got in the rental car and drove up in between the high desert and the Sierra Nevada into a place I had always wanted to visit, paid our fee at an unmanned kiosk and deftly avoided the scorpion hanging around the trash can. And then…there it was…Death Valley.
Of course, Clemson's ties to Death Valley are well known – a rock from the California hot spot was brought back to former Clemson coach Frank Howard, who used it as a doorstop before it was used as a motivational tool for Clemson players entering Memorial Stadium. The stadium was nicknamed Death Valley by former Presbyterian head coach Lonnie McMillan, whose teams didn't seem to fare well on their trips to Clemson.
With that knowledge in mind, we drove into the park and Nikki wondered aloud whether we would see rocks that resembled the now-defaced Howard's Rock. The first stopping point on the road tour was Zabriskie Point, a series of badlands formations that overlook the actual valley a few thousand feet below. We exited the car, and the blast furnace of 110 degree heat hit us in the face as we made the trek to the viewing point.
It was at this point that I overheard a man – who was complaining to his wife about the heat – make an observation that made me laugh. And then it made me think.
"It's named Death Valley for good reason. And it means business," the man said.
At that point, I hadn't really tried to notice or think about any similarities between the National Park and Clemson's version of Death Valley, but as Nikki and I walked out into the badlands and braved the elements some thoughts began to formulate in my heat-scrambled brain.
As you enter Death Valley from the mountain side, the cliffs and hills surrounding the park are beautiful yet imposing (much like the stands at Clemson stick out above campus) and you can't help but be drawn into the landmark. Once you enter the park, you don't feel any sense of being threatened or scared until you look closely and the lesser known denizens of the park begin to scurry around – be careful because some of them bite.
And then you enter the Valley – it's all heat and a mighty wind, a moonscape of rock formations that make you feel like you've stepped foot onto another planet. Step into Clemson's Death Valley – beautiful yet imposing from the outside – and you realize you've stepped into a place that isn't just another stadium. The heat will get you. The sounds will get you. And you thank heaven you can see an escape point somewhere on the other side.
As you drive through the park, the mountains on either side of you stand sentinel – imposing guardians of the Valley itself, intimidating and menacing to those who dare enter. Enter Death Valley, and 85,000 orange-clad fans ring the field, intimidating and menacing to those who dare enter.
You then reach the lowest point of the park – over a hundred feet below sea level – and it makes you realize that at some point visiting teams reach their lowest point. But you've got to go through the dips and troughs in order to get out safely on the other side.
Once you clear the park, your vehicle begins to climb and the temperature begins to fall. You realize – that for better or worse – that you've made it through Death Valley. Sure, it wasn't in a covered wagon like our ancestors and we weren't on foot or on horseback, but the place still shows its raw fury in every nook and cranny – it's out to get you.
Opposing fans come to Clemson's Death Valley, and they leave once the final score has been decided and they realize they too have made it out alive, perhaps a little battered and certainly not entirely unscathed, but better for the experience.
That raw fury is awe-inspiring. It's frightening.
That's because it's Death Valley. And it means business.