---
| | |
| --- | --- |
| Saturday, October 18, 2014 7:01 AM | |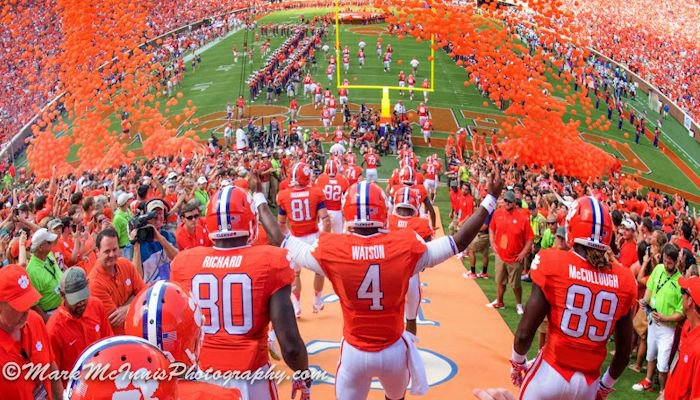 BOSTON, MA – It's a Clemson thing.
By now, you might have seen the video of the group of Clemson fans standing at baggage claim at Boston's Logan Airport doing cadence count. That was our flight, and it left Charlotte at 9:30 Thursday morning headed to Boston. It was full of Clemson fans headed to Boston for Saturday's matchup between the Tigers and Boston College.
We arrived in Charlotte, and there was orange all over the airport. Clemson fans of all ages were all over the place, taking different flights and paths to get to Boston, but it was evident that all were headed to the same destination: Boston.
We got on the bus that takes you from the long-term parking area in Charlotte to the terminal, and because my son had on a Clemson football shirt two older gentlemen (no school colors visible) asked if we were headed to Boston for the game. Once they found out we were, we answered question after question about Deshaun Watson

Deshaun Watson
Fr. Quarterback
#4 6-3, 204
Gainesville, GA
View Full Profile , Vic Beasley

Vic Beasley
RS Sr. Defensive End
#3 6-2, 236
Adairsville, GA
View Full Profile and Clemson's defense and the questions didn't stop until we reached the terminal.
Once inside the terminal, orange was everywhere. We made it to our gate, and it would be safe to say that over half of our flight was made up of Clemson fans. We sat at the front of plane, along with a couple of older couples decked out in all orange, and as people continued to file onto the plane the Clemson fans in the aisles would look down, see fellow fans already in their seats, and break out into "Go Tigers."
Two of the flight attendants were even smiling, and one said he had a flight on Wednesday that was pretty much the same way.
I listened to the conversations surrounding me on the flight, and it was all football all the time. Once we de-planed in Boston, I was waiting for my son to disembark and three Clemson fans walked by talking, what else, football.
Once we reached baggage claim, there was orange all over the place and the cadence count began, a special moment in enemy territory. We got back on another bus to take us to the rental car terminal, and a man sitting beside Nikki Steele who was in Boston on business wanted to strike up a conversation about – you guessed it – Clemson and the paw. He said he moved to Atlanta from Chicago several years ago, and the people there told him he had a decision to make, and he had to make it right away – choose either Georgia Tech or Georgia. He had to choose. There would be no middle ground.
He said he thought about it for a few days, but something in the Atlanta area kept catching his eye – Clemson's iconic Tiger paw. So he went out and bought stickers and decals for his wife's car, his car and his motorcycle and told everyone that he had made his decision. A Clemson fan was born.
Once you get into Boston – or at any road destination – you will find plenty of Clemson fans in attendance. They wear their orange, there are plenty of "Go Tigers" to go around, and people stop each other and ask where you're from, where are your seats, etc. It's that way all over Boston, and I'm always surprised (I shouldn't be) at how many of them have traveled from up in the Northeast to see the Tigers play, and this will be the only game they will see all season.
One of the Boston College websites picked up the cadence count video, and an Eagle fan commented that Clemson fans were silly, that most Bostonians probably think the Tigers are from Detroit or something. Yep, I get it – Boston is a pro sports town. People here don't give Boston College much of a look. It's all about the Red Sox, the Patriots, the Celtics and the Bruins. Nope, most Bostonians don't know what cadence count is all about. But that cadence count wasn't for show, and it wasn't for the good people of Boston.
It's a Clemson thing.
And if you haven't been to Death Valley on a ground-shaking Saturday night, if you haven't tailgated with a couple of hundred of your closest friends and if you haven't walked across Bowman on a crisp fall day, you probably wouldn't understand.
It's a Clemson thing.