| | |
| --- | --- |
| Israel celebrates record-setting night by watching game film | |
---
| | |
| --- | --- |
| Saturday, September 13, 2014 5:43 PM | |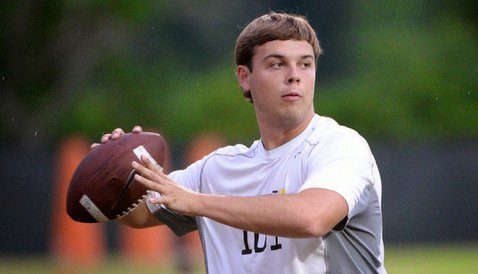 Tucker Israel

Tucker Israel
Quarterback
6-0, 195
Orlando, FL
ESPN:


View Full Profile , a 2015 Clemson quarterback out of Orlando (FL) Lake Nona, broke two Florida high school passing records in a 35-14 win over Colonial Friday night. How did he spend his Saturday?
Israel woke up early, drove over to Lake Nona High School and watched game film for five hours.
Israel completed 26-of-41 passes for 437 yards and five touchdowns in the victory, and his 720 completions have broken the Florida high school record of 706 completions by John Wolford. Israel's 10,726 total passing yards also breaks Wolford's career total of 10,621 yards.
Also, the Clemson signal-caller commit needs just five more touchdowns to break the all-time Florida touchdown record (Wolford).
His success hasn't stopped Israel from working, and he told TigerNet Saturday that there are things he still has to do better.
"I was up at the field today watching film for about four or five hours. I have to get ready for next week and we even have a bye week this week," Israel said. "Even in the game, I had some throws and some reads that I could have fixed - different coverages they lined up in to confuse us.
"I'm just trying to pick those up so during the next couple of weeks, so if somebody tries to run a similar type of defense, I can pick up on the defense and check at the line and get of us out of a bad situation. That's what is important, not going out there and throwing for 400 yards Friday night and relaxing Saturday. It's about getting ready for the next week the day after. Having that Friday night to enjoy the win but the next Saturday morning, it's straight business."
Israel said he was aware that the records were within reach, but sees it more as a reward for hard work than any personal accomplishment.
"There was a lot of chatter about that. My family is all about that and keeping up with all of that," he said. "I heard it around the house a couple of times, but it's not something that I was really focusing on going into the season. I was just trying to get prepared and getting the offense prepared for the season. I didn't know how many games into the season it would take. It just happened that I broke two last night.
"I think that you just get the reward for all of the hard work that you put in for four years. You work so hard and bust your butt for four years to play well on Friday nights. When you bust your butt for four days out of the week to get prepared to play on Friday and you perform well on Friday, that's more exciting to see than a record. That's the outcome you get for playing well on Friday."
Israel said that despite his recent success, all is quiet on the recruiting front.
"It's pretty much dead. I'm locked in," he said. "I think I made that clear to quite a few coaches. I haven't really heard anything going on. I'm trying to help a buddy (wide receiver Deondre Farrier) that's on my team and get him looked at. He was committed to Florida when Joker Phillips was there. I'm really focused on him and giving him my input. I'm really enjoying that- helping someone else get recruited - more than I am being recruited."
He said he hopes to make it to a couple of Clemson games this season.
"I think I'm going to take an unofficial here or there just to come up and see a game," Israel said. "I don't think I've really filled in the date for my official. It just all depends. I'm excited for it but it's not anything I'm going to stress over."
As a junior, he passed for 3,979 yards and 40 touchdowns with just 10 interceptions. As a sophomore, Israel passed for 3,685 yards, 36 touchdowns, with 8 interceptions. As a freshman, he threw for 2,924 yards and 30 more touchdowns.