| | |
| --- | --- |
| Is an early signing period closer to becoming a reality? | |
---
| | |
| --- | --- |
| Friday, July 25, 2014 8:29 AM | |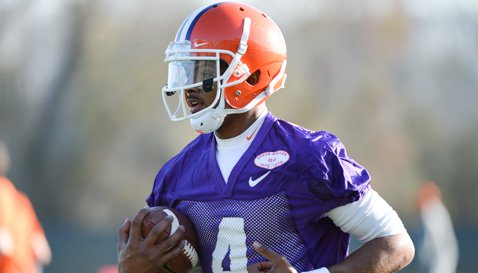 GREENSBORO, NC – Clemson head coach Dabo Swinney

Dabo Swinney
Head Coach
View Full Profile has long been a proponent of an early signing period in college football, and Atlantic Coast Conference Commissioner John Swofford said earlier this week at the ACC Kickoff that he thinks it might soon become a reality.
For college football fans and coaches alike, National Signing Day is much like a holiday and Swinney even compares that first Wednesday in February to Christmas. In the past, the day was full of drama and excitement as fax machines across the country chattered with the incoming Letters of Intent.
However, a growing number who "sign" on national signing day are already on campus as early enrollees, a trend that gains momentum with each passing year. This past January, five of Clemson's commitments enrolled in January and were already participating in team workouts when national signing day rolled around – Deshaun Watson

Deshaun Watson
Fr. Quarterback
#4 6-3, 190
Gainesville, GA
View Full Profile , Demarre Kitt

Demarre Kitt
Fr. Wide Receiver
#8 6-1, 195
Tyrone, GA
View Full Profile , Kyrin Priester

Kyrin Priester
Fr. Wide Receiver
#17 6-1, 190
Lilburn, GA
View Full Profile , Chris Register

Chris Register
Fr. Outside Linebacker
#45 6-4, 240
Greensboro, NC
View Full Profile and Artavis Scott

Artavis Scott
Fr. Wide Receiver
#3 5-11, 185
Oldsmar, FL
View Full Profile .
In fact, many schools are seeing the majority of their recruiting slots filled by mid-summer, and Clemson currently has 19 players with verbal commitments for the 2015 recruiting cycle, not counting grayshirts. As a result, a number of college football coaches want the game to adjust to the times, favoring an early signing period in either August or December.
Swinney has said in the past that an early signing period "would cut out a lot of garbage that goes on in the recruiting process" and says that recruiting has changed so much that the NCAA needs to play catch up in order to protect the schools.
"The way the recruiting process has changed, you have to make decisions quickly on guys," Swinney explained. "We're evaluating earlier and earlier, because if you don't, you're going to get behind and you're not going to have a chance to recruit them.
"There's so much more information. Guys know what you've got and who you're recruiting and how many spots you have - two spots for a running back, one spot for a quarterback - they all know that. It's hard to continue to recruit when you don't have a scholarship. When you fill up at certain positions, you stop recruiting other guys."
Swofford told the ACC media last week that the conference is in favor of the early signing period and that he submitted a proposal the Commissioner's Association in June.
"Well, we're for an early-signing period, and in fact, out of our discussions in May with our coaches and athletic directors, I took forward to the Commissioner's Association about a month ago our conceptual proposal," Swofford said. "The Conference Commissioner's Association, not the NCAA, handles this type of thing, so that's where it'll be determined. Jon Steinbrecher, the commissioner of the MAC, is now chairing a committee that we've put together to see what we can come up with that would be agreeable to enough people to get it passed for an early-signing date."
Swofford said he thinks the early signing period would be "healthy" for the sport.
"But we are as a conference strongly in favor of an early-signing date," Swofford said. "We're willing to have some flexibility as to when that is, but we feel it's something that would be healthy for the game, healthy for the institutions and healthy for the young men being recruited."
Swofford said that earliest the measure could be put in place would be next fall, provided it passes.
"Well, whether it'll be put in place depends on whether it passes, obviously," he said. "I think the absolute earliest it could be put in place would be next fall. Whether we can get there by then, I don't know. It's been a -- that's been a subject that our league has been supportive of -- a change that our league has been supportive of for a number of years, and we just haven't been able to get enough other people to agree with us on it, so we keep working at it. I think we're closer. I think we've made some progress. I'm encouraged."
Swinney has said that he thinks October 15th would be the ideal date.
"I feel like we should have an October 15 signing day, and then of all those committed guys, the ones who are truly committed will sign," he said. "And if they don't sign, then you know they're not committed. So you've got to go and start recruiting. Also, I think the players should be protected. If a school fires the coach or the coach packs up and leaves (for another job), then I think in either one of those scenarios, then the guys who signed in October can be released and continue to be recruited. I think that would protect the school and protect the player. It would cut out a lot of wasted time and money. Then all this early-commit stuff would be real or not."