| | |
| --- | --- |
| Is Germone Hopper a changed man? | |
---
| | |
| --- | --- |
| Tuesday, August 11, 2015 9:04 PM | |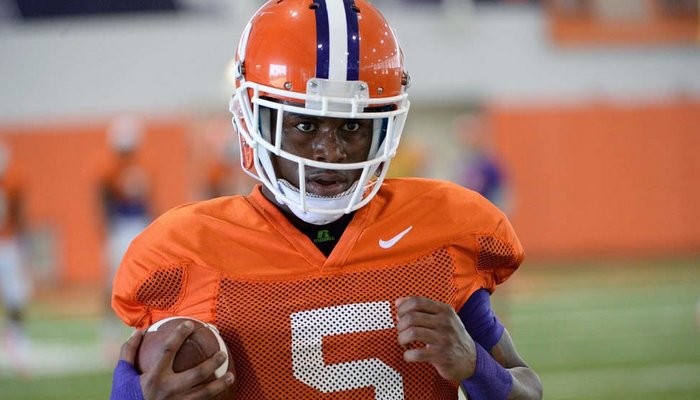 CLEMSON – Germone Hopper

Germone Hopper
RS Jr. Wide Receiver
#5 5-11, 175
Charlotte, NC
View Full Profile says he is out to make everybody proud, whether it's his mom or head coach Dabo Swinney

Dabo Swinney
Head Coach
View Full Profile or the younger players who are looking to him for leadership. Hopper says he is a changed man.
The talented and speedy North Carolina native had 27 receptions for 331 yards and three touchdowns in 424 snaps over 13 games (three starts) in 2014 and has 50 receptions over his first two seasons in the program. But he wants more, and the feeling among observers has always been that Hopper is capable of more.
Swinney didn't let Hopper participate in spring practice a year ago, and the rising junior has battled inconsistency on and off the field. However, a confident Hopper told TigerNet following Tuesday's practice that his work ethic has matured, and he is learning that time management is his friend.
"It's never been how I work. I'm a work ethic type of guy. I put in the work. It's just time management," Hopper said. "What am I doing when I'm not up here at the football stadium? Am I calling Deshaun to run routes in the indoor? Am I doing something productive like going in the film room or am I at home playing games? That was the part that I had to mature from - doing stuff on my time off that can help me with my game. Getting to class has never been a problem for me. It's just being attentive when I go to class. Not getting bored. Coach Swinney says don't just be there, BE there. Not just show up. Ask questions. Be involved with your professor."
Hopper said he wants to make everyone proud this season.
"I want to impress my mom and Coach Swinney. There're a lot of people that depend on me to do good, and I'm trying not to let anyone down," he said. "Even Coach (Jeff) Scott, I'm trying to impress him. I'm trying to impress the younger guys that came in. I'm trying to impress my defensive players to let them know that they can depend on me to make a play when it's time."
So far so good for Hopper, who says he is taking everything more serious.
"Take it one day at a time and take everything the coaches try to give you. Don't take anything for granted," he said. "Take everything serious. One day at a time. Just try to get one percent better, as Jon Gordon would say when he comes to speak to us. Me getting older, maturity is a big part of it. I'm growing every day. I'm just watching the older guys and seeing how they transitioned from when they were young to when they got older, that has helped me a lot. Talking to some older guys like Stephone Anthony

Stephone Anthony
Linebacker (2011 - 2014)
#42 6-3, 245
Polkton, NC
View Full Profile , Bashaud Breeland

Bashaud Breeland
(2010 - 2013)
#17 6-0, 195
Allendale, SC
View Full Profile , Garry Peters

Garry Peters
Cornerback (2010 - 2014)
#26 6-0, 194
Conyers, GA
View Full Profile has helped me a lot."
Hopper believes he can now handle whatever the season throws his way.
"Being a student-athlete it's hard staying focused, but that's where the maturity comes from," he said. "Are you one of those guys that can handle it? Me being a guy who has been here for three years and going into my fourth year, I think I'm able to handle it now because I learned from my mistakes and stuff that I did wrong that can help me now."