| | |
| --- | --- |
| Is Clemson among the nation's elite? | |
---
| | |
| --- | --- |
| Wednesday, September 2, 2015 12:00 PM | |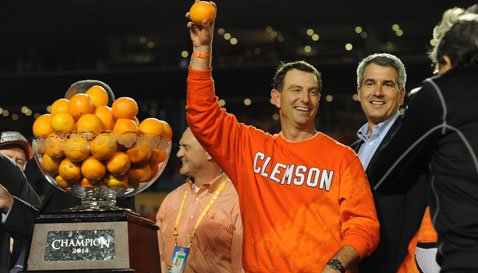 CLEMSON – Is Clemson one of the nation's elite programs? That question was posed to head coach Dabo Swinney

Dabo Swinney
Head Coach
View Full Profile Monday, and his answer speaks volumes about his goals.
The numbers for Clemson over the past four years rank among the nation's best in several categories:
*Clemson has been ranked in the final top 25 by USA Today Coaches Poll each of the last four years, joining Alabama, Oregon and Florida State as the only programs that can make that claim. That includes a top 15 ranking for Clemson each of the last three years.
*The Tigers have won 27 consecutive games over unranked opponents. That is the longest streak of its kind in school history, and all 27 of those wins have been by four or more points, which is the longest streak in the nation. Alabama has the edge with 54 consecutive wins over unranked foes, regardless of the score. Clemson's last loss versus an unranked team was back in 2011 when the Tigers lost 37-13 at N.C. State.
*Over the last four seasons, Clemson has a 42-11 record, which is tied for the seventh most wins among FBS schools during that span. Clemson has had four straight seasons of at least ten wins for just the second time in school history. Clemson also joins Alabama, Oregon, and Northern Illinois as the only schools that can make that claim. No current roster member has ever lost to a team ranked outside of the Top 10.
*Clemson also excels in the classroom and is also the only school nationally to rank in the Top 10 of APR scores (four-year averages) and in the final Top 25 of both polls each of the last four years. Clemson has finished in the Top 10 of the APR scores each of the last five years.
Swinney says the numbers are excellent, but the program still hasn't gotten to the point he wants.
"I think we are closer than we've ever been to being the program that I want us to be, especially from where we started six years ago," Swinney said Monday. "There were a lot of walls around this program, and we've been knocking them down one at a time. When you have three, four or five 10-plus win seasons, then you can become relevant."
Is the program elite? Not quite.
"Are we elite? We haven't proven that yet. We're one of those teams that have a chance and I've felt that way for the last few years," he said. "We're a team coming into the season that's got a shot, and that's really all you can ask for. All you can ask for is to have a program that gives you a chance to compete at the highest level year in and year out.
"At the end of the day, what do you get out of the team that we have? What kind of player development do we have in our program? How are we graduating our players? Those are the metrics I look at to gauge where we are as a program. We have a great foundation in place; we have a good tradition here, but we still have a lot of work to do. My goal is by 2020 to look back and say we just had the best decade in Clemson football history."
He did admit that there is an excitement surrounding the program heading into the 2015 season.
"I think that's a fact. Outside people' perception of Clemson may be different than it was six years ago, and I think that's a good thing," he said. "Everybody wants to have a program that people look at and say, they have a chance. I think we've made great progress there. But we haven't played a down this year. We have potential, but you don't play the game on paper and it's not a game of potential."
He then said that he hopes the Tigers' consistency on the field will lead to the kind of season that will put Clemson over the top, the kind of season that will put them with the nation's elite.
"It's a game of performance, and that's all that matters when it's said and done," he said. "There are only three teams in America that have had four straight 10-win seasons. That's a small group and that's hard to do. That's the type of consistency that we want to be known for because if we continue to do that we will have that magical year."