| | |
| --- | --- |
| Intense Competition - Swinney talks position battles | |
---
| | |
| --- | --- |
| Monday, April 6, 2015 8:58 PM | |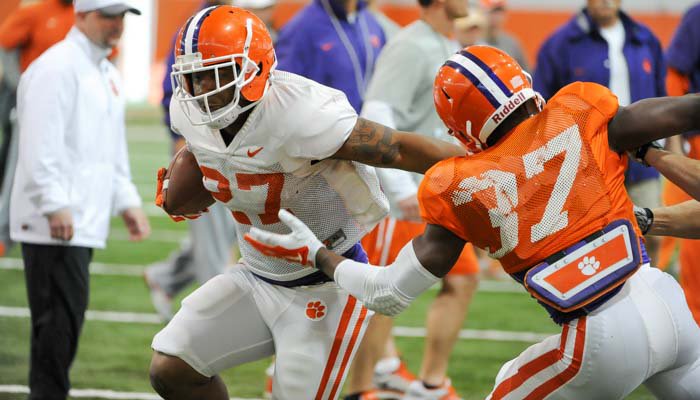 CLEMSON – Monday's physical practice and scrimmage allowed head coach Dabo Swinney

Dabo Swinney
Head Coach
View Full Profile to evaluate some of the younger players on the roster, and he liked what he saw.
The Tigers practiced for two-and-a-half hours after taking the last four days of last week off for the Easter holiday.
"I was very encouraged by today and how they came to work. Today was a tough practice," Swinney said. "We gave them Thursday and Friday off for the Easter weekend and really challenged them right out of the gate today with a competitive drill to start it off and set the tempo for practice and finished with a half-scrimmage type situation at the end of practice and got into some short yardage and two minute to continue to put them into situations so we can evaluate them and them develop them.
"I thought it was a better day today for the offense for sure, than what I thought they did last Wednesday. Short yardage was much better offensively. They won the drill. Our defense - even though they've given up some plays here and there, it's still about points and I like how they're competing down in the redzone. It's been a good group."
Leading the way on defense are veterans like D.J. Reader

D.J. Reader
Defensive Tackle (2012 - 2015)
#48 6-2, 325
Greensboro, NC
View Full Profile , Kevin Dodd

Kevin Dodd
RS Jr. Defensive End
#98 6-5, 275
Taylors, SC
View Full Profile and Shaq Lawson

Shaq Lawson
So. Defensive End
#90 6-3, 269
Central, SC
View Full Profile .
"I'm pleased with some of the veteran guys - D.J. Reader. We've had a hard time blocking D.J. Reader," Swinney said. "I really am encouraged by how he's come to work - his attitude. The same thing with Shaq. Those two guys are making their presence know. I see Carlos Watkins

Carlos Watkins
RS Jr. Defensive Tackle
#94 6-3, 295
Mooresboro, NC
View Full Profile greatly improving and getting back to where we know he can be. Dodd has been a very, very consistent player for us all spring."
The best news for the offense is that the offensive line is showing signs of being two-deep across the board.
"I'm starting to see our offensive line come together - the first two groups. I like how they're penciled in there with (Isaiah) Battle, Mac ( Eric Mac Lain

Eric Mac Lain
RS Sr. Offensive Tackle
#78 6-4, 305
Hope Mills, NC
View Full Profile ), (Ryan) Norton, (Tyrone) Crowder and (Joe) Gore in that first group and then Mitch (Hyatt), (Justin) Falcinelli at center, (Taylor) Hearn at guard, (Jake) Fruhmorgen at right tackle and Maverick Morris

Maverick Morris
RS So. Offensive Line
#69 6-4, 295
Broxton, GA
View Full Profile at right guard," he said. "Those 10 guys have solidified themselves in there and it has brought some good competition and good consistency in the trenches."
Other notes
Young quarterbacks
"I think our young quarterbacks are getting better. It's not easy to come out here right out of high school and get the amount of work that they're getting with the type of monsters that we've got on defense screaming off the edge and blitzing up the middle. They have improved all spring long and I think both of them had their best days today. There's a lot of good encouraging things. We're still a group that's trying to put it together but I think we've got the makings, if we can put it together ,to be a good football team"
The battle at cornerback
"We're talented and competitive. I think Cordrea (Tankersley)- right now I would give him the nod based on what I saw in practice today, but I love what Ryan Carter

Ryan Carter
RS So. Cornerback
#31 5-9, 180
Grayson, GA
View Full Profile has done. Ryan didn't have his best day today, but I love the spring that he's had. I love what I'm seeing out of Adrian Baker

Adrian Baker
RS So. Cornerback
#21 5-11, 180
Hallandale, FL
View Full Profile . I think Adrian Baker is a kid that it's all in front for him as he continues to develop physically and same thing with Marcus Edmond

Marcus Edmond
RS So. Cornerback
#29 5-11, 170
Hopkins, SC
View Full Profile . If you could pick and choose one thing you like from each guy, it would be great but I think right now total package - Cordrea would be the guy that would run out there if we played today. It's really competitive all over the field on that back end."
Hunter Renfrow

Hunter Renfrow
RS Fr. Wide Receiver
#35 5-10, 170
Myrtle Beach, SC
View Full Profile as a punter
"I don't know if he'll be consistent enough to challenge as the starting punter, but he's going to be consistent enough to be in the rotation at wideout. He's a player. He's a tough player. He's got a bright future. I'm telling you right now, this kid is just a redshirt freshman so he's not Sammy Watkins

Sammy Watkins
Wide Receiver (2011 - 2013)
#2 6-1, 205
Fort Myers, FL
View Full Profile yet but he's going to have a nice career. If he stays healthy, he'll be a guy that a couple of years from now y'all will all be asking me about. He's a good football player. We're just fortunate that he can, oh by the way, punt it pretty good. (Andy) Teasdall has been incredibly consistent since bowl practice. Once he knew he had the chance to be the guy, he went to a whole other level and he has not taken his foot of the throttle since then. I'm encouraged that Renfrow can be another guy that is a solid punter. He's got a strong leg but he's a technical mess. He just grabs it and booms it - doesn't know where it's going. He's got one gear and that's wide open. Don't ask him to drop it inside the 20 and things like that. We're not there with him yet, but he does have talent. He'll be a factor for us from special teams and a receiver rotation."
C.J. Fuller

C.J. Fuller
RS Fr. Running Back
#27 5-9, 215
Easley, SC
View Full Profile and the running backs
"I hope it's hard to keep them all off the field. That's the type of competition we've had out there. Watching our scrimmage - boom, there goes (Tyshone) Dye. Boom there goes (Wayne) Gallman. Here comes Fuller. Here comes Zac (Brooks). They're all making plays. C.J. Davidson

C.J. Davidson
RS Sr. Running Back
#21 5-10, 200
Clemson, SC
View Full Profile had a great run today. They've got to maximize their opportunities. That's where we are right now. Long way to go between now and September when it's game time. I've very encouraged by Fuller. I think this summer is huge for him just furthering his development physically. He's a tough guy to tackle."
Adam Choice

Adam Choice
So. Running Back
#26 5-9, 215
Thomasville, GA
View Full Profile
"He was able to get some individual work done today. It was good to get him back out. You kind of forget about him because he's been over there on the shelf. That's another really, really talented young player that won the starting job for us as a true freshman, so that tells you what we think of him."

Tags:
Eric Mac Lain
,
Kevin Dodd
,
Carlos Watkins
,
Shaq Lawson
,
D.J. Reader
,
Sammy Watkins
,
Marcus Edmond
,
Adrian Baker
,
Maverick Morris
,
Ryan Carter
,
C.J. Davidson
,
C.J. Fuller
,
Adam Choice
,
Hunter Renfrow