| | |
| --- | --- |
| Instant Analysis: No. 6 Clemson 43, Georgia Tech 24 | |
---
| | |
| --- | --- |
| Saturday, October 10, 2015 6:57 PM | |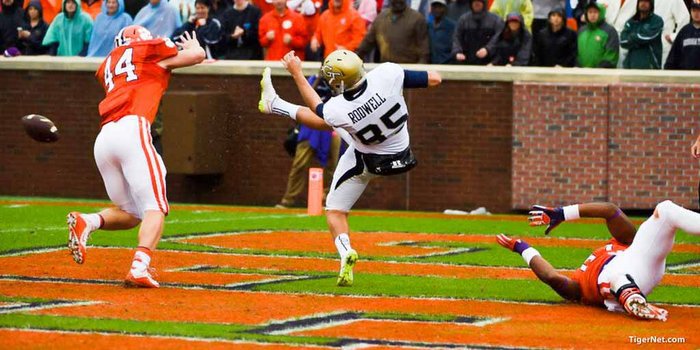 CLEMSON – Clemson refused to listen to all of the talk of rain and letdowns, as the Tigers took care of business and the Yellow Jackets Saturday afternoon.
No. 6 Clemson moves to 5-0 after a dominating 43-24 effort win over Georgia Tech (2-4) Saturday night in Death Valley.
PLAYER OF THE GAME:Clemson's defense deserves this honor as they completely stymied Georgia Tech's triple-option offense. Kevin Dodd

Kevin Dodd
RS Jr. Defensive End
#98 6-5, 268
Taylors, SC
View Full Profile , Shaq Lawson

Shaq Lawson
Jr. Defensive End
#90 6-3, 272
Central, SC
View Full Profile , Christian Wilkins

Christian Wilkins
Fr. Defensive Tackle
#42 6-5, 299
Longmeadow, MA
View Full Profile , Scott Pagano

Scott Pagano
RS So. Defensive Tackle
#56 6-3, 290
Honolulu, HI
View Full Profile , and Carlos Watkins

Carlos Watkins
RS Jr. Defensive Tackle
#94 6-3, 296
Mooresboro, NC
View Full Profile were dominant up front controlling the line of scrimmage, allowing the linebackers and defensive backs to make plays.
THE GOOD:The offense looked like the Clemson offense we've all been waiting to see. Deshaun Watson

Deshaun Watson
So. Quarterback
#4 6-2, 207
Gainesville, GA
View Full Profile completed 19-of-28 passes for 228 yards, two touchdowns and an interception. Wayne Gallman

Wayne Gallman
RS So. Running Back
#9 6-1, 210
Loganville, GA
View Full Profile rushed for 115 yards and two scores on just 13 carries. Tight end Jordan Leggett

Jordan Leggett
Jr. Tight End
#16 6-5, 252
Navarre, FL
View Full Profile was an integral part of the game plan with two touchdown catches.
THE BAD PART 1:Clemson played spectacular defense most of the day never allowing the Georgia Tech offense to gain any traction in the running game and making quarterback Justin Thomas uncomfortable. However, the two biggest plays for Georgia Tech were busted coverages. The first was a 50-yard pass to Clinton Lynch with just over five minutes to play in the second quarter to trim Clemson's lead to 30-10. The second with just over eight minutes to play in the game when Justin Thomas hit Ricky Jeune for a 46-yard touchdown making it a 43-24 ballgame.
THE BAD PART 2:Late in the third quarter, Clemson put Justin Falcinelli

Justin Falcinelli
RS Fr. Offensive Tackle
#50 6-3, 293
Middleton, MD
View Full Profile in the game at center, presumably to give the redshirt freshman some experience. The plan went awry as he snapped the ball over Deshaun Watson's head and into the endzone. Georgia Tech defensive tackle Adam Gotsis found the ball in the scrum for the touchdown, making it a 40-17 game.
THE UGLY: There's no other way to describe what happened on a bad snap by Georgia Tech's long-snapper than to say the Yellow Jackets and Tigers played pinball in the endzone. Jadar Johnson

Jadar Johnson
Jr. Defensive Back
#18 6-0, 203
Orangeburg, SC
View Full Profile was credited with the safety late in the first quarter as the snap went over the head of the Tech punter, Ryan Rodwell. However, Rodwell scooped up the ball and kicked it out of the endzone, where it hit Johnson in the chest bouncing back into the endzone. Several Clemson players attempted to pick the ball up until it was finally knocked out of the back of the endzone.
SOUND SMART WITH YOUR FRIENDS:Georgia Tech's lowest rushing total in Paul Johnson's tenure is 79 yards during his first season as head coach of the Yellow Jackets in a 10-7 win over Gardner Webb. In Saturday's game, Clemson held Georgia Tech to just 71 yards rushing on 42 carries.
WHAT'S NEXT:Clemson hosts Boston College in primetime matchup next Saturday in Death Valley. The Eagles lost 3-0 to Wake Forest Saturday afternoon.
For Georgia Tech, the Yellow Jackets are reeling after dropping the last four and host Pittsburgh next weekend.