| | |
| --- | --- |
| Inside the commitment: Ferrell "loves the violence of football" | |
---
| | |
| --- | --- |
| Thursday, June 5, 2014 10:31 AM | |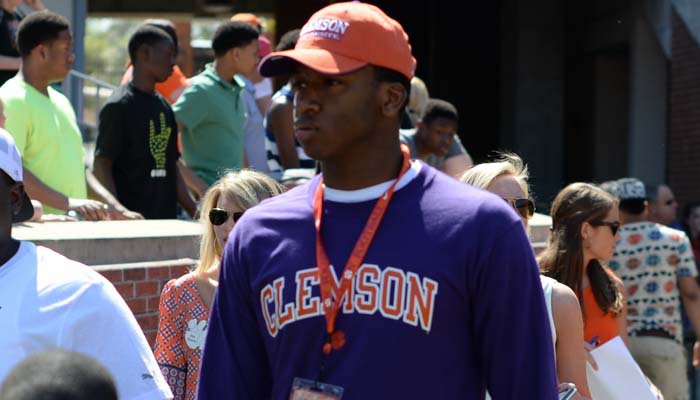 When coaches and fans scout defensive ends, there are certain things they look for – size, speed, explosiveness, athletic ability and physicality, among others.
Richmond (VA) Benedictine head coach Greg Lilly told TigerNet Wednesday that recent Clemson commit Clelin Ferrell

Clelin Ferrell
Defensive End
6-5, 220
Richmond, VA
ESPN:


View Full Profile has them all.
"As a player, he's a kid who I initially thought he was a basketball player," Lilly said of the four-star prospect. "He's a kid who starts for our basketball team and we're typically one of the better teams on the east coast. He starts on our team on the low post. He's a good basketball player, but he really developed as a football player between his freshman and sophomore year.
"He was always a big kid. He's got size 17 feet. He's a legit 6-4 and probably more like 6-5 based on who's measuring him. Really, really long. When he showed up here, he looked like a basketball player, but loves football. Loves the physicalness of football. Loves the violence of football. Is a guy who is very intense and has developed into an explosive player."
Combine that with a great work ethic on the field, in the weight room and in the class room and Ferrell makes Lilly's job easy as a coach.
"He's the hardest working kid in our program," Lilly said. "I know that sounds cliché but it's true. We have two kids that set the standard for off-season workout and practice habits and Clelin is one of them. He has been a pleasure to coach from that standpoint. He's long. He's explosive. He's athletic. He has a frame that he's put on 18 pounds since basketball season.
"He's always been a guy who has played football and basketball all year long and never been in the weight room. This is the first spring that he's been in the weight room and on the track improving strength and speed and he was instantly 235 pounds. It's almost like you can see him getting bigger through his shoulders and arms, just looking at him."
Despite all of his positive characteristics, Lilly said that he was a little surprised at the type of football player that Ferrell has developed into because he always assumed that the 6-4, 235 pounder would be a basketball player.
"We've played him with his hand on the ground as a defensive end, but we've also stood him up and had him kind of like a stand up rush guy - sort of a 3-4 outside linebacker guy," Lilly said. "He's got good ball skills and good athletic skills. I think a lot of that has come from his years on the basketball court, but he's a much more physical guy than what we expected early on. When we got him, he was a tall, thin, skinny kid and then the first varsity game he plays for us he has three sacks and four tackles for loss so we said, 'heck, this guy is going to be pretty good.'
"The other good thing that he has had here is we've had a good succession of defensive linemen - Nigel Williams who is at Virginia Tech, Austin Hague who is at the Naval Academy and Cornell Urquhart who's going to James Madison. He's had kids to push him and compete with him each year and I think that has developed some of his toughness and work ethic a little bit."
In addition to being a great player on the field, Lilly said that Ferrell is also a great person to be around because he isn't the type of guy that needs the accolades or the attention from recruiters. He just wants to play football.
"I don't think he's a kid that needs to be recruited and needs to be wined and dined," Lilly said. "He's a really humble kid who wants to work. wants to get better and wants to compete. He doesn't want to be lavished over. I don't know that he's a kid who wants to be recruited. He's a kid that wants to play and go to a place where he feels comfortable."
Lucky for Clemson, Ferrell knew that Clemson was the place he wanted to play his college career after taking visits to schools all over the country.
"He's had some really good visits and the recruiting experience for him has been really good," Lilly said. "He hasn't been one of these guys that has been all over the message boards and a guy who is out seeking a bunch of offers. Our philosophy here is that you only need one offer, it just has to be the right one. He's been diligent about going to see schools, meeting coaches, checking out what majors and what fields of study they offer, and what the campus life is like.
"He's had some great visits. He's gone to see Michigan, Michigan State, West Virginia, Maryland, South Carolina, Clemson. He had some things planned for this summer that aren't going to happen now. He's seen Virginia and Virginia Tech. In speaking with him, one that that really stood out with Clemson was he felt close to and and felt a connection with Coach Hobby. Between Coach Venables and Coach Hobby they've done a really good job of recruiting him, making him feel welcome, making him feel like family and most importantly hopefully he kind of sees it as an extension of us. They want him to develop as a person and a man as much as they want him to develop as a student and an athlete."