| | |
| --- | --- |
| Injury updates on Blanks and Brooks, and McCullough to running back? | |
---
| | |
| --- | --- |
| Sunday, November 24, 2013 6:56 PM | |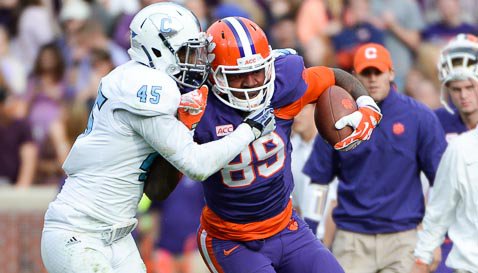 Clemson head coach Dabo Swinney covered a lot of topics during his weekly Sunday teleconference with the media, and he started off with updated injury news on running back Zac Brooks and safety Travis Blanks.
Blanks and Brooks were both injured in Clemson's 52-6 win over The Citadel Saturday.
"I'm disappointed that we had a couple of tough injuries with Travis and Zac," Swinney said. "We'll re-evaluate Zac tomorrow. We knew he'd have to have surgery after the end of the season. Travis, it looks like we're dealing with an ACL there. The good news is the timing of it. We'll get him back by the time the season starts next year. I'm disappointed for him because he's a great competitor and he loves to play. They will meet with me tomorrow morning. We'll evaluate Zac further. I'm hopeful that we will see him before the end of the year, but we'll have to wait and see how he is this week."
The Tigers play again Saturday against arch-rival South Carolina, the first time the programs will met with both schools ranked in the Top 10.
"It's a credit to both schools for the type of teams that we have been able to produce here," he said. "To have two teams from this state nationally ranked, it makes the rivalry that much better. Alabama - Auburn has two top ten teams. We have that here, too. It makes for an exciting game."
Swinney was reminded that the Tigers have lost the past four in the series, and he said that each loss lingers.
"They all stick with you. You have to live with it. When you're a coach, you live with all the losses," he said. "The big state rival, that's more so because everyone in your state lives with it. They have done a great job. They have been the better team. They have outplayed us and out-coached us. We have to play to our full potential. We have to get that done."
He was asked if he thought this year could be different, and he laughed and said he thought the Tigers would win last season.
"Yeah. I thought we would win last year. I never had a doubt," he said. "But unfortunately they got it done and we didn't. Our focus will be to play our best game of the year. I like where our team is and I like how they have played and practiced. We have a huge challenge going down there. They're a top 10 team and we are, so there's not a lot of margin for error.
"I think when you live in this state and you don't win, it's something you hear about all the time. That's the nature of the rivalry. This senior class has accomplished so much and it's a very short list of things they have not done. They all want to win the game. South Carolina wants to win, too. It's not about want. It's about playing good football."
Swinney said the rivalry ranks among the nation's best.
"I think it's right up there and is big as there is in the country," he said. "I really think that when you look at both programs and the consistency both have had, I think it's right there. It's got BCS implications. There aren't many out there that bring that to the table. I think everyone will be tuned in to see this game, for sure."
Other notes
Moving Jay Jay McCullough to running back
"We've been working him at running back the last few weeks. When we recruited him, we felt like he brought a dimension to our tight end position that we did not have. He played running back in high school. It's been a slow transition for him. As he has gotten more comfortable at tight end, we wanted to train him with his ball-handling, so he has been doing some things there the last few weeks. It was just a matter of when we were going to use him. He had fun. I definitely think as we go through his career he will bring some diversity to our offense. I'm excited about that."
Tajh Boyd failing against FSU
"People that say that act like that's the only big game Tajh has played in. He has played in a bunch of big games and has won a bunch of big games. He didn't have a good game that particular night but he has beaten Florida State before. He has beaten some pretty good teams. His sophomore year we stopped Auburn, and then beat Florida State, then beat Virginia Tech and then did it again. He has played great the majority of his career. We need him to play well if we have a good chance to win, but we have to do everything better than we did against FSU. We didn't give ourselves a chance in that game."
Jayron Kearse needing to step up
"That's why you try to create some depth throughout the year. We're fortunate he has been able to get some experience. He has made some big plays, but it hurts when you lose a quality player. Now we're pretty thin. Now you're sitting there with two guys and one is a veteran and everyone else around him is a rookie. A lot of guys have gotten experience, fortunately. Now they have to step up."
Who will back up Kearse?
"Robert (Smith) can play either side. Jadar (Johnson) is the next man up there (at SS). Taylor Watson has played some throughout the year and obviously Jayron. (Ronnie) Geohaghan may get some more reps. Jadar will continue to work behind Robert (at SS) but Robert could slide over (to FS) if we needed him to."
Isaiah Battle
"He's done a nice job. He's having some fun. He's brought a pretty good hard edge in there. We are pretty pleased with him. He's got a big challenge this week. We'll see how he does this week. Should be a good matchup."
Josh Watson changing his mind, will return next season
"He has decided to stay. I'm happy about that. That makes more sense. We're glad. He told me he changed his mind. I'm glad he's staying."