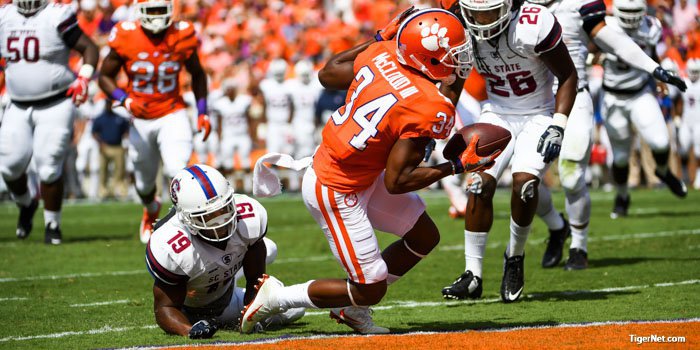 | | |
| --- | --- |
| Injury news, Cubs dominate Wednesday practice conversation | |
---
CLEMSON – Injuries dominated the news at the end of Wednesday's practice.
Second-ranked Clemson hosts Syracuse Saturday at 3:30 p.m. in Death Valley, and Clemson head coach Dabo Swinney told the media after practice that the Tigers are battling several nagging injuries.
It starts with right tackle Jake Fruhmorgen, who suffered an injury Saturday against FSU and was replaced by freshman Sean Pollard.
"Just trying to play those guys all year, but Fruh got banged up on his shoulder," Swinney said. "That was really it. He did a good job though. Fruh is fine. Healthwise he is good."
He then made sure everyone knows Fruhmorgen is the starter.
"I think Fruh is the clear starter for us. He's played well for us," Swinney said. "He only had one game he didn't play quite as well in Boston but he's done a great job. He's the epitome of what you want in that offensive line. He's a special player. We also have (John) Simpson in there and he played some quality snaps the other night. We have about ten guys we have confidence in, and we are trying to get some guys some snaps."
Wide receiver Ray-Ray McCloud was in a yellow jersey, Swinney declined to offer a reason.
"That's not really for your information," Swinney said. "You shouldn't even know he was in a yellow jersey, were you at practice?"
When Swinney was informed McCloud exited practice wearing the yellow jersey, Swinney said "That's just what he was in today. That's really it."
When pressed, Swinney said he thought McCloud would be fine.
"I think so, yeah. He's going to be fine," he said. "He practiced and knew what he needed to do."
OTHER NOTES
The progression of Gage Cervenka
"Good. Smart. Very instinctive football player. He's gotten better and better and you guys don't see it as much. He's gotten a little bit of experience but we see it every day in practice. He's going to be a good one. A really good one. Guard and snapping as well."
Is Marcus Edmond okay?
"Yeah, he's doing fine. All those guys practiced and did fine and I expect them to be ready to roll."
How much was Jadar Johnson missed Saturday after he left the game?
"He's our starter for a reason, he's a clear starter and a veteran guy that has earned that spot and has played at a high level for us consistently. Y'all heard me talking about him the other day, he's a guy that I think has been as valuable as anybody to this team this year. It was a big loss for us."
Pleased with kickoff coverage
"I think we were second in the nation going in to the game last week and we're fourth now. We have been in that top five, first, second, fourth, fifth. We've been there pretty much all year long. I've been pleased considering we were a 100th or so last year. We've gotten a lot of improvement and guys have taken a lot of pride in it. Chad Smith, Dorian, Skalski, J.D., all those guys, Van, they've taken a lot of pride in it. A couple salty guys and old vets like Jadar and Cordrea. The biggest thing is Greg has been so consistent. That's where it starts, kicking the ball where you're supposed to kick it. We've had a ton of touchbacks so we've done a good job."
What is the pecking order at running back?
"You'll have to find out Saturday. Wayne Gallman is going to start. That's who's going to start."
You pulling for the Cubs?
"Absolutely, I am all-in with the Cubbies. I don't have anything against Cleveland. I'll be happy for them too if they win it. I think it's a cool story."

Upgrade Your Account
Unlock premium boards and exclusive features (e.g. ad-free) by upgrading your account today.
Upgrade Now