| | |
| --- | --- |
| Injury doesn't stop Boulware as he prepares for Sooners | |
---
| | |
| --- | --- |
| Sunday, December 20, 2015 10:47 AM | |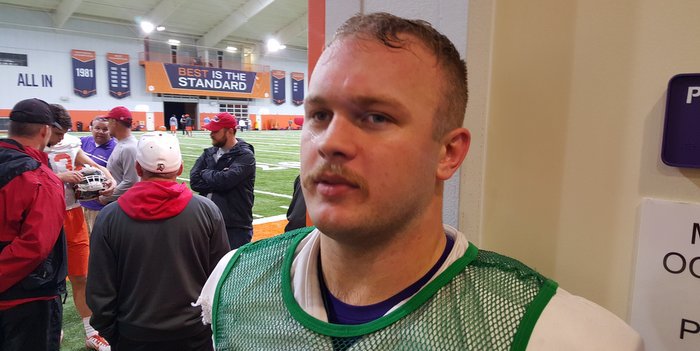 Since 2013, Ben Boulware's presence on the football field has become more prominent game after game. Now in his junior year, Boulware is playing better than ever despite a shoulder injury that has forced the him to play with one arm since the team's final home game in November against Wake Forest.
Following the injury and despite wearing a brace that has limited his range of motion, Boulware had impressive performances against rival South Carolina and in the ACC Championship game against North Carolina. Those late-season games were rough on the whole team, who was trying to recover after several weeks straight without a break.
"That week was definitely huge for me; it was definitely huge for a lot of guys. Probably 90 percent of our team was beat up and sore, just fatigued," he said.
Luckily Boulware's injury was only a muscle strain and he's hoping to be back to 100 percent by next week. However, he has been wearing the green jersey during practices as a precaution.
Clemson's next opponent Oklahoma certainly remembers Boulware after his impressive performance in last year's Russell Athletic Bowl. The game had an overwhelming shift in momentum right before the half while Oklahoma was on a scoring drive across midfield. Then, Boulware got his hands on a tipped pass and ran 47 yards for a touchdown.
He said, "It was definitely a huge change of momentum. Whenever we have big plays against us that doesn't really affect us that much, which speaks volumes to our leadership and the guys on our team."
Boulware also managed six tackles during the game. The final score resulted in a 40-6 win for the Tigers.
"Our scheme was just perfect and we had a really good game plan. We had a lot of seniors that were not going to let that last game get past them. They wanted to end their careers on top. Our game plan and senior leadership set us ahead last year."
The Tigers are hoping that the same game plan works again during the Orange Bowl on December 31st. Both Oklahoma and Clemson still have lofty goals they're chasing before the season runs out. In order for Clemson to be successful, Boulware believes the team needs to focus on communication.
"One thing we struggled with the last game was communication. They were trying to do a little bit of tempo stuff, which we prepared for and knew was going to happen, but one thing me and B.J. [Goodson] need to get a lot better on is communicating with the D-line on what the call was and our back seven guys," he said. "That's what we'll focus on this week is getting our communication down."
Now that Goodson and Boulware have both had more playing time and practice, though, Boulware believes they can work out any miscommunications. The two players have been on the field together more this year than ever, which is invaluable experience.
"I think we mesh really well. In the past we were definitely close friends because we were here every day. But so far this year we've meshed that much more; we've gotten that much closer as friends, teammates, and men," Boulware said. "Leadership, physicality, his ability – with every aspect he's proved everyone wrong."
Now the defense is preparing to face an Oklahoma team that has a quarterback who received a Heisman votes and is looking for redemption. However, the Tigers have a Heisman candidate of their own as well as several All-ACC Players. And it's not just Goodson who proved everyone wrong – the defensive squad as a whole has made a statement in 2015.