| | |
| --- | --- |
| Injuries, Texans-Panthers dominate Thursday practice highlights | |
---
CLEMSON – A critical scrimmage looms Saturday, but Thursday was all about last night's NFL game between the Houston Texans and Carolina Panthers and Clemson injury news.
We'll start off the with the injuries – several players have been in yellow and green jerseys this week as the Tigers deal with a slew of issues early in camp.
Head coach Dabo Swinney touched on each one:
"Mitch (Hyatt) got dinged up before practice when a ball hit him in the head before practice goofing off.
"Cornell (Powell) has been back. He came back yesterday. He's still not quite 100-percent, but he's getting closer. He actually had a couple of really, really nice routes and redirects and break points. It was good to see him that way. He'll be fine as he continues to be able to cut it loose.
"Amari (Rodgers) felt like he could've gone today, but we held him another day just to make sure we give that a little more rest. He's a little tender in his Achilles. He'll be back tomorrow.
"Logan Rudolph has been out. We're going to try to get him back into practice soon. We're going to have to harness that shoulder. At some point he's going to have to have surgery again on that shoulder to fix - he's got a little piece in there that's got to be repaired. He probably could play. If we end up making the decision to play him, he'll probably miss spring. We don't have to make that decision right now. We'll just see what happens in camp and keep bringing him. He could play but he's going to have to get used to wearing the shoulder harness. He's another guy we'll get back in practice and see how far we can get him.
"Shadell (Bell) strained his calf, so hopefully, he'll be back sometime next week.
"(Tyrone) Crowder was back. Clelin (Ferrell) was still out. Everything is a concussion and it's how we respond to everything anytime anybody gets a little dinged up mentally, we send them out. He got a little shaken up the other day, so we put him right into the protocol. Our trainers do a good job with that stuff."
Safety Van Smith was also sporting a cast on his left hand, and he said he fractured his thumb while diving for an interception. He told the media he should be able to play Saturday.
*Whenever any of the coaches discuss the quarterback battle between Kelly Bryant, Zerrick Cooper, and Hunter Johnson there are two things that are always said: decision making and consistency.
So far in fall camp, Bryant has been the best at both and has continued to tighten his grip on the starting quarterback job.
Swinney said that Bryant has shown a new confidence since the beginning of fall camp and has been very consistent knowing where and when to go with the ball, calling the protections, knowing when to hand the ball off and when to tuck it and run.
Clemson had a live "coming out of the end zone" period on Wednesday and a live goal line period Thursday morning, but all of the quarterbacks will be able to show what they can do in Saturday's scrimmage. The coaches will be looking for consistency and decision making and who makes the least amount of mistakes, because as Swinney put it, 'Mistakes will get you beat.'
*Swinney said there are no plans to make the quarterbacks live in fall camp, but said that he thinks the Tigers can win with any of them. The tight ends caught his attention during Thursday's practice.
*Swinney really likes the group of wide receivers and mentioned that T.J. Chase has really caught everyone's attention, along with Diondre Overton and Tee Higgins.
Higgins immediately jumps out you when he walks on the field and Swinney said he's the total package.
"His ability to go get it. He's got great body control. He's physical," Swinney said. "I'm very, very encouraged with his toughness. You never know until you're around a guy how they're going to respond to what they get on this practice, but he hasn't backed down a bit. He's a tough, physical kid. He's got great lateral movement. He can get off the jam."
Swinney likened Higgins mentality to that of DeAndre (Nuk) Hopkins.
*Clemson will complete its first "two-a-day" practice this evening when they head over to the stadium for a walk-through in shorts. Because of the new rule, they aren't allowed two "practices," so the latter will be without helmets or pads and a preparation for Saturday's scrimmage.
They will practice around mid-day Friday, but there will be no media availability after. The next media opportunity will be after the scrimmage Saturday morning.
If you've noticed the variance in practice times, it's because the coaches are stressing the importance of rest at night and recuperation time after practice. They've hired a sleep firm and many of the players are involved in a sleep study, which we'll have more on in a later story.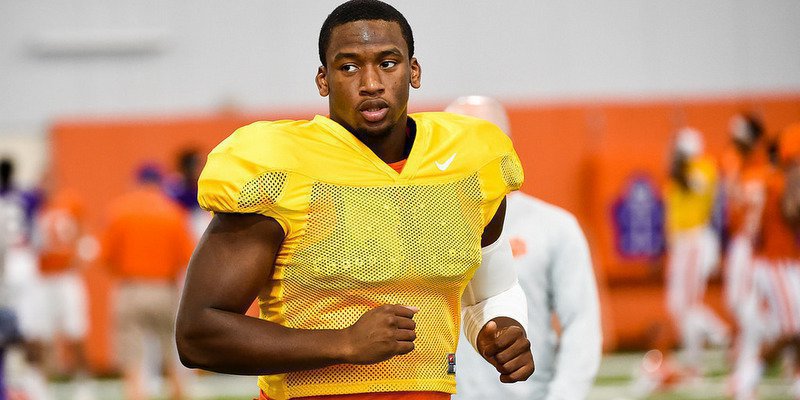 *Jeff Scott said Amari Rodgers – when he's been able to practice – has worked a lot at punt return, and 'Knock on wood hasn't dropped a ball yet.'
Scott said they will script in some live special teams work in the coming week.
*Ray-Ray McCloud continues to split time at wide receiver and cornerback.
"It's been fun. Ray-Ray is one of those rare guys that can go back and forth," Scott said. "He's spent the last three practices half on offense and half on defense. Sometimes I catch him in my wide receiver meetings taking notes to help the DBs, so I've had to get on to him about that a little bit. We give him a hard time. In the end, it's going to make him a better wide receiver."
*Scott said it was good to get the entire team together to watch the Texans and Panthers after practice last night. He smiled when he spoke about Watson, saying that he remembers when Watson was just a freshman in high school.
"Nothing is too big for him," Scott said. "It gives you a good feeling when you see those guys, guys you've recruited and known since they were in high school, playing on that level. And we had two big screens going here at the new football complex, and it's big for our guys to see what is possible. They were out there cheering on our guys."
The W Drill ???? pic.twitter.com/wMuznZl9Jw

— Clemson Football (@ClemsonFB) August 10, 2017

Upgrade Your Account
Unlock premium boards and exclusive features (e.g. ad-free) by upgrading your account today.
Upgrade Now

Tags: Clemson Football
,
Logan Rudolph
,
Van Smith
,
Kelly Bryant
,
Zerrick Cooper
,
Hunter Johnson
,
TJ Chase
,
Diondre Overton
,
Tee Higgins
,
Amari Rodgers
,
Ray-Ray McCloud
,
Jeff Scott