| | |
| --- | --- |
| In the Cards: Tigers' win wasn't pretty but it was effective | |
---
| | |
| --- | --- |
| Friday, September 18, 2015 12:41 AM | |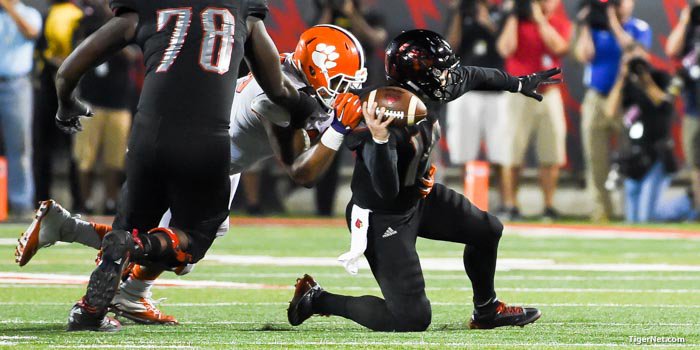 LOUISVILLE, KY – Beauty is in the eye of the beholder, and Clemson's coaches and players thought Thursday's win over Louisville was a beautiful thing.
It was never easy, it was often ugly and sometimes it was downright scary for the Tigers, who escaped Louisville with a 20-17 victory over the winless Cardinals at Papa John's Cardinal Stadium in an ESPN primetime matchup.
The Tigers allowed a 100-yard kickoff return, quarterback Deshaun Watson

Deshaun Watson
So. Quarterback
#4 6-2, 207
Gainesville, GA
View Full Profile had two interceptions and there were enough mistakes to keep the coaches busy for the next 16 days as the Tigers prepare to take on Notre Dame on October 3rd. The Tigers even had a review go against them in the fourth quarter while the offense was trying to run out the clock.
Sounds like a loss. It was the stuff of nightmares, and Clemson fans could see the "Clemsoning" headlines splashed across the country on Friday. Instead………….it was a win.
The Tigers won a game, on the road, against an opponent with its back against the wall. And they did it on a short week.
Some thoughts:
*A lot of Clemson fans probably aren't happy with Thursday's win because it wasn't a blowout and the offense wasn't dominant, but we learned a lot about the 2015 Clemson Tiger football team Thursday night. This is a scrappy bunch who never wavered in their belief in themselves.
We talked to Deshaun Watson and Jordan Leggett

Jordan Leggett
Jr. Tight End
#16 6-5, 252
Navarre, FL
View Full Profile after the game, and they both said essentially the same thing – they will look back on this game down the road and realize how much they grew up as team as they continuously fought through adversity for four quarters.
"We showed a lot of fight," Leggett said. "We never doubted that we were going to win the game. After three games, we can say that this team has a lot of mental toughness. Not everything went right out there tonight, but we came out of here with the win. We can learn from this."
* Brent Venables

Brent Venables
Def. Coordinator / Linebackers
View Full Profile usually doesn't show a lot of emotion during his post game press conferences, but he was ecstatic to leave Louisville with a win. The last six days have been difficult for everyone on the staff and all of the players, so much so that Venables forgot his wife's birthday. Hopefully, the win and the effort by his defense – along with the flowers he sent – made up for the missed event.
"I love the fight that we showed," Venables said. "That was a lot of fun to watch, just watching them continue to battle."
We asked Venables his thoughts as the ball hung in the air on the game's last play, and his answer was simple.
"Knock. It. Down."
Staying with the defense, players like Shaq Lawson

Shaq Lawson
Jr. Defensive End
#90 6-3, 272
Central, SC
View Full Profile , Kevin Dodd

Kevin Dodd
RS Jr. Defensive End
#98 6-5, 268
Taylors, SC
View Full Profile , Carlos Watkins

Carlos Watkins
RS Jr. Defensive Tackle
#94 6-3, 296
Mooresboro, NC
View Full Profile , Ben Boulware

Ben Boulware
Jr. Outside Linebacker
#10 6-0, 241
Anderson, SC
View Full Profile and B.J. Goodson

B.J. Goodson
RS Sr. Linebacker
#44 6-0, 245
Lamar, SC
View Full Profile played nearly every defensive snap, but they were still able to muster a stand on the Cardinals final drive of the game. Venables said that desire to succeed is what sets this team apart from others.
"I went to all of those guys and told them they had only played 60 plays," Venables said. "I told them to get back out there."
*Special teams left a lot to be desired, especially on the 100-yard kickoff return for the touchdown, but Clemson may have found a place kicker in Greg Huegel

Greg Huegel
Fr. Punter / Kicker
#92 5-11, 180
Blythewood, SC
View Full Profile . The redshirt freshman walk-on was shaky during his first three attempts last weekend against Appalachian State, but he was cool as a cucumber Thursday night when his team needed him, hitting two critical field goals in the Clemson victory.
*We asked Shaq Lawson about his two personal foul penalties, and he was confident they weren't penatlies.
"On the first one, he flopped," Lawson said of quatrterback Kyle Bolin. "On the second one, I don't think I really got my hands near his face. So after that I was trying to be too careful. I didn't really think they were penalties."
*Louisville had 19 net rushing yards on 28 attempts, an average of 0.7 yards per carry. The defense gave up some big plays in the passing game, but head coach Dabo Swinney

Dabo Swinney
Head Coach
View Full Profile pointed out that the Tigers won in most categories.
Clemson had five sacks to one for Lousville and had seven tackles for loss to Lousville's four. The Tigers had 202 rushing yards to the 19 for Louisville, and Swinney said it was evident the Tigers won on both lines of scrimmage.
Long story short – the Tigers have plenty of film to watch over the next two weeks and there are plenty of things that need to be improved. Kickoffs and kickoff coverage aren't very good, and those have to be fixed before the Tigers get into the meat of ACC play. Watson wasn't sharp. There were some blocking issues with the tight ends.
But it was a win, and that is a beautiful thing.