| | |
| --- | --- |
| If defense wins championships, Tigers might have the talent to make a run | |
---
| | |
| --- | --- |
| Tuesday, August 12, 2014 8:35 AM | |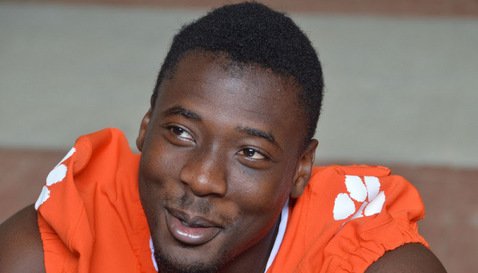 Most of the buzz surrounding the Clemson football program during the summer and so far in fall camp centers on a defense that has the potential to be one of the best in the nation.
The talk isn't surprising – the Tigers are deep and talented in the front seven and have an exciting mix of youth and experience in the secondary. Add all of that together and you have a defense that has Clemson fans excited about the prospects for 2014, even if there are question marks about the offense and trying to replace Chandler Catanzaro

Chandler Catanzaro
Punter / Kicker (2009 - 2013)
#39 6-2, 195
Greenville, SC
View Full Profile .
However, if you listen to the national media you will quickly learn that it doesn't matter how good Vic Beasley

Vic Beasley
RS Sr. Defensive End
#3 6-2, 236
Adairsville, GA
View Full Profile is or how many talented young players there are on offense, this team is already an underdog at Georgia, at Florida St. and at home against South Carolina.
I don't get too much into preseason hype – either good or bad – and I've been around this business long enough that even "can't miss prospects" miss and that teams we think are going to be really, really good don't pan out (Clemson in 2008) and that there are times when the national media forgets about coaching and talent and gets it completely wrong (Auburn last season).
I don't know what Clemson's record will be this season – I've said all summer that another 10-2 regular season sounds about right – with one of those losses being at Florida St.
We are now over a week into fall camp, and I am beginning to rethink things a little bit. Why? Because there is a feeling around this program – it comes from the players and the coaches – that this defense has a chance to be truly special. How special? This team can win every game – even on the road in Athens and Tallahassee – because this group believes it can be great.
Defensive coordinator Brent Venables

Brent Venables
Def. Coordinator / Linebackers
View Full Profile spent the first two seasons at Clemson downplaying the strengths of his defense, shying away from any comparisons to his past defense and generally staying away from any talk about how good he thinks they could be.
This fall has been a little different, and following Saturday's scrimmage Venables didn't talk about missed assignments or blown coverages – he applauded the physical nature of his defense.
"I really like the competitiveness and what we saw out there on the field today," Venables said. "The effort. Guys are playing hard. The physical nature of today. I was really pleased with that aspect as much as anything. "
He then went on to say that competition up and down the roster is keeping the defense motivated.
"I really feel like guys came back better than what we ended up in spring ball. Competition is great in the secondary," he said. "I think we are developing a solid two-deep. Robert Smith

Robert Smith
Sr. Safety
#27 5-11, 211
St. George, SC
View Full Profile is in his own league right now. He's playing really, really consistent. And Stephone Anthony

Stephone Anthony
Sr. Linebacker
#42 6-2, 244
Polkton, NC
View Full Profile and Tony [Steward] and Grady Jarrett

Grady Jarrett
Sr. Defensive Tackle
#50 6-1, 290
Conyers, GA
View Full Profile . There's a bunch of them. They are all competing and helping each other get better. And Vic [Beasley] of course. It seems like our guys are hungry and not satisfied and very humble and hungry. As a coach that's what you are looking for."
Venables was asked what concerns him about the defense, and instead of listing any major concerns he said he just wants the group to be consistent while talking about the miscues that showed up during the scrimmage.
"Just continue to develop. Still have a few more weeks here. Guys are still going to have to be hungry," he said. "We have to keep improving. Offense came out today and put together a nice drive in the beginning. That can't happen if you are going to have a great defense. We had 12 men on the field today. We had a fourth down conversion. We had some missed tackles. We have to come out with better precision and focus. We weren't flat. We were excited. Hey- sometimes this offense is going to make a play. They made some nice plays and that's not surprising. That's a good system over there. That's the biggest thing - to continue to fight and compete and continue to get better. Pay attention to the details of your position and master that."
The offensive linemen have given the defensive line a lot of credit during fall camp, and it's interesting to think about the depth in the front four. Everyone we've talked to says that DeShawn Williams

DeShawn Williams
Sr. Defensive Tackle
#99 6-1, 292
Central, SC
View Full Profile is having a great camp. Grady Jarrett is outstanding. Josh Watson

Josh Watson
RS Sr. Defensive Tackle
#91 6-4, 292
Wilmington, DE
View Full Profile and D.J. Reader
D.J. Reader
Jr. Defensive Tackle
#48 6-2, 322
Greensboro, NC
View Full Profile are continuing to excel. Carlos Watkins

Carlos Watkins
RS So. Defensive Tackle
#94 6-3, 294
Mooresboro, NC
View Full Profile is on his way back. Scott Pagano

Scott Pagano
RS Fr. Defensive Tackle
#56 6-4, 292
Honolulu, HI
View Full Profile is turning heads. Roderick Byers

Roderick Byers
RS Jr. Defensive End
#55 6-3, 284
Rock Hill, SC
View Full Profile is getting better. Vic Beasley is a beast. Tavaris Barnes

Tavaris Barnes
RS Sr. Defensive End
#9 6-4, 273
Jacksonville, FL
View Full Profile has something to prove.
At linebacker, Tony Steward

Tony Steward
Sr. Linebacker
#7 6-1, 236
Hastings, FL
View Full Profile and Ben Boulware

Ben Boulware
So. Outside Linebacker
#10 5-11, 235
Anderson, SC
View Full Profile are in a battle at the WILL, and Stephone Anthony has the tools to be the best in the ACC. At Nickel-SAM, Venables can choose from a bevy of talented players like Travis Blanks

Travis Blanks
Jr. Safety
#11 6-0, 210
Tallahassee, FL
View Full Profile , Korrin Wiggins

Korrin Wiggins
So. Defensive Back
#12 5-11, 190
Durham, NC
View Full Profile and Dorian O'Daniel.
The secondary is led by underrated safety Robert Smith, and Jadar Johnson

Jadar Johnson
So. Defensive Back
#18 6-1, 207
Orangeburg, SC
View Full Profile is battling Jayron Kearse

Jayron Kearse
So. Safety
#20 6-4, 215
Fort Myers, FL
View Full Profile at the other safety spot. Talented youngsters like MacKensie Alexander

MacKensie Alexander
RS Fr. Cornerback
#2 5-11, 190
Immokalee, FL
View Full Profile , Cordrea Tankersley

Cordrea Tankersley
So. Defensive Back
#25 6-1, 195
Beech Island, SC
View Full Profile , Adrian Baker

Adrian Baker
RS Fr. Cornerback
#21 5-11, 184
Hallandale, FL
View Full Profile and Marcus Edmond

Marcus Edmond
RS Fr. Cornerback
#29 5-11, 170
Hopkins, SC
View Full Profile are pushing veterans Garry Peters

Garry Peters
RS Sr. Cornerback
#26 6-0, 194
Conyers, GA
View Full Profile and Martin Jenkins

Martin Jenkins
RS Sr. Cornerback
#14 5-9, 185
Roswell, GA
View Full Profile at corner.
You get the drift.
There is a buzz about this defense, and the only way we're going to know how good they can be is to go out and play the games. But the prospects are exciting, and instead of hearing about how the players are counting on the smattering of success they had last season to push them through this season, we're hearing how this group has this season marked down in the "special" category and can't wait to be unleased on opponents.
Will the Tigers win every game? History says no, but if defense wins championships then this team just might have a shot at a special season.