| | |
| --- | --- |
| Hyatt may be an elite prospect, but he's a "lunch pail kind of guy" | |
---
| | |
| --- | --- |
| Monday, February 3, 2014 5:18 PM | |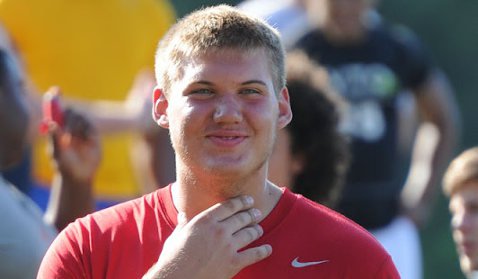 Mitch Hyatt

Mitch Hyatt
Offensive Tackle
6-6, 270
Suwannee, GA
ESPN:


View Full Profile is already receiving the accolades worthy of a super star, but don't expect him to act like one, according to his head coach.
In fact, he is more of a "lunch pail" guy than a prima donna who wants to wring everything he can out of the recruiting process.
The 2015 5-star left tackle prospect out of Suwanee (GA) North Gwinnett is already seeded by many scouting services as the top-ranked tackle prospect in the nation, and ESPN has Hyatt as the No. 4 overall prospect regardless of position in the Top 300 junior prospects.
However, Suwanee head coach Bob Sphire told TigerNet Monday afternoon that Hyatt is the exact opposite of what many might expect.
"He is old school tough, with modern-day athleticism," Sphire said of the 6-6, 265-pounder. "He is an effort guy, and he plays through the whistle on each and every play. He never misses a rep in practice. He just brings his lunch pail and goes to work. Physically, he is very gifted and very athletic for having that kind of size."
Hyatt, who visited Clemson last Saturday and spent an hour with Clemson head coach Dabo Swinney

Dabo Swinney
Head Coach
View Full Profile , is scheduled to announce his college choice Wednesday night at his school. The seniors who are signing with colleges will have their time on the podium first, and Hyatt will finish the ceremonies by announcing his choice.
Sphire said the timing is in typical Mitch Hyatt fashion.
"To be honest, he doesn't like the recruiting process very much," he said. "He is very prideful and respectful of others, and he just isn't a recruiting thrill-seeker. He doesn't want to go to a place and try on the jerseys and take pictures, and he won't go to a place just because they have cute jerseys. That just isn't in his DNA. He doesn't relish the attention, and if he knows where he wants to go, then why drag it out? That would just mean more attention, and he just isn't into that."
Hyatt's uncle is Dan Benish, who played on Clemson's National Championship team in 1981, so he has the genes to be a force on the next level, and Sphire said that he thinks Hyatt could play from day one.
"He definitely could play right away. We are in 6-A ball here in Georgia in the state's toughest region, and we play the best," he said. "We have also played against Byrnes and Crenshaw and East St. Louis, on top of that schedule. He has started for us at left tackle since he was a sophomore, and he has done a tremendous job. He was not overwhelmed as a sophomore here, and I don't think he will be overwhelmed up there."
Sphire said he knew Hyatt was special when he saw his future tackle playing youth football.
"I saw him and Anree Saint-Amour playing against each other all the way back then," he said. "They were both great then, and you could tell they were second-effort guys. They are the kinds of kids that you just have to pull them off the field. They have been going against each other and lining up across from each other for years. They've done the Oklahoma drills against each other, and it's just made both of them better."
Clemson seems to be the leader for Hyatt's services, and if he selects the Tigers he would be the highest-rated offensive line propsect to choose Clemson in recent memory. Sphire said that the rankings are legitimate, and that Hyatt can play anywhere on the line.
"I am sure Clemson is recruiting him as a left tackle, and I guess that is the glory position on the offensive line," he said. "But he can play anywhere. We play fast, just like Clemson. We play no-huddle, and that's what he is used to. I started the spread here in 1996, and he has grown up in it. That is no problem for him."
Hyatt's announcement will be shortly after 7 p.m. Wednesday night, and TigerNet will be on hand for the ceremony.