| | |
| --- | --- |
| Hyatt gets past rock issues, flashes potential in debut | |
---
| | |
| --- | --- |
| Wednesday, September 9, 2015 7:01 AM | |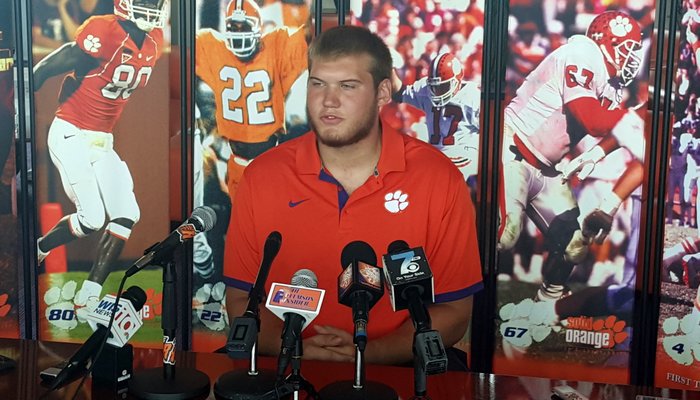 CLEMSON – Mitch Hyatt

Mitch Hyatt
Fr. Offensive Line
#75 6-6, 285
Sugar Hill, GA
View Full Profile didn't look flustered or overmatched during Saturday's season opening win over Wofford. He got all of that out of the way prior to running down the hill.
Clemson's talented freshman left tackle made his collegiate debut against the Terriers, and the best thing about that debut is that his name wasn't called after the starting lineups were announced. He wasn't called for any penalties and he didn't give up any sacks. All in all, a good day, but he says he isn't satisfied and realizes his games needs work.
"There is definitely some technical stuff I need to work on, but I mean just getting out there and getting a feel for the game was good," Hyatt said Tuesday in the WestZone. "Being my first game I think it was pretty good. I definitely have some issues but other than that it went pretty smooth."
His only hiccup? Finding Howard's Rock before running down the hill.
"Running down the hill - It was crazy. It's hard to remember because it was so much happening at once," Hyatt said. "I couldn't even find the rock. I was behind a crowd of guys and trying to look for the Rock and couldn't really find it. Then it finally popped out and I kind of reached for it and grabbed it. Then I was tip-toeing down and I start seeing guys just like sprinting down. They are jumping up. I was like there is no way. I'm just going to make it down the hill as safe as possible. So I got down there and then to the sidelines."
Hyatt said that his first start was made easier because veteran left guard away Eric Mac Lain was by his side.
"He's been a big help because sometimes I am kind of slow with the calls. Like I can notice it but I am kind of slow with it," Hyatt said. "He will notice that. He has got it down. So he will help me out and make the calls quicker like before the snap count. So he is a big help."
Another veteran who has been a major contributor to Hyatt's development has been defensive end Shaq Lawson

Shaq Lawson
Jr. Defensive End
#90 6-3, 272
Central, SC
View Full Profile , Hyatt's opponent during practice. Hyatt said going against a player the caliber of Lawson will pay dividends in the future.
"It's going to help me out a lot especially knowing that he is probably one of the best in college football right now. He has a good combination of skills. He's powerful. He's quick off the ball," Hyatt said. "He has great moves. And the thing is at the beginning of camp I didn't think I was ever going to be able to block him. I don't think I beat him once the first week. But as it kind of went on I started understanding the speed of it and getting off the ball and working on my own skills. I kind of started to be able to compete with him more. That definitely helped in the game and the games to come."
Hyatt said his biggest challenge has been adjusting to the speed of the game.
"I would definitely say the guys in high school helped me prepare for it. But the one thing in high school compared to now is the speed," Hyatt said. "It's something about that speed. They come off the ball fast in high school but the speed now in college every guy has that. It's pretty even when it comes to that."
Hyatt finished his interview by saying one moment from Saturday's contest stood out – when he was blocked by a teammate.
"It was kind of like a ha-ha moment. I know Tyrone (Crowder) was trying to cut a linebacker and I was going after a linebacker and I turned and the next thing I know he nails me," Hyatt said. "I was like 'You just cut me' and he was like 'Oh I know. I missed the linebacker.' I was like 'You missed? You cut me.' It was funny."