| | |
| --- | --- |
| Huggins working on his game, not the recruiting circuit | |
---
| | |
| --- | --- |
| Wednesday, February 26, 2014 9:33 AM | |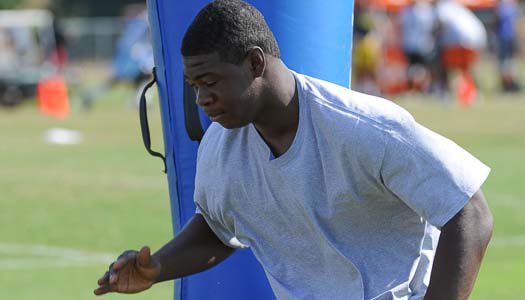 One of the South Carolina's top defensive linemen isn't making waves on the recruiting circuit, bouncing from school to school every weekend for junior days or visits. Instead, he is working on making himself a better player.
Albert Huggins

Albert Huggins
Defensive Tackle
6-3, 280
Orangeburg, SC
ESPN:


View Full Profile , a 4-star defensive lineman out of Orangeburg (SC) Orangeburg-Wilkinson, has offers from most of the ACC and SEC schools, but instead of worrying about the recruiting process he is working to hone in his craft.
"The situation right now is that I pulled and strained a muscle in my shoulder and I'm not benching right now," Huggins told TigerNet Monday night. "Right before that, I maxed out at benching 385 and this is probably the first time that I've gotten back in the weight room and lifted upper body wise. My goal before the summer starts is to be benching 400 and squatting at least 500. Right now, I'm at 465. I'm doing pretty good. I'm not perfect. My hands aren't perfect, and when I'm able to use my hands I'll be a lot better. Staying balanced - I had a lot of missed tackles this past year. I had 11 sacks, but I truly could've had at least 16. I've got to work on balance and stuff like that."
Recruiting can be stressful for all of those involved, but Huggins is taking his mother's advice and enjoying every minute.
"My mama told me the other day to enjoy life," Huggins said. "I have to enjoy life, so all of this is kind of fun to me. I got a call from Tennessee tonight. I enjoy getting calls from coaches and getting to know them. It's a good feeling."
Coaches from just about every school in the southeast have stopped by Huggins' school, giving the 6-2, 280-pound prospect the opportunity to see which coaches are real and which ones are not.
"It's amazing. It's a great feeling," Huggins said. "It gives you a chance to see how the coaches really are and how they communicate. If you are a good communicator, we can be good friends. It also gives you an opportunity - I can tell when a coach is lying or when they're bluffing - to see what they are all about.
Huggins already knows what the Clemson coaches are all about, but he wants to get to know other coaching staffs before making a decision.
"We have a pretty good relationship, and that's why everybody says I'm going to Clemson," he said. "We have a really good relationship. I just haven't gotten an opportunity to have a relationship with USC [South Carolina] or UNC, so hopefully I can get a better relationship with other coaches."
Huggins has picked up several offers from schools like LSU and Mississippi St., over the last few weeks, but he doesn't have any plans to take visits anytime soon.
"To me it hasn't taken off. It has taken off offer wise, but I haven't really been able to get to schools like I wanted to," he said. "LSU offered me today and they were talking about me visiting, but I don't know yet. I still have to talk to my parents. It's going pretty good so far."
Without taking visits, Huggins isn't comfortable naming any favorites.